Small Axe Golden Ale
| Rush River Brewing Company
BA SCORE
80
good
19
Reviews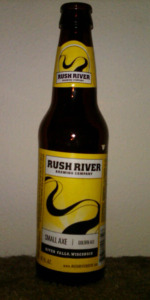 BEER INFO
Brewed by:
Rush River Brewing Company
Wisconsin
,
United States
rushriverbeer.com
Style:
American Pale Wheat Ale
Alcohol by volume (ABV):
not listed
Availability:
Year-round
Notes / Commercial Description:
No notes at this time.
Added by feloniousmonk on 08-16-2004
Reviews: 19 | Ratings: 52
3.33
/5
rDev
-1.2%
look: 4 | smell: 3.5 | taste: 3 | feel: 3.5 | overall: 3.5
Poured into my pint glass the beer is, well what a surprise crystal clear golden yellow. The stark white head reaches two fingers and nearly escapes the glass. Lots of sticky lace.
The aroma is slightly wheaty with hints of lemon and sweet corn. Nothing special or exciting.
The flavor is non existant. I can barely and I mean just barely pick out a hint of wheat in the finish. I'm not surprised since the style isn't know for full flavor but I was hoping for something.
Light bodied with moderate carbonation.
Overall a flavorless beer that would be a great stepping stone for BMC drinkers to dip their toe in the craft pool.
★
634 characters

3
/5
rDev
-11%
look: 3 | smell: 3 | taste: 3 | feel: 3 | overall: 3
Huh, didn't find too much to love or object to in this beer. I didn't get that it was a wheat beer, but I didn't read the label all that closely. What can I say? I was expecting a Belgian golden ale from the name, and when I didn't detect any spices, I began to wonder. But now that I find out that there's wheat in there, and I can't say I detected that either. It isn't a bad tasting beer, but it isn't an especially flavorful one either. Appearance is like the Bubblejack - sort of a murky gold. Aroma of one this one is extremely minimal. Flavor is as I've described. Mouthfeel is smooth.
I wouldn't really recommend this beer, but there is nothing to object to about it.
I got this bottle at 3 Cellars in Franklin, WI.
★
725 characters
3.88
/5
rDev
+15.1%
look: 3.5 | smell: 3 | taste: 4 | feel: 4.5 | overall: 4.5
A= a nice hazy yellow color. Quite yellow but still looks white sort of. Small one finger head rises out of it and lasts a little bit of time with no lacing.
S= all I really get is a lot of wheat smell. A little sweet from the wheatyness.
T= not bad at all for a wheat. Really sort of trademark semisweet wheat taste. Buttery and bready. Really just a nice wheat flavor and not much else.
M= smooth and creamy.
D= great. A pretty tasty wheat beer with a smooth finish.
★
469 characters

3.97
/5
rDev
+17.8%
look: 3.5 | smell: 4 | taste: 4 | feel: 4 | overall: 4
The beer pours a little cloudy with a dark yellow color and pillowy head. The aroma is a blend of of pale malt, wheat and a little bitterness. Smooth as it traverses the palate. The brew is refreshing with a little sourness and a quick bite of bitterness at the end. This is a good refreshing wheat ale.
★
303 characters
3.5
/5
rDev
+3.9%
look: 3.5 | smell: 3.5 | taste: 3.5 | feel: 3.5 | overall: 3.5
I thought this was a standard but solid pale beer. It lacks a bit in the wheat characteristics, being more of a blonde, however it is crisp & clean. a smooth beer throughout. crisp slightly bitter finish. at 5.79 its also a solid purchase.
nothing outstanding but better than average and i would call it a great 'average man's' beer.
★
334 characters
2.58
/5
rDev
-23.4%
look: 3 | smell: 2.5 | taste: 2.5 | feel: 3 | overall: 2.5
I'm a fan of ales, but this one I'll pass on next time.
Poured into a mug. 1 finger white head, dissipating quickly. The smell is that of a BMC, but the drinkability isn't as good. It's got a slight bitter, which is nice, but something in the brew seems off.
★
258 characters
2.68
/5
rDev
-20.5%
look: 3 | smell: 2.5 | taste: 2.5 | feel: 3 | overall: 3
Pours a cloudy light golden with a medium off white head. Aroma is lightly sweet citrus and wheat. Flavor is a bit of wheat, light banana, light pepper and a lot of citrus. Finishes somewhat short and very citric. Really more of a blond ale fermented with hefe yeast.
★
267 characters

3.55
/5
rDev
+5.3%
look: 3.5 | smell: 3.5 | taste: 3.5 | feel: 3 | overall: 4
A - Pours a one and half finger head with a very hazy, golden yellow body. There is a lot of carbonation present in this beer if you look real closely.
S - Smells like malts, barley and grains. There is nothing else that really stands out in this beer. Nothing too impressive but the malts are enough to give it a decent score.
T - Again, malts, grains, and some very faint sweetness is present. Nothing too outstanding but not horrible. The beer seems to have all the components of a solid brew but it has something missing that would really kick this beer up a notch.
M - The malts, grains and barley all hit your mouth early in this beer and it transitions to a nice smooth finish. This is a decent beer but nothing jumps out.
D - Pretty easy drinking beer. I could have a few in a sitting.
★
801 characters
4
/5
rDev
+18.7%
look: 4 | smell: 4 | taste: 4 | feel: 4 | overall: 4
The beer pours a slightly hazy yellow color with a thin frothy head. The aroma smells of wheat, mabye grassy or hay like. Very interesting flavor. Its sweet, a hint of malt, and wheat. Hard to pin point the hop flavor. Overall the mouthfeel is light, and is a drinkable beer.
★
275 characters
Small Axe Golden Ale from Rush River Brewing Company
3.37
out of
5
based on
52
ratings.