Arrowine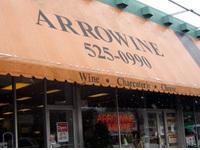 PLACE INFO
Type:
Store
4508 Lee Hwy
Arlington
,
Virginia
, 22207-3304
United States
(703) 525-0990 |
map
arrowine.com
Notes:
No notes at this time.
Added by ManekiNeko
Reviews: 12 | Ratings: 23
4.45
/5
rDev
+11%
vibe: 4.5 | quality: 4.5 | service: 4.5 | selection: 4.5 | food: 4
While slightly a dollar or more for the same stuff from places like Totalwine or Whole Foods - Arrowine makes up for it in selection and customer service. If your searching for something don't forget to reach out to Nick, he knows his stuff! He's made some great recommendations and is a knowledgeable person to talk to.
I only wish they would expand their cheeses to include some Abbey stuff - but a fella can dream, right? But I've asked and they've recommended some tasty cheese to go along with my brews.
509 characters

4.2
/5
rDev
+4.7%
vibe: 4.5 | quality: 4 | service: 5 | selection: 3.5
A: It's a really great atmosphere there because the staff is extremely friendly. The only thing I dislike is how cramped it can get sometimes. When they're doing tastings it gets hard to move around, but certainly isn't enough to say I don't like it there.
Q: They have an amazing quality of stuff there as far as beer goes. I'm not huge on wine, but it's obviously first a wine place, so they know their stuff. The beer selection seems to be a mix of locals and imports. I always find something I like.
S: If you go here to buy/sample beer and you don't know Nick, you're doing it wrong. Nick is the local beer expert, after going in a few times he easily recognized my boyfriend and I. He's great to chat with and knows his stuff. There are also a few other employees who know their stuff when it comes to beer, but then tend to be on the register so I forget their names. Either way, great staff.
S: Huge wine selection. Beer selection is a bit smaller, but certainly covers the bases of what you could possibly want.
F: Didn't try the food, but they have a huge selection of cheeses, meats, crackers, and other goods from local places.
V: A bit pricey, but worth it considering the service and types of beers they tend to have.
1,236 characters

4.36
/5
rDev
+8.7%
vibe: 4.5 | quality: 4.5 | service: 4.5 | selection: 4
Arrowine started a number of years ago as a wine store. So it is first and foremost a good place to buy wine. That said, they have done a great job in turning themselves into a goto place for craft beer.
A nice variety of beers. Good selection, just not a huge amount like some other stores in the area. But I am fine with this. They generally have what I drink. They get the new releases and typically have something I haven't had before (if that's how I'm feeling that day).
Nick, the beermonger, is personalable and knowledgable. Get to know him. Ask questions. But he is the only person I am aware of that has any beer knowledge, so if he is not around, you could be on your own if help is needed.
Prices are in the middle, but not on the cheap side.
They have a nice selection of cheeses, etc. also.
808 characters

4.1
/5
rDev
+2.2%
vibe: 4.5 | quality: 4 | service: 4 | selection: 4 | food: 4.5
I have seen the lukewarm reviews of this place, and note that they are almost a year out of date. I know that they recently got a couple of new beer guys working the store, and I guess it made a difference, since in the last few months that I hace been coming here i have been legitimately impressed.
First off, i will note that the price tag is a little higher than some other places in VA, like Total Wine. However, I feel that it is justified because of both the rarity of available beers and the quality of the stock on the shelf. Unlike TW, where stuff can literally sit for years, these guys move it out if it's getting old. On the other side, they also have a private cellar program; I snagged a couple of 4 year old barleywines because I talked craft industry with the stocker.
The selection, as others have said, is specific brews from a lot of places, rather than many from one. However, what they do stock is almost always seasonal or limited releases. I found a ton of really good, rare beers here in one wallet busting trip.
The place is pretty big, but the beer section is kinda small; it is expanding though. most of the shop is dedicated to fine wine and really nice cheese and deli meats.\
Overall, worth going to if you're a big beer hunter, but if you are looking for a run of the mill craft, there are better options.
1,341 characters

3.73
/5
rDev
-7%
vibe: 4 | quality: 4 | service: 4 | selection: 3
I stop by this place when I am passing by. This is a wine and cheese store that has a very small but high quality selection of beer. You won't find a bunch of stuff here, definitely not a whole lineup from any brewery. What you will find is a small selection of high quality bombers and sixers from American micros as well imports. If you need variety, this isn't the place to get it. If you live nearby or pass by regularly, this is a good place to grab some high quality beer. They have what looks to be a decent selection of cheeses, but I have always been doing other things when I stopped by. Obviously I don't want to leave cheese in my car while I'm out taking care of business.
685 characters
3.25
/5
rDev
-19%
a wine store in Arlington that seems to be stepping up their beer selection. small selection of high quality stuff, but seriously lacking in several areas. a few classics (girardin 1882, orval, westmalle, etc.), but I almost left because I had a hankering for a saison, and le merle and hennepin (the two worst commercial versions in the US if you ask me) were the only ones available. didn't get much in the way of service and i was sold a seriously over-ripe piece of Camembert that cost more than my beer. another let down. expensive store in an expensive part of town trying to cash in on the beer boom. unless you live next door, I would highly recommend going somewhere else. they have a lot of homework to do before their store is worth it.
747 characters
3.85
/5
rDev
-4%
I recall visiting Arrowine some years back with dirtylou while en-route to Rehoboth and DFH, and thought it worthwhile to check the place out again this 4th of July weekend, the focus is wine, with a modest but nice selection of gourmet cheeses and beers to be had as well, not exactly a destination for out-of-towners but definitely worth a stop if passing nearby
really nice range of beers here, with a pretty large selection of bombers and Belgian singles, and a healthy selection of six-packs in the cooler, about equal parts American and foreign representation, nothing especially rare but anybody should be able to find something desirable here, storage was a mix of coolers and room-temp shelving
service can vary - most of the times I'm totally ignored, placed a call in search of Bell's 9000 and the guy on the phone had never even heard of it
prices were on the high end, though deals could be found, I picked up a bomber of Williamsburg Ironbound for $4.99, 2 dollars less than I've seen anywhere else
1,015 characters
4.35
/5
rDev
+8.5%
quality - They carry quality craft and imported brews.
service - Great. The guy who asked me if I needed help was really friendly.
selection - The selection is great considering the space they devote to beer (maybe three fridges and stacks of unrefrigerated cases/sixers. Standard stuff available in VA. You're much more likely to find any given beer at Westover Market or the McLean Total Wine. But what I got excited about was that they had a bunch of Houblon Chouffe IPA Tripel, which I haven't seen anywhere else in the McLean/Falls Church/Western Arlington areas. The selection is certainly better than most grocery stores, but this isn't quite up there with the best places.
value - Standard prices for the area.
Overall, a place that is worth checking out if you're nearby; you might find something you haven't found anywhere else, as I did.
852 characters
4.55
/5
rDev
+13.5%
I literally could throw a stone from outside of my place and hit the Arrowine store. Although it is primarily geared toward wine, I must say they have a unique selection of beers frmo across the world. However, the store can be very pricy as well. In the back right hand corner of the store you will find five or six coolers filled with various international beers. I generally stop by at least once or twice a month and try something new. If you live in North Arlington, I recommend stopping by. Oh, and parking can be hell there on weekends.
543 characters
3.85
/5
rDev
-4%
Good, but small selection. Located in a small shopping center next to an awesome pastry store. Most of this place's selection focuses on wine. However, the beer selection while small, was well thought out. Most of it was kept in a refridgerated case and consisted of local crafts, some english and Belgian imports, and larger national craft brews. Pretty much everything there was of high quality. Prices are a little high in my opinion. Huge wine selection and also a very large selection of specialty cheese. Staff was pretty friendly when I went in. Its not all that close to me so I will stick with Whole Foods for the most part, but if you're close its worth checking out.
677 characters
3.85
/5
rDev
-4%
i agree with ManekiNeko for the most part, though i added a half point to quality since every brew i found there was either something i have tried and loved or something i very much look forward to trying. i found full lines of dogfish head, williamsburg and victory; unibroue; big bottles of various rogue and stone brews; belgians; germans. my pops had mentioned that Arrowine sold beer but i was happily surprised when i made a visit myself. since i live around the corner i will be patronizing the store consistently. i wouldn't mind if some of the wine inventory (or cheese) was sacrificed for beer, but i'm happy with it for now
EDIT: i must add that the prices are quite good
685 characters
3.65
/5
rDev
-9%
This is a nice little mom-and-pop wine store considered by many to be one of the best in the region. They also carry a small, but decent selection of craft brews. You won't necessarily be blown away by what's there in comparison to some other stores in the area, but what they do have is of good quality: Victory, Old Dominion, Stone, Rogue, Unibroue, Sam Smiths, various Belgians, Smuttynose. Essentially, the better regionals, nationals, and imports. Case discounts and special orders can be done and the stuff is uber-friendly. Tastings for beer have been held in the past, but primarily the tastings are for wine (and are worth showing up for). The pricing on everything is reasonable, too.
Make sure you stop by the pastry shop next door and the fishmonger close by. You won't be disappointed by either.
812 characters
Arrowine in Arlington, VA
4.01
out of
5
based on
23
ratings.