La Roja Du Kriek

Jolly Pumpkin Artisan Ales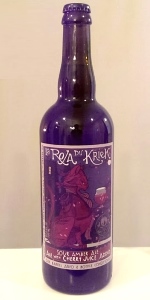 Write a Review
Beer Geek Stats:
| Print Shelf Talker
Style:

ABV:

7.5%

Score:

Avg:

4.12

| pDev:

8.01%

Reviews:

37

Ratings:

From:

Avail:

Rotating

Wants

Gots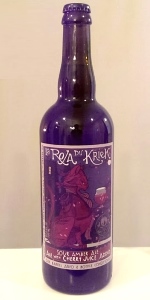 Notes: La Roja du Kriek – Sour Amber Ale with Michigan Cherry Juice. This is what happens when 3100 gallons of 2013 La Roja meets 50 gallons of Michigan tart cherry juice, aged in oak barrels and bottle conditioned – a perfect blend of sour and tart joie de vivre!
Reviews: 37 | Ratings: 223

4.05
/5
rDev
-1.7%
look: 3.25 | smell: 4.5 | taste: 4 | feel: 3.75 | overall: 4
Pours a cloudy deep amber with a rusty red peeking through with the light.
Smells like sweet cherries and hibiscuis.
Tastes sweet upfront but gets more and more tart and funky as it hits the back of the tongue.
Mmmmm... cherries.
230 characters
4.11
/5
rDev
-0.2%
look: 3.25 | smell: 4 | taste: 4.5 | feel: 2.5 | overall: 4.5
Poured very gently due to the settling layer of yeast in the bottom of the 750ml bottle (Batch #2 - 08Apr15) into a tulip.
LOOK: Pours with a finger's worth of off-white foam that shrinks down to a line within 30 seconds. Rising bubbles hardly exist. Amber in color, but is the most hazy beer that I have seen so far. Lacing is as almost non-existent as the rising bubbles.
SMELL: Very strong sour yeast aromas immediately hit my nose. Beneath that overpowering aromas, lies strong earthy yeast and sour cherry aromas along with mild green apple and oak. This smells like a Flanders Red Ale, by the way. I swear there is a hint of cinnamon in there, too. Might be just me.
TASTE: Intial taste consists of strong sour yeast (they smell way stronger than they taste) and mild oak flavors. But hold up! The most delicious of sour cherry flavors enter instantaneously after the initial taste. These strong flavors dwarf the the sour yeast and oak, decreasing both of them in intensity. Two seconds after the cherry flavors dominate, mild earthy yeast and green apple flavors enter as all previous flavors persist. Now on to mouth feel... Just kidding! As you think the flavor symphony finishes, that hint of cinnamon enters the palate. This tastes like a Flanders Red Ale.
FEEL: Medium-bodied and moderately carbonated. Finish is extremely tart and dry. I really need water right now. The sourness somewhat agitates the tongue, but at this point after drinking so many sours, I don't think my opinion on sour feel would relate to any people who aren't accustomed to sours. But yeah, where's that water?
NOTE: This is listed as an American Wild Ale, but from my experience, this is a Flanders Red Ale. I treated it as such.
1,719 characters

4.28
/5
rDev
+3.9%
look: 4.25 | smell: 4.25 | taste: 4.25 | feel: 4.5 | overall: 4.25
750 ml bottle blend 2, 4/8/15, poured into a flute
A- A hazy red with a brown tint and a two finger off white head.
S- Sour, tart cherries, apples, lemons, earthy funk, oak, hints of vanilla.
T- Sour and sweet cherries, lemons, earthy funk, oak, hints of vanilla.
M- Smooth, crisp, light to medium body.
O- A nicely done sour, was hoping it would be more cherry forward. Jolly Pumpkin doesn't disappoint.
410 characters
4.07
/5
rDev
-1.2%
look: 3.75 | smell: 4.25 | taste: 4 | feel: 4.25 | overall: 4
While the Dexter brewers churn out some of the most clever, intriguing and quality sour example, there's little that they can do to top their La Roja. That's unless of course those classic Belgianesque cherries find their way into the acidic mix.
Beyond the hazy and toasted amber shades, its creamy and spritzy head cast a tangy scent that entice the nose with strong overtones of cherry, but also of a host of citrus, brine and musty tones. Its soft and toasty flavors are slight of fructose and savory crust before being quickly overtaken with sourness.
Its blossoming middle palate comes alive as vinous and earthy flavors outweigh any sweetness or maltiness, celebrating everything from crabapple, sour white grape, lime, lemon, and of course- tart cherries. Behind the fruit, there hides the dry crustiness that create its reddish hues, providing a backdrop of peanut skins, toast and pecan.
As sourness intensifies, the light-bodied ale dries to the bone before leaving behind a finish of cinnamon, rose wine, fresh-cracked peppercorn and the faintest medicinal note. Its earthy aftertaste showcases damp hay, saddle leather and weathered oak.
1,153 characters

4.1
/5
rDev
-0.5%
look: 4 | smell: 4 | taste: 4.25 | feel: 4 | overall: 4
Tart acetic aroma, with big cherry presence. Slightly acetone.
Flavor is acetic and lactic, with Pickering sourness balanced by cherry character and a slightly sweet toasted, caramel malt backbone. The cherry really carries through.
233 characters

4.27
/5
rDev
+3.6%
look: 4.5 | smell: 4.25 | taste: 4.25 | feel: 4.25 | overall: 4.25
I was in the middle of a rowdy night when I had this so I cannot provide detailed notes.
With a broad brush, I can say this was more tart than regular La Roja and the fruit was pronounced. The juice did not leave a syrupy feel which I thought may have been the case. This was super crisp and clean. I am glad I have another bottle in the cellar for later. I have seen this at only two bars and one shop. I'm glad I got the chance to try it and hope it becomes more available.
La Roja is one of my absolute favorite shelf sours/wilds and I was very pleased with the Du Kriek.
577 characters

4.15
/5
rDev
+0.7%
look: 3.75 | smell: 4.25 | taste: 4.25 | feel: 4 | overall: 4
It seems that this is the first review of a bottled La Roja Du Kriek (I think this year is the first time they have bottled this and distributed?). All of the past reviews refer to the beer being served at festivals or at the brewery from a cask/firkin. So here goes.
Appearance - 3.75/5
Poured into a 13oz Belgian tulip glass. A muddy red-orange-brown, with about a finger or so of light tan head. Basically looks the same as a normal La Roja.
Smell - 4.25/5
Standard JP sour aromas--tart cherries, apples, and lemons with a little bit of funk. I was expecting the cherry to stand out a little more here than in standard La Roja, due to the additional cherry juice, but it doesn't smell any different from what I remember normal La Roja smelling like. Still quite a delicious and appetizing aroma.
Taste - 4.25/5
More tart than standard La Roja. Lots of lemons and cherries and general tart fruit. I definitely detect the cherries standing out more in the taste, which is good. One thing I liked about La Roja was that it was different from JPs other offerings. Not as tart, with a distinct flavor as well. I feel like with this beer, they took La Roja, and made it just taste more like the rest of the JP beers, thus taking away some of La Roja's uniqueness. That loses a few points in my book. Don't get me wrong, it still tastes great, it's just a La Roja homogenized towards the standard JP taste.
Mouthfeel - 4/5
A medium amount of medium-light carbonation. Medium bodied. A good level of crispness.
Overall - 4/5
I find it interesting that this beer was priced a few dollars cheaper than La Roja. I would expect it to be more pricey, considering its aged La Roja with additional ingrediants. Perhaps just a marketing thing to try and sell a new beer. Anyway, this beer was delicious, as all JP beers are. But as typical, nothing special that blew my mind away. Just more of their standard formula. As I say, half-jokingly, if you've had one JP beer you've had them all. This one is definitely worth a try, as perhaps those with more sophisticated palates than mine will be able to detect additional nuances not present in other JP beers.
2,151 characters
4.22
/5
rDev
+2.4%
look: 4 | smell: 4.5 | taste: 4 | feel: 4 | overall: 4.5
Two full 6oz. pours at GTMW '11, review from notes.
On gravity pour, served from a firkin.
Deeply saturated scarlet brown, a few larger bubbles cluster on the surface, soon fading to thin ring at the edges. Somewhat murky, but the Merlot coloration was distinct and attractive.
Funky and acetic dark cherry nose, no sweetness.
Vinous would be the keyword that applies to the taste and mouthfeel, the cask serving renders it very supple and wine-like, much like a true unblended Kriek. Rather tannic and dry in the finish, with lingering bitter cherry skin and plenty of oak tannin present. Signature JP barrel complexity, lending a well-rounded woody spice-like dimension to the sour fruit aspects. Nice lasting aftertaste, one to sip and savor in the shade.
JP ran out of beer early in the fest, glad I made it a priority to get to their booth quickly to try this... even better than the latest batch of BdM GR somehow...
2016: 3.8
Bottled 2/2/16 B 639/640
Something was a little off with this one... less depth and more tangy astringent Brett character than cherry. Aroma had some mild cherry presence, but muted. Taste was tart with Brett yeast astringency and a fleeting tart cherry note. Not especially fruit forward, which was a bummer since I loved the bottle I had last year. Probably will pass on any more of the 2016 batch.
1,343 characters
4.07
/5
rDev
-1.2%
look: 3.5 | smell: 4 | taste: 4 | feel: 4 | overall: 4.5
On a firkin at the Michigan Brewer's Guild Summer Festival 2011. I had this first back in '09 at the very same fest. At the time it was my second only sour, the first being Perseguidor 4 a few moments before. What awesome introductions into the world of sours. Feeling the urgent need to retry this beer after a couple years of drinking sours, I was very excited to see that they brought it back this summer.
Appearance
This version is even redder than the regular La Roja. It's still a murky, distressed shade of Jolly Pumpkin style red though. Very hazy. Not much of a head, Jolly Pumpkin brings gravity pouring firkins.
Aroma
Lots of the typical Jolly Pumpkin bretty funk is here, but there is a whole new level of things going on. Cherries add a good fruity tartness that breathes live into a funky, woody, grassy smelling beer. A little bit of vinegar is there, but is a welcome addition.
Taste
I still remember this being less sour that Perseguidor was back in '09. This beer really isn't very sour, more like a nice spiky tart. I had this right after Lambeak Wants Peachy, and honestly, this beer hit the spot. Its so much more drinkable because of its gentler tartness and low levels of acidity. I even chatted with the long-haired, mutton chopped JP brewer about how I appreciate their sours for their drinkablility and lack of over done aggression. Cherries don't run the show here, but they provide a nice tannins, skin and pit flavors.
Mouthfeel
This being poured from a firkin, the carbonation was gentle and rolling. It had a very natural feel to it. The finish was pretty clean and dry aside from the lingering cherry and wood tannins that were actually quite nice.
Overall
One of the best ones from Jolly Pumpkin. An easy drinking sour with lots of nice, subtle nuances and none of that annoying brash, aggressive sourness that is getting to be overdone in the American Wild category.
1,910 characters

4.1
/5
rDev
-0.5%
look: 4 | smell: 4 | taste: 4 | feel: 4 | overall: 4.5
MBGSF from numerous samples. Pours a dark hazy red with a small but well sustained head. The aroma is funky and has a lot of sour cherry and horse blanket with some earthiness and some leather. The flavor is lots of cherry both in the sour vein and the cherry pie variety. The beer has a nice sourness well matched with the earthy tones. The beer has some spiciness and is very dry. A tasty drink indeed.
404 characters

4.05
/5
rDev
-1.7%
look: 4.5 | smell: 4.5 | taste: 4 | feel: 4 | overall: 3.5
On cask at the JP Cafe in AA.
a - deep, turbid brownish burgundy color, one inch creamy ivory head with very nice retention and lacing, very fine bubbles
s - tart cherry, vanilla, cream and oak with a light spice on the nose
t - creamy, sour cherry vanilla pie, light oaky notes on the midpalate and finish, the spice is there but not overwhelming, as is the sourness, not much alcohol to be found, the cherry pie taste reminds me a bit of the Cascade Manhattan Transfer I had last month at Belmont Station in Portland, there is a light bitterness on the finish that is a bit awkward, which is the difference between a 4.0 and a 4.5 for me
m - as you would expect from the cask, very creamy and lowly carbonated feel on the palate, it works really well with the tartness and overall flavor profile, not much alcohol warming
d - not overly drinkable, as there is a light bitterness that lingers on the palate, but not bad and above average for a wild ale due to the complexity
980 characters

4.1
/5
rDev
-0.5%
look: 4 | smell: 4 | taste: 4 | feel: 4 | overall: 4.5
Had this at the Michigan Brewers Guild Summer Fest.
Pours an off-white head. Color is a hazy orange hued brown with a hint of ruby to it.
Aroma: fresh tart cherries. Oak. Wheat flavors. Spices and vanilla.
Taste: Sour tart cherries with more oak. More spices. Cinnamon and vanilla. Some yeast notes.
Mouthfeel: Tart and creamy. Smooth and refreshing. Medium bodied with a lower amount of carbonation. Ends clean with a medicinal flavored aftertaste.
Overall, this one is very drinkable. A good amount of sour showed here. Very glad to have tried this one.
570 characters
La Roja Du Kriek from Jolly Pumpkin Artisan Ales
Beer rating:
91
out of
100
with
223
ratings