Corvallis Brewing Supply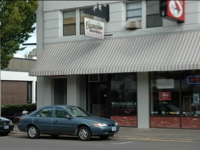 PLACE INFO
Type:
Store, Homebrew Store
119 SW 4th St
Corvallis
,
Oregon
, 97333-4711
United States
(541) 758-1674 |
map
lickspigot.com
Notes:
No notes at this time.
Added by BeerAdvocate
Reviews: 12 | Ratings: 19
4.54
/5
rDev
+11%
vibe: 5 | quality: 4 | service: 5 | selection: 4.5
Great selection of rotating styles. Knowledgeable and friendly staff. Only drawback is the hop selection. They are all local. It's cool that they only have fresh hops (no pellets) but that impacts the variety.
209 characters
4.5
/5
rDev
+10%
Wow. The selection here is great, and new stuff comes in with relative frequency. Also, extremely nice staff, and great discounts. A good selection of local beer, cider, and mead is found here.
193 characters

4.53
/5
rDev
+10.8%
vibe: 4 | quality: 5 | service: 4.75 | selection: 4
Great little home brew shop. friendly staff. great beer selection. lots of fun beer events throughout the year. worth your stop if you find yourself in small town Corvallis. They Have the best selection of hard to get beers in town. The shop owner is involved in the local beer community and contributes a lot of time and donations to local events.
348 characters
4.6
/5
rDev
+12.5%
vibe: 4 | quality: 5 | service: 4 | selection: 5
They don't sell brew kits. This said. They sell brew grains. Staff is amazing at helping you, and will guide you if it is a mistake recipe you have found. They do not carry Wyeast. Pity... The beer selection is beyond amazing. There have been comments about room temp storage. They keep the store down to a temp via air conditioning that is appropriate for good wine and beer. Let's face it, coolers are for American commercial beer. My only complaint would be on hops. You have to buy 2 ozs of hops of any given type. This gets really expensive if brewing a 3 or 4 diff hop beer. The hops are vacume sealed fresh hops. No pelets, though on occasion I have found 1/2oz plugs of limited selection. Over all I would rate this as a superior brew shop. Especially for the experienced brewer.
787 characters

4.05
/5
rDev
-1%
I visited the store today with a two-fold mission: (1) buy some beers otherwise unavailable to me, and (2) buy ingredients and supplies for my third homebrew.
As a beer store:
They have a great selection of many fine beers and their prices are reasonable. On the downside most of it is stored on shelves at room temperature. There is only a small selection (shared with wine - why?) in a cooler. The store needs to learn about merchandising. Not customer friendly. I was there on a busy Saturday afternoon. There were no baskets for accumulating my purchases. I kept going back and forth and putting bottles on the counter. Service was mixed. I had to wait a considerable time to pay and it was difficult discerning who were employees from customers. I handed cash to someone who knew how to operate the register and left the store with my product.
As a positive, I bought Peche Mortel and saw several other beers for the very first time anywhere.
As a homebrew supply:
Store is very small, cramped, and definitely oriented to the experienced homebrewer. I was looking for ingredients (including Munton's Old Ale Kit) to brew a specific recipe from Charlie Papazian's The Complete Joy of Homebrewing and didn't see the Munton's extract and quickly lost interest as a beginner. It is unlikely I will ever go back for several reasons. I rarely go to Corvallis, Oregon. I go through Portland much more frequently and John's Market is my favorite bottle shop. And Above the Rest Homebrewing in Tigard is now my favorite homebrew supply store.
1,544 characters
4.85
/5
rDev
+18.6%
On my last visit up to Oregon I got the chance to shop around with Reino, one of the awesome employees at Corvallis Brewing Supply. This is a great homebrew supply shop, full service with everything you could need. They alwo have a very impressive bottle selection - some killer beers I can't find out here in Southern California. Drew (Reino) has a wealth of knowledge about the beers they stock at CBS, and was very helpful in finding everything I needed (including some killer vintages).
I highly recommend that anyone visiting the area stop by CBS and check out the shop, pick up some beer, and chat beer with the awesome staff.
633 characters
4.41
/5
rDev
+7.8%
vibe: 4 | quality: 4 | service: 5 | selection: 4.5
I was very impressed with the selection. They had multiple cantillon, drie fonteinen and russian river sours, an impressive selection of imports and us brews. Nothing exceptionally rare, but a lot of solid beer.
As for the homebrew supplies, a good selection of white labs yeasts bulk malt, hops and rhizomes as well. The staff was great. Very laid back, knowledgeable and approachable.
I guess the only concern i would have is that ipas weren't stored in a cooler. There was limited cooler space. Everything else was room temp, which was fine for everything except ipas, dipas, etc. Although in the summer i imagine it gets hotter than ideal for the rest of the beer also.
674 characters
4.35
/5
rDev
+6.4%
Corvallis Brewing Supply without question has the most knowledgeable staff of any beer or wine store in Corvallis.
Everyone is helpful, knowledgeable and polite. Good Beer wine and Sake are all to be found in the small but thoughtfully well chosen bottle section.
All of the staff brew their own very good beers as well and are all helpful and polite.
This is a good place to go if you want to improve your day. This store and staff devoted to beer restores my faith in society.
Highly recommended.
504 characters
3.65
/5
rDev
-10.8%
It was suggested to me by another BA to check this place out, now that I'm living up here in Albany. I'm glad i did. Great selection, reasonable prices, and it's a lot closer to me than driving into Eugene. This may be my new "go-to" beer store. Only one cooler, most of the stuff is kept at room temp. Picked up a couple of Rogue brews I've had trouble finding elsewhere. If i ever get into home-brewing, this looks like it'd be a great place, and would save the hassle of ordering online. I'll definitely be back
514 characters
4.3
/5
rDev
+5.1%
I have in the last 8 months or so moved into the realm of homebrewing and this is my store for my goods. They have an excellent assortment of grains, extracts, etc. To top it off if you need it they can order it in for ya and prolly have it within a week. Joel is quite helpful with knowledge about the ingredients. I have no real comparison atm as this is the only homebrew shop I have been to, but I like it. They also stock ingredients for winemaking for all the prospective vintners. All in all for a town the size of Corvallis this is a great place to have.
562 characters
4.35
/5
rDev
+6.4%
I have been using this brewshop for about 3 years now and am generally pleased with the quality of ingredients (decent turnover rate since OSU has a fermentation science program and lots of homebrewers), selection (always expanding ingredients), service (helpful owner Joel is always ready to answer questions and give advice), and price.
I will note that this is listed as a BOP and I am not really sure that this is true anymore. I know the owner probably brews on premises, but I don't think that this is for the general customer. Correct me if I'm wrong.
562 characters
3.5
/5
rDev
-14.4%
Corvallis Brewing Supply shares the same space as Whiteside's Beer and Wine. They may technically be two separate businesses, but to you or me, they're one and the same. Beer and wine occupy the front two-thirds of the store. Brewing supplies are in the rear. The selection of brewing materials is somewhat modest and I can't attest to their product turnover and freshness of ingredients. Apparently much of their inventory arrives from Stienbart's in Portland. But they did have a few interesting items that you don't find at every homebrew supply store such as stainless steel conical primary fermenters in seven and 14 gallon sizes (near $500 as I recall) and a custom built kegerator with two tap lines for about $600. You'll also find a friendly, helpful staff, a decent inventory of hardware, and a small selection of books. And apparently they make wine in the back room.
878 characters
Corvallis Brewing Supply in Corvallis, OR
4.09
out of
5
based on
19
ratings.