Saranac Ginger Pale Ale
| Matt Brewing Company / Saranac Brewery
BA SCORE
79
okay
15
Reviews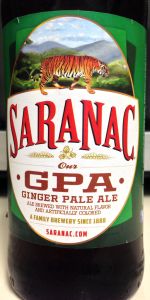 BEER INFO
Brewed by:
Matt Brewing Company / Saranac Brewery
New York
,
United States
saranac.com
Style:
American Pale Ale (APA)
Alcohol by volume (ABV):
5.50%
Availability:
Limited (brewed once)
Notes / Commercial Description:
No notes at this time.
Added by djrn2 on 03-29-2014
This beer is retired; no longer brewed.
Reviews: 15 | Ratings: 89

3.54
/5
rDev
+7.3%
look: 4.25 | smell: 4.5 | taste: 3 | feel: 3 | overall: 3.5
Before he headed his snowbird self south for the winter, my (usually) local, in-person trader, tone77, dropped this bottle off for me (along with other gems). I am going to miss his regular drop-offs & pick-ups until he (hopefully) returns.
From the bottle: "We make an amazing Pale Ale. We make an amazing Ginger Beer. Stands to reason we'd make a ridiculously good Ginger Pale Ale, too."; "A Family Brewery Since 1888".
A tiger prowls the label, so I did an unobtrusive Pop! of the cap and a VERY gentle pour so as not to get his attention. I still managed to raise a finger of dense, tawny (an homage to the tiger) head with moderate retention. Color was Deep Amber/Light Copper to Copper (SRM = > 13, < 17) with NE-quality clarity. Nose had a real ginger snap to it, almost like pop! Mmm. Mouthfeel was medium. The taste, while definitely of ginger, was more muted than on the nose. That was kind of disappointing. Finish was dry with a subtle spiciness in the throat, but I wanted more out of it.
I agree with a previous reviewer that it would make a great mixer. There has been a plethora of such beers lately (Not Your Father's Ginger Ale; Sprecher Ginger Beer) and this one would be towards the back of the pack. It just lacked the Ooomph to make it really memorable.
1,281 characters

3.18
/5
rDev
-3.6%
look: 3.5 | smell: 3.5 | taste: 3 | feel: 3.25 | overall: 3
"We make an amazing Pale Ale. We make an amazing Ginger Beer. Stands to reason we'd make a ridiculously good Ginger Pale Ale, too." Brewed in the style of an American Pale Ale with ginger added. Available exclusively in the Saranac 12 Beers of Summer Variety pack, available in 12 oz. bottles.
Poured from a 12 oz. bottle to a pint glass. Served above 53 degrees Fahrenheit.
(Appearance) Pours a crisp frothy head of a ecru-white color over an orange-amber body with very high clarity and moderate, relaxed carbonation. Retention is average at best, lacing is light and spotty. 3.5
(Smell) There's no mistaking the ginger up front and highly potent, it falls between the lightness of a ginger ale and the subtle sweetness of ginger candy, but ultimately isn't sharp or spicy in its aroma. The malt profile is a simple pale malt character and there are no hops that can be extracted through the ginger aroma. Potency is medium. 3.5
(Taste) The flavor does manage to preserve only the spicy, raw and sharp vegetal essence of ginger flavor, landing nowhere close to the subtle and pleasant ginger candy sweetness that the aroma predicted. The malt body is very thin and tealike, with just a pinch of malt character to touch up the body. Hop notes, if any are concealed beyond the ginger snap, although with a body as light as this beer has, the ginger provides more than enough bittering to warrant any quantity of hops fairly unnecessary. 3
(Mouthfeel) The texture is light, faintly slick and moderately dry. Carbonation creates a medium wave of spritely bubbles for a moderately crisp mouthfeel. The body is light/medium for the style, light/medium amongst all beers. Balance is mildly vegetal bitterness and spicy over sweet. Alcohol presence is very low, and there are no discernible off characters. 3.25
(Overall) Some may be quick to dismiss a negative review against a hybrid style such as this Ginger Pale Ale, but after enjoying quite a many Ginger Ales and American Pale Ales separately, the best of both worlds could easily combine to generate something a little more flavorful on the beer side and better integrated on the ginger side than this beer. Expect some of the earthier flavors of ginger, in their full intensity and far too thin of a body to counter it. I think with a few tweaks to the malt profile, the overall beer would come out more favorably. Until then it's hard to distinguish this GPA from a diet ginger soda. 3
Matt Brewing Company's
Saranac GPA Ginger Pale Ale
3.15/5.00
2,508 characters

3.17
/5
rDev
-3.9%
look: 4 | smell: 3.25 | taste: 3 | feel: 3 | overall: 3.25
12 oz bottle.
The pour releases a strong ginger aroma, leading me to correctly guess that it has too much of this strong spicy root. The aroma does have some faint signs of the base pale ale, but the malts are almost completely masked in tasting. .. hops join, but don't meld with, the ginger.
O: a cross between a pale ale and a ginger beer.
345 characters
3.33
/5
rDev
+0.9%
look: 3.25 | smell: 3.25 | taste: 3.25 | feel: 4 | overall: 3.25
Best by 10/31/14.
Pours a clear copper with a foamy khaki head that settles to a partial film on top of the beer. Small dots of lace slowly drip into the remaining beer on the drink down. Smell is of malt, candied ginger, and ginger candy aromas. Taste is much the same with earth, ginger candy, and natural ginger soda flavors on the finish. There is a mild amount of earth bitterness on the palate with each sip. This beer has a good level of carbonation with a crisp mouthfeel. Overall, this is an above average beer with an earthy ginger presence that reminds me more of a natural ginger soda than a beer.
Serving type: bottle.
633 characters

3.39
/5
rDev
+2.7%
look: 3.25 | smell: 3 | taste: 3.5 | feel: 3.75 | overall: 3.5
Pours a clear golden straw color with honey highlights. The head is off-white and a bit sudsy; settles into a light cap.
The aroma is of the peppery ginger. Very ginger ale like. The beer has a sugary aroma, very much like a soda. A bit too sweet.
The taste is of a light barely there malt. The ginger pretty much dominates the taste profile. Ginger ale type ginger flavor, quite peppery. Not overly sweet which is nice. There is an earthy hop bitterness in the end.
The feel is light to moderate with fizzy carbonation. The carbonation burns a touch. Nice ginger brightness but balanced out by some hoppy bitterness. Good change of pace beer.
Definitely need to enjoy ginger to like this beer, as the beer is pretty much a ginger party. I find it refreshing and good palate cleanser. Not sure I would want more than two though.
832 characters

2.79
/5
rDev
-15.5%
look: 3.25 | smell: 3 | taste: 2.75 | feel: 2.75 | overall: 2.5
Pours a nice copper color with a two-finger head into my glass. I find the use of ginger to be an interesting take on the usual IPA.
Hmm. Smells "soapy" at first but that gives way to some hop aroma. Perhaps that is because I haven't had ginger-anything in a while.
Buttery malt with some pine hop resin. The ginger is there but it doesn't add much to the overall profile.
Ditto on mouthfeel. Feels more like a standard IPA, which isn't a bad thing. It just doesn't stand out enough to my taste buds.
If ginger's your thing, give it a try. I just don't see the point.
571 characters

3.28
/5
rDev
-0.6%
look: 3.25 | smell: 3.25 | taste: 3.25 | feel: 3.5 | overall: 3.25
From a twelve ounce bottle in the 2014 Summer Variety Pack.
Aroma is spiced ginger. Pours an orange amber body with short white head. Head reduces quickly to a thin film, no lacing. Taste is full on sour ginger . It has a medicinal aftertaste, as if it were brewed with Listerine!
281 characters
3.06
/5
rDev
-7.3%
look: 3.5 | smell: 3 | taste: 3 | feel: 3.25 | overall: 3
Bottle purchased as part of the Saranac summer pack.
Pale copper body, with not much head or lacing.
Smells like ginger, with some herbal hops.
The taste is similar. I have no idea if the pale ale underneath is any good (I honestly doubt it is) because the ginger dominates to a point of detriment. Overly spicy ale. I can pick out some slightly toasted malt flavors, and some herbal hops, but it's ginger all the way.
Medium bodied, crisp, dry mouthfeel, not all that drinkable due to the heavy-handed ginger influenced. High carbonation.
This was a miss, pass.
567 characters

3.54
/5
rDev
+7.3%
look: 3.75 | smell: 3.5 | taste: 3.5 | feel: 3.75 | overall: 3.5
Like the others in the twelvepack I bought last week and have already tried and reviewed here, this has "BB 001 31 2014" on the bottle neck, but I'm assuming the BB refers to bottling date rather than Best By, since some of the beers in the pack, including this one, only came out for the first time a month or two ago,
Poured from the 12 oz. bottle into a Samuel Adams nonick.
a: Amber with a finger and a half thick white head which receded to thin surface foam and spotty lacing.
s: Ginger with some strength.
t; Ginger pretty strong over a medium malt base. At first the ginger flavor is almost overpowering, but it mellows out fairly quickly, perhaps in part because I was drinking it with a spicy chicken dinner. Dry finish.
m: Medium, good body.
o: I usually don't like spiced beers, but I got used to this one. Worth giving a try if you like that style. You can definitely taste the ginger.
905 characters

3.89
/5
rDev
+17.9%
look: 3.75 | smell: 4 | taste: 4 | feel: 3.5 | overall: 3.75
To really experience and enjoy the GPA, you must have first had Saranacs's Ginger Beer.
In my personal opinion the concept here was to make an alcoholic version of there celebrated Ginger Beer. In that aspect, they have succeeded admirably, very crisp, and light on the tounge and a ginger taste through out. Some may call this "one dimensional" i cant argue with them, it seems that was the point here though.
412 characters

3.55
/5
rDev
+7.6%
look: 4 | smell: 3.25 | taste: 3.5 | feel: 4.25 | overall: 3.5
A-pours a crystal clear golden color with a small foamy off-white head that has good retention, carbonation bubbles shooting up the glass
S- lots of ginger on the nose with a peppery spice as well, also picking up a vegetal aroma, some spruce-like hops, and a touch of toasted malt
T- the peppery notes continue through to the taste, followed by a big kick of ginger. The ginger is much stronger than I thought it would be. Faint piney and herbal hops kick in before leading to a big toasted malt finish
M- medium body and carbonation lead to a foamy mouthfeel and a smooth,crisp & dry finish
O- I expected this to taste like watered down ginger ale, but that wasn't the case. The flavors were quite profound, which is surprising from Saranac. The ginger gets a bit to peppery after a while, but otherwise a pretty good summer beer
837 characters
3.77
/5
rDev
+14.2%
look: 4 | smell: 3.75 | taste: 3.75 | feel: 3.75 | overall: 3.75
Their beers are always looking great, this has a pale copper clear body with a slightly off white head fine speckled lacing just looking great. Aromatics bring fresh cut ginger notes to the forefront, I'm actually excited to try tasting it. Not much in the way of hop character the GPA is overshadowing the hops in my glass, contains citrus notes apricot and fresh sliced ginger. Flavor wise spicy pickled ginger notes, moderate caramel malt base fades away into the backend of the palate, a truly satisfying combination this would go great as a chicken marinade with fresh sliced ginger added the sweet and spicy combo could be epic with the malt presence caramelizing once it hits the grill. Mouthfeel is medium bodied dry finish from the ginger additions, nothing offensive here very easy to consume. Overall, I'm much more impressed with this version of a ginger beer than Robinson's version from the UK the Old Tom ginger was 11 bucks (bar pricing) with pear juice and ginger added, it was a sweet sticky mess with fresh ginger presence.
1,042 characters

3.36
/5
rDev
+1.8%
look: 3 | smell: 3.75 | taste: 3.25 | feel: 3.25 | overall: 3.25
Amber color with a creamy soda head. Vigorous pour activated all kinds of bubble formations deep below the surface. Fizzed out frantically.
Strong ginger ale nose with some sweet spiciness. A palette of malt and herbal hops adds a little depth. Mostly sweet, spicy, and candied.
Ginger now only becomes a subtle spicy hint. It's the fresh kind, but it's merely addind some flair to a simple pale ale. The grains are gently toasted and diminished. Presented here are herbal hop flares that complement the ginger nicely. Nice and dry. Well balanced.
Drinks with a good air. Generously carbonated over a lighter body. Easy peezy.
A very light pale ale with great gingery aromatics. Lightly spicy and pleasantly herbal.
719 characters

3.79
/5
rDev
+14.8%
look: 4.5 | smell: 4.25 | taste: 3.75 | feel: 3 | overall: 3.5
Golden amber color with moderate carbonation and a mild head. Heavy ginger aroma mixed with citrus hops. Again, heavy ginger taste but the bitterness of the hops clashes with it. Almost tastes like a ginger root. Finishes with more sweetness. Would go well with deserts or something that could provide some sweetness to pair.
325 characters
3.28
/5
rDev
-0.6%
look: 3.5 | smell: 3.5 | taste: 3 | feel: 3.75 | overall: 3.25
12oz bottle poured into a snifter. Best by Oct 31,1014.
A: When it says artificial color added right on the label I'm not sure how to rate appearance. Pours a clear amber with a decent off white head on top. After a minute or two the head dissipates leaving a few spots of lacing.
S: Pow, ginger right up front. Blows away all the other aromas leaving it a bit one dimensional.
T: Lots of ginger in the flavor too. A slight hop bitterness comes in mid sip. Lingers with a lasting ginger flavor. Just a hint of malt breadiness.
M: Medium body with moderate carbonation. Mostly clean finish with just a bit of stickiness on the backend.
Overall could be a little more subtle with the ginger flavor. Adding to the flavors we know and love in a pale ale instead of dominating.
779 characters
Saranac Ginger Pale Ale from Matt Brewing Company / Saranac Brewery
3.3
out of
5
based on
89
ratings.