Jed's Hard Root Beer
| Matt Brewing Company / Saranac Brewery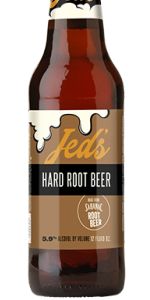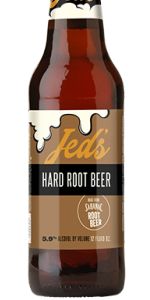 BEER INFO
Brewed by:
Matt Brewing Company / Saranac Brewery
New York
,
United States
saranac.com
Style:
Herb and Spice Beer
Alcohol by volume (ABV):
5.90%
Availability:
Year-round
Notes / Commercial Description:
None provided.
HISTOGRAM
Ratings: 7 | Reviews: 4
Reviews by BucannonXC5:
4.35
/5
rDev
+19.8%
look: 2 | smell: 4.5 | taste: 4.5 | feel: 4.5 | overall: 4.5
Type: 12-oz. bottle
Glass: Figueroa Mountain shaker pint glass
From: Trader Joe's in La Mesa (San Diego), Calif.
Price: $1.50
Purchased: April 4, 2016
Consumed: April 5, 2016
Misc.: Bottled on Oct. 27, 2015 at 10:37 a.m.
Saranac Pale Ale was arguably what got me into craft beer back in the late 90s/early 00s and I'll try something from them anytime. And, seeing that this beer was made with Saranac Root Beer? Count me in. I could not find it on Beer Advocate for the life of me and researching it a bit it appears it came out in October, so I don't know why it hasn't been added yet. If the warlords take it down, they take it down. Hoping this one is close to NYFRB.
Poured an auburn, mahogany, rather clear color with what appeared to be fizzy, tan head, but disappeared instantaneously. No lacing on the sides of the glass. No retention. (Sight - 2.00)
Was getting ready to write the usual that it smells like you think it would, but actually getting some different flavors. I do get root beer first, but also menthol and faint herbal hops. The rest of it is what I'd expect in sugary caramel, vanilla, brown sugar, birch and root barrel candy. (Smell - 4.50)
Tasted pretty much just like a root beer. Scary how little alcohol I got. Also caramel, vanilla, birch, hints of molasses, brown sugar and very faints of cinnamon. (Taste - 4.50)
Medium body. Sticky texture. Average carbonation. Long, sweet finish. (Feel - 4.50)
This was awesome. I'd put this up to NYFRB any day. (Overall - 4.50)
4.35 | 97 | A
1,531 characters
More User Reviews:

3.94
/5
rDev
+8.5%
look: 4 | smell: 3.75 | taste: 4 | feel: 4 | overall: 4
Sampled by itself and with vanilla ice cream in a float. This has the typical aromas and flavors of root beer, but what sets it apart from some other hard root beers is that it is not overly sweet. There is some bitterness and dryness that suggests the qualities of a beer rather than just a soft drink with grain-neutral alcohol added. This was quite good in a root beer float, with just the right amount of bitterness to balance the sweetness of the ice cream. If you enjoy these types of beverages, this one is worth a look.
527 characters
3.6
/5
rDev
-0.8%
look: 3.5 | smell: 3.5 | taste: 3.75 | feel: 3.5 | overall: 3.5
A: The beer appears black when viewed from afar, but upon closer inspection when held up to a bright light it is very dark amber red in color. It poured with a thin beige colored head that quickly dissipated, leaving only a thin ring of bubbles around the edge of the glass.
S: Light to moderate aromas of root beer flavors are present in the nose along with some hints of licorice.
T: The taste follows the smell and has lots of root beer flavors. The licorice isn't as noticeable so it tastes more like a root beer soda and has a little associated sweetness.
M: It feels light- to medium-bodied on the palate and has a moderate amount of carbonation.
O: This "beer" does a good job at resembling a soda while hiding any traces of alcohol. I found this to be a cut under the Coney Island Hard Root Beer, but it is still a very good example of a hard root beer.
Serving type: bottle
884 characters

2.5
/5
rDev
-31.1%
look: 2.5 | smell: 2.5 | taste: 2.5 | feel: 2.5 | overall: 2.5
3.44
/5
rDev
-5.2%
look: 3.5 | smell: 2.5 | taste: 3.75 | feel: 3.75 | overall: 3.75

3.81
/5
rDev
+5%
look: 2.5 | smell: 4 | taste: 3.75 | feel: 4 | overall: 4
12 oz bottle served cold into a pint glass. Purchased while visiting Niagara Falls. Not sure if this is really beer, but since it's listed, might as well give it a review.
Appearance - Pours a dark cola brown with a finger of yellowy tan head that recedes exactly as quickly as you'd expect it to. Lots of bubbles initially although subsiding quickly afterwards.
Smell - Exactly like root beer, with just a hint of an extra kick whether that is ginger of pepper it's hard to say.
Taste - Rather sweet as root beer might be, with some ginger root peeking through for some added sharpness and complexity. Alcohol is imperceptible. The sweetness gets to me after awhile, but that's probably since I drink about 1 can of pop a month. Some cinnamon appears for good measure.
Mouthfeel - Light, prickly carbonation. Exactly like root beer. Quite sticky especially at the end.
Overall - In terms of doing what the brewer set out to do Jed's Hard Root Beer deserves a 5. In terms of spiced beers, it's certainly a little different and maybe not up to par. I'll split the difference and give it a well earned 4 rating. Not something I'd want to drink frequently but nice alternative (malternative?) treat.
1,203 characters

3.77
/5
rDev
+3.9%
look: 4 | smell: 3.75 | taste: 3.75 | feel: 3.75 | overall: 3.75
Jed's Hard Root Beer from Matt Brewing Company / Saranac Brewery
Beer rating:
3.63
out of
5
with
7
ratings