Chesapeake Wine Company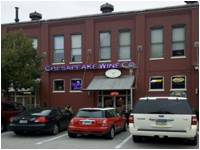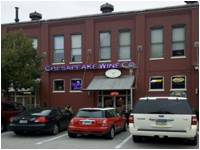 PLACE INFO
Type:
Store
2400 Boston St
Ste 112
Baltimore
,
Maryland
, 21224-4780
United States
(410) 522-4556 |
map
chesapeakewine.com
Notes:
No notes at this time.
Added by Dithyramb
PLACE STATS
Reviews:

7

Ratings:

pDev:

10.47%
HISTOGRAM
View: Place Reviews
Ratings: 9 | Reviews: 7



3.25
/5
rDev
-14.9%
I read the listing for this place here on BA and decided to check it out. The location is nice, in Canton near Fell's Point, by the water and nested inside "The Can Co.", a sprawling former canning factory that now houses loads of stores, restaurants and offices.
The place is a bit hard to find, but once you're inside you'll marvel at the really beautiful, classy space. Very upscale! It is mostly wine, and super expensive at that. No Yellowtail here! Also Euro gourmet goodies... truffle oil, cheese, figs.
A seat-in dining area by a counter offers some of these goodies to eat. But I don't love the idea of munching at a wine store!
There is one big shelf with beer, and a cooler right next to it, with an emphasis on local/regional brands (Heavy Seas, DuClaw, Lancaster, Dogfish, Victory). Some singles and lots of Belgians and macro Euros (Stella, Hoegaarden, Leffe).
The bomber section shows Chimay, Delirium and other Belgians, plus Stone, Dogfish, Heavy Seas.
Selection is serviceable, good for an emergency, but this is not a destination. Very pricey. Palo Santo (4-pack) is $16, and most bombers start at $8-$9.
Store was empty, and yet I was not greeted or offered help. This could be nice, or terrible.
I was not impressed overall. The prices are a particular turn-off. I mean, I thought Canton was a working-class 'hood??
1,348 characters
3.25
/5
rDev
-14.9%
Have been here many times, but don't believe I've ever bought a beer here. So that should tell you something about this place right off the bat.
CWC is located in a strip mall right off of Boston street, no more then a block away from Mahaffey's (it's just a few steps from the Canton Safeway). The place is actually fairly good size, though the front door area is so small you could easily miss this place if you weren't looking for it. The focus here is on wine, with a modest size wine bar holding roughly 10 seats taking center stage in CWC. There are also some tables and chairs scattered around the interior, where you can enjoy a glass or bottle of wine or beer. There is a limited food menu as well, which one expects given the lack of a kitchen. They do some flat bread pizzas, a cheese plate, an antipasta plate and a few other snacks. They also have a fairly decent selection of gourmet cheese here, and the walls are lined with wine, categorized by varietal.
As for beer, yes they have some. In the back on the far left are some shelves of beer, a few box displays and a cold box. The quality of what CWC has on offer is pretty decent, with a nice selection of Belgians and the usual local suspects (Clipper City, Troeg's, Brewer's Art, Dogfish Head, Victory, etc.). Prices are a bit on the high side, but then the same can be said of wine prices here, so I think that's to be expected.
Obviously, this is not a beer destination stop, but instead a place to stop in and pick something up if you happen to be in the area and don't feel like going out of your way someplace else before heading home. Service is pretty much non-existent when it comes to picking out a beer, though the friendly staff know quite a bit about wine and can help you with that if that's what you're shopping for here.
Shrug. As I mentioned, I've never bought a beer here before, and can't see or imagine that changing any time in the future. Like a number of other places I could point to in the area, it's debatable whether or not this place should ever have been added to the beerfly data base.
2,088 characters
4
/5
rDev
+4.7%
This is a place nestled in a kind of strip mall like area near my friend's place in Baltimore. Like some have said, you don't really know what it is unless you step inside, though I suppose there's a sign that says "wine bar" if you're driving close by the entrance.
He has a friend who was working the actual wine bar in the middle. Wine is the forefront here. We opted for the $10 option: 4 wines, 4 1.5 oz pours. I'm not sure if you can drink beer in the place, but you can also buy a bottle of wine and drink it at the bar for $5 or $6 beyond the retail price, which is also a nice option.
Along the back far wall lies the beer. I was hoping for a little more of a selection (though the wine section, which is pretty much the whole store almost, seems to be top notch), even though it technically is a Wine Company. They had a lot of recognizable things, along with some local Brewer's Art and Clipper City, a good selection of hard cider, and some Belgians. Maybe a good place to stop for a bottle or two, or a six pack, but I don't think I'd make it my regular beer stop if I were in the area.
However, it's certainly worth checking out, especially if you're like me and you also are getting into wine in addition to beer.
1,234 characters
3.7
/5
rDev
-3.1%
This is a nice little place, sitting among several retail stores at the Can Company in Canton. It is overly unassuming from the outside, one could hardly tell whether they were a retailer or a distributer, as well as from the inside, I missed the fact that they sold quality beer several times. I only noticed the beer while wandering around for an Italian Sangiovese.
Nestled along the back wall is a few dozen shelves of some of the highest quality beers. Only craft, micro brew, and good international choices are found. The US stuff is almost exclusively Mid-Atlantic, but it seems like they have most that are available in the state. Belgian and German lovers would probably require a much larger selection. They generally only have one type of brew from a brewery, but may have several Clipper City and Unibroue brews if you wander.
I'm not sure if they sell cases, since I've never seen them, but I generally stick to the singles and sixes anyway. Singles of all are available, both RT and cold. I've purchased a $5 bomber of Allagash and a $7 six-pack of Storm King. Many prices are higher. I've since learned that there is a "corking" fee on large bottles of beer. Though this may make sense for wine, charging me several dollars to "cork" my Hennepin just pisses me off.
It has turned out to be one of my regular spots. Mostly because is close to my house; instead of driving out to Wells or Beltway, this is around the corner. Large purchases would be cost prohibitive
The people are friendly and attentive, but are not well-versed in beer. I've asked the owner about having a beer tasting event. They don't want to be bothered and want to focus on wine. They do have finger food, like antipast and small pizzas, that are well done and complement some Belgian brews or Italian wines quite well.
If you live near the area, this will keep you from driving out into the sticks to get a few odds and ends. However, if you want more reasonable prices on everyday regional goodies, Loading Dock might be your place.
2,035 characters
3.9
/5
rDev
+2.1%
First off, I'd like to say that whenever I'm running a bit low on beer, I will go here 75% of the time, largely due to the fact that its only about a mile from where I live, whereas Wells and Shawan are much too far north.
While the store focusses mainly on wine, as the name suggests, the have a pretty decent selection of beer too.
SN Celebration, Saison Dupont, alot of Victory, Lindemans, Delerium, Ommegang, Unibroue, and Chimay of course.
Every Tues they have a Wine Tasting event for $25... I've never arrived on time, but I have been there around closing time on Tues, and it was still packed.
The service is nothing to brag about. If you have a question, you can go find one of the cashiers, but other than that, its rare for someone to ask you if they can help you with anything.
I'm not quite sure how knowledgeable the rest of the staff is, but the Australian bird seems to know her stuff.
I could use a bit more selection... but my real complaint is the price. Yes, you can find a decent deal every now and then... but most stuff is greatly overpriced.
Still, all in all, a very solid place if you live in the Canton/Fells Point areas
1,168 characters
4.3
/5
rDev
+12.6%
They have a good selection of beers, but I can get a better selection at a couple places in the area for much less. Their staff is always friendly and they def' gear their business to the wine crowd, which should be no surprise from the name of the place. However, their beer prices are very high. Six packs are always $2-3 more than I would pay at some other places in the area. It is in a great location, and they have a nice crowd (especially during the "First Friday" celebrations. I can see this as a great place to take a date for a beer and/or a glass of wine, but not a place to hang out with the fellas.
612 characters
3.7
/5
rDev
-3.1%
A nice little place you can go with wino friends and still enjoy a fine brew, even at a reasonable price! This place is a wine/beer shop that doubles as a wine/beer bar. About 20 tables, a small bar, and a small cheese/pastry counter adorn the place. Well stocked single and 6 pack selection consisting mainly of regional micros, German and Belgian imports and US Belgian style ales. Nothing earth shattering, but lots of fine beverages. They keep most of their beers both warm and cold. If you're drinking in the store, you simply grab what you want from the cooler, your waitress opens it, and that's that. Food is quite limited, but pretty decent. The Chorizo pizza is pretty good. Service is so so, but I've only been there on a "First Friday" when they have a live band and the place is packed. I wouldn't seek this out as a destination, but if you're looking for a place to go with "high brow" wine snobs, this is your best bet to enjoy a quality beverage of your own.
974 characters
Chesapeake Wine Company in Baltimore, MD
Place rating:
3.82
out of
5
with
9
ratings