Baltimore Tap House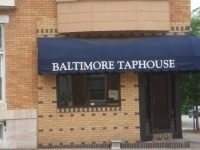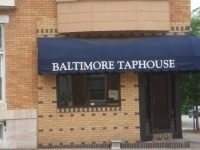 PLACE INFO
Type:
Bar, Beer-to-go
600 S Potomac St
Baltimore
,
Maryland
, 21224-3907
United States
(410) 276-7553 |
map
Notes:
No notes at this time.
Added by farHillsBrewer
PLACE STATS
Reviews:

12

Ratings:

pDev:

11.35%
HISTOGRAM
View: Place Reviews
Ratings: 14 | Reviews: 12
Reviews by SundeyPSU:
5
/5
rDev
+18.2%
vibe: 5 | quality: 5 | service: 5 | selection: 5
I found a GREAT place when I came across this bar. The owner, John Bates, used to tend bar at a place called Racers Pub which is known for their selection of great beers. However, Racers is in the county and I live in the city. John Bates brought that idea into the city within walking distance from my home. Thanks John!!! He consistently has a fantastic selection of beers on tap, and the bartenders are always friendly and knowledgeable. If you are lucky enough to go there when John is behind the bar, you will def' get great service and beer conversation. The only thing..., is that they do not actually have Growlers. They ARE working on offering them though, I was told. AND, you can take your own Growler and they will fill it up. So, that is a minor, very minor, con. It would be nice if/when they get a kitchen too. They do offer free bar snacks like pretzels to help soak up all that great ale they serve, but a kitchen would keep me there longer (if that is a good thing). I sadly have to leave when I get hungry, and walk to Canton square for a bite to eat when the time comes. Other than the lack of Growlers and a kitchen, this is hands down one of the BEST bars in Baltimore. The addition of growler offers and a menu would put it over the top!!
1,261 characters
More User Reviews:

4.72
/5
rDev
+11.6%
vibe: 4.5 | quality: 4.75 | service: 5 | selection: 4.5

4.75
/5
rDev
+12.3%
vibe: 4.75 | quality: 4.75 | service: 5 | selection: 4.5
I've been going to this bar since it opened. It was called Growler's back then. I love this bar. I feel at home when I go there. They always have something good on tap. The owners are great people and the bartenders are always friendly and upbeat. It's a very friendly bar. They don't sell food but they do have plenty of menu's if you want something delivered. If I lived closer to this bar I would be there everyday.
418 characters
3.37
/5
rDev
-20.3%
vibe: 3.75 | quality: 3 | service: 4 | selection: 3
With a name like Baltimore Tap House you would think that this would be a destination bar but if you traveled for it you might feel disappointed at first site. They only have about 15 taps so it's not a huge place. It's a pretty unassuming bar but it's a gem in the neighborhood. I used to live 2 blocks away and was blessed. Happy Hour is from noon to 7pm but Sierra Nevadas are cheap all day. Marty is your favorite bar tender. You'll know what I mean when you go. They don't serve food so keep that in mind. This place just feels right.
539 characters

4.4
/5
rDev
+4%
vibe: 5 | quality: 4 | service: 5 | selection: 4
The wife and I walked 1.5 miles from Fells Point to Canton to check out the Baltimore Tap House. While the beer selection was not as good as I thought it'd be, the bar ROCKS!!
This is your quintessential neighborhood bar, where everyone knows each other. Cozy, charming, quiet- the place where you make friends. It's more like hanging out at your friend's living room.
Oldies music, friendly patrons and the best bartender ever- Marty!
They have 14 taps, with lots of IPA's. Nothing crazy but solid. Flying Dog Raging Bitch, Weyerbacher Harvest, Sierra Celebration and Sierra Jack&Ken's were the standouts.
Growler refills are $12.50, but they don't sell empty growlers (they did when they used to be known as "Growlers").
Prices are incredibly low, they have a happy hour until 8pm every day. We paid $3.75 for some beers, and $5.50 for a pint of Jack&Ken's (even specialty beers are served in whole pints, I like that). No food, but you can order and get delivery right there.
Love the Taphouse! It's a long walk from our place, but we will be back.
1,060 characters
4.44
/5
rDev
+5%
vibe: 4 | quality: 4.5 | service: 4 | selection: 5
Great selection of beer on their taps. Whether you are their to fill a growler or to sit for a night, the very nice neighborhood bar is welcoming.
It is worth it to stop in and have a few on any given day. The bartenders know the beers that are on tap, and are helpful in your selection.
The owner has experience working at another of the city's premier beer bars and brought that to the TapHouse. Being off of the main drag (O'Donnell Square in Canton), the Baltimore Taphouse gives a great out of the way place to grab a beer.
532 characters
4.06
/5
rDev
-4%
vibe: 4.5 | quality: 4 | service: 4 | selection: 4
If I remember, I'll submit a change for the name of this place. It's now called the Baltimore taphouse (I know, I know... very original).
This place is the quintessential neighborhood bar, but with a twist. As recently as 5 years ago a place like this would have guinness, harp and bass on tap, along with Yuengling if you were lucky (if you want to call that luck). Otherwise, the place would cater to your usual macro swilling, hard booze crowd. Well this is 2008 baby, and much to my pleased surprise, this place is yet another example of how things have changed and improved in Bawlmore.
As expected, this place is the usual cozy tavern, with a long bar running along the left side of the establishment when you walk in. There is a dining area in the back of the bar, but it's really not all that large either. So this is a small neighborhood dive bar, except.... oh wait, the chalk board lists 14 different craft brew selections on tap (they also have a tap handle for miller lite, but that's the only crap on tap - amazing). This place has a very relaxed, low key vibe, with what appeared to be a number of regulars and neighborhood bar flies hanging out. The bar tender was pretty quick and efficient, and while not super knowledgable (he wasn't sure what I was talking about when I asked for a glass of Uber Pils), for the most part he was on top of the tap line.
This place is a bit out of my way and all things being equal if I'm in the area I would probably prefer to hang out and drink at Mahaffey's. Still, this place was a pleasant surprise and a welcome addition to the Baltimore beer scence. Impressive.
1,622 characters
4.58
/5
rDev
+8.3%
vibe: 4 | quality: 4.5 | service: 4.5 | selection: 5
I've been to this place several times. My buddy and his wife live like a half block from it.
Forget the fact that this is a 30 second walk from their door, this is a bar I'd frequent. Great draft selection, in fact this is the first place I tried Old Dominion's Oak Barrel Stout. Decent bottle selection, but it's all about the drafts here. Seen different Dogfish Head there, Troegs and many other fine products.
Last time I was there was in October and they had a nice selection of Oktoberfest beers and other fall seasonals.
Bar staff is nice and knowledgeable.
They are changing the name of this place. It seems Growlers in St. Louis claims they have a copyright on that name. Not sure what the new name of Growlers will be. But let's be realistic, everyone will still call it Growlers.
795 characters
3.6
/5
rDev
-14.9%
vibe: 3 | quality: 4 | service: 3.5 | selection: 3.5
I was a little bit underwhelmed after going to Growler's. Maybe there was too much hype, or maybe it was simply a bad night. The few beers that were advertised which I really wanted happened to be out of stock. Bartender was friendly, not overly helpful though. Selection was about average as beer bars go... Dominion, Victory, some nice imports, nothing too exotic. Seemed a little too empty for a Friday night, especially considering how small the bar is, though I'd take this place over Max's on Friday night.
I'm not exactly sure what this "clean" motif means that runs through some of the previous reviews. It's a nice place, but considering the previous tenants, it would take an H-bomb to cleanse it.
Overall, it's nice to have another good beer bar in town, so I can't complain too much. Prices seemed reasonable. A huge step up from the previous tenant, the Alley Kat. Unless you like to troll for underage Dundalk skanks, that is.
946 characters
3.8
/5
rDev
-10.2%
vibe: 3.5 | quality: 4 | service: 4 | selection: 3.5
Eh... I'm giving this bar a reasonably high score due to the fact that I DID in fact like it, but I was rather disappointed after reading the other reviews. Having OD Oak Barrel Stout is nothing special in Baltimore... especially when Max's has it as well.
To be honest, the only reason I went here was because their website said they had Fuel on tap... they didnt. In fact, this was the theme of the night for me.
"You still have Fuel on tap?"
"No"
"I see a bottle of Scheider Weisse on the shelf, could I get that?"
"No.. cant find it"
"Could I get a bottle of Sammy Smith Oatmeal Stout then? I see it up there as well"
"No... I know we have some in, but I forgot to bring it upstairs and put it in the fridge"
As you can imagine, I got moderately irritated.
He was nice enough about not having it, and was patient for my next order, but his knowledge of beer seemed to be mediocre at best. A guy I was talking to ordered a Lindemann's and I had to point the bottle out to the bartender so he would know what to look for.
On the good side, there are a few reasonably good brews... happy hour is $2.50 pints, which is a reasonable deal, but not great considering what they had to offer (DFH 60, OD Oak Barrel, DuClaw's Alchemy, Brewer's Art Resurrection).... not bad, but certainly nothing too surprising.
I dont know.. maybe I chose a bad night... but certainly nothing special here.... save your $$$ for Mahaffey's... its right up the street.
1,466 characters
4.47
/5
rDev
+5.7%
vibe: 4.5 | quality: 4 | service: 5 | selection: 4.5
This place features clean lines, 10 or so quality taps and very friendly service, what more can you ask for?
A very clean establishment with a nice corner bar atmosphere. The only negative is that there is no food. I might have stayed there all day on Sunday if food was available! The "large TV" to patron ratio is excellent; 4 large TVs to 14 or so bar stools.
Rogue Mocha Porter, Bear Republic Red Rocket Ale and Dominion Oak Barrel Stout were among the fine draft choices. A perfect place to start a day of bar hopping. Stay here untill you're hungry!! Then return for a night baseball game and a few night-caps!!
624 characters
4.24
/5
rDev
+0.2%
vibe: 3.5 | quality: 4.5 | service: 4.5 | selection: 4
Growler's Pub is a small, 13 seat corner bar in the Canton area with 10 good taps (except for Miller Lite... probably required for some of the local regulars). They offer 26 bottles which are all good except for Amstel Light, and included at the last time I was there: Rogue Juniper Ale, 5 Belgians, 2 American "Belgians", and 2 Canadian "Belgians" from Unibroue. There was a cider in there as well.
In addition, they had a very good Scotch selection and an OK selection of tequilas.
As far as the bar goes, it's not much to lok at, but it's clean! They've got a sports bar theme mixed with a display of growlers and some other brewerania. There are 3 tv's, a Golden Tee machine, a Mega-Touch on the bar, and a pool table.
There's no food but they do put out free Utz pretzels and have other snacks available for sale.
Overall, it's a pretty nice little place with a friendly group of regulars; and it's not too far from Mahaffey's.
945 characters
4.3
/5
rDev
+1.7%
vibe: 4 | quality: 4.5 | service: 4.5 | selection: 4
Relatively new pub opened by John Bates, former bartender at Racer's. Cleanest bar I've ever been in. John keeps his 8 taps loaded with high quality craft beers, including seasonals. On nitro, Guiness and sometimes Old Dominion Oak Barrel Stout, outstanding. Last visit I chose a Victory Hop Whallop over Sierra Nevada Celebration, because I had never had it before. Also found Brewewr's Art Resurrection, Clipper City seasonals and other tasty favorites. Definitely worth a stop. Pool table in the back, and usually one of John's vast collection of blues CD's on the box.
If it were closer, I'd be in there weekly. Pint's are $2.50, not sure if that's happy hour pricing.
Stop in and say Hi to John. You might be tempted to have another.
742 characters
Baltimore Tap House in Baltimore, MD
Place rating:
4.23
out of
5
with
14
ratings