Grand Cru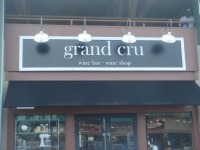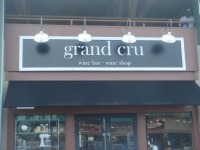 PLACE INFO
Type:
Bar, Eatery, Beer-to-go
527 E Belvedere Ave
Baltimore
,
Maryland
, 21212-3745
United States
(410) 464-1944 |
map
grandcrubaltimore.com
Notes:
No notes at this time.
Added by Dithyramb
PLACE STATS
Reviews:

7

Ratings:

pDev:

16.09%
HISTOGRAM
View: Place Reviews
Ratings: 10 | Reviews: 7
2.59
/5
rDev
-31.7%
vibe: 2.5 | quality: 1.5 | service: 4 | selection: 2.5
Located within Belvedere Square's indoor market.
The most expensive pints in the city.
Price and locale must be some kind of deterring factor, because in early November they are still selling Sierra Nevada Summerfest, and it still costs 7 bucks for a 12 ounce pour. Normally, a self-styled epicurean beer bar would have sense enough to lower the pint prices and rotate it out. Not Grand Cru, though. They're sticking with that outrageous pricepoint until the whole goddamn keg is finished.
The vibe is white and upscale, definitely tailored for more of a wine crowd. The staff was friendly but prices and beer quality are both egregious. Go somewhere else.
665 characters

2.8
/5
rDev
-26.1%
vibe: 1 | quality: 3.75 | service: 1 | selection: 4 | food: 3.25
This place has the best beer in north Baltimore. The environment is pleasant, and you can even bring in food from Atwaters next door. That being said, it isn't enough to make up for the horrible experience you will have while drinking and eating.
The service is terrible, the owner is rude, and these factors have ruined many visits for me. Even when you sit at a table, you have to go to the bar to get service from one of the 4-5 people standing behind the bar chatting with one another. And then, you are either ignored or on the receiving end of attitude. The draft beers are very expensive, and the carry out beer is several dollars more than even the most expensive liquor store.
Craft beer is important to me, and this is why I have visited Grand Cru on many, many occasions over the past ten years: there literally is nowhere north of here. However, I am done with this place: they have been rude to me one too many times. I will now drive to Hampden where there are several great places with draft beer and good food: 13.5%, Food Market, and Woodberry Kitchen. If you're willing to go further afield, Heavy Seas Alehouse, Metropolitan, and Red Star have not only great food, great food, but also great service.
1,222 characters
3.98
/5
rDev
+5%
vibe: 2.5 | quality: 4.5 | service: 4 | selection: 4
A nice meeting place for friends... not TOO cozy though. It has the feel of a cafe with some swank to it (rather than a tavern or a lounge).
While the place clearly focuses on wine, they do have a beer engine and several draughts... all beer selections were good to excellent. Bitburger, Flying Fish, Oskar Blues, St. Feuillien, Chimay and more were on tap this evening. All beers I sampled there tasted fresh and were served in the appropriate glassware.
Service was prompt. I didn't have the opportunity to test the server's beer knowledge... but something tells me that they know their stuff there (their beer selection speaks for itself).
I found the "Selection" attribute of this rating difficult to quantify... they don't have QUANTITY, but they certainly have QUALITY. Definitely check this place out if you're in the area...
838 characters
4.05
/5
rDev
+6.9%
vibe: 2 | quality: 4 | service: 5 | selection: 4 | food: 4
Grand Cru is an important bar to remember if you visit Baltimore and for one simple reason: cocktails. The bartenders can make virtually anything you request and know enough cocktail theory to mix a decent drink they've never previously encountered. There probably isn't another bar in Baltimore with a staff so thoroughly acquainted with the art of cocktails. They're also friendly and readily engage in conversation with patrons.
But this is BA, so onto the beer. Grand Cru has a limited number of taps, but it makes the most of them, usually serving a seasonal, a Belgian or two, a US craft brew (currently Stone Arrogant Bastard), and Bitburger, which appears to be the house stalwart. The bottle selection is strong and reasonably priced (although a draft or cocktail might set you back farther than intended), with the full complement of domestic craft brews--although with an east coast and mid-Atlantic bias--and some Euros for the more adventurous.
The food consists mainly of mini pizzas and cheese platters. Grand Cru is located in Belvedere Square, an upscale grocery, so the best food is to be found in the surrounding area. Grab a soup and half sandwich from Atwater's and eat at the bar
Of course, as an upscale grocery, Belvedere Square attracts a great many yuppies, so don't expect much atmospherically. The place feels somewhat sanitized, artificial, and the art on the walls is cringe-inducing. One might call it corporate abstract expressionism.
Bottom line is that Grand Cru should be high on your list if you want cocktails, and the beer isn't half bad either.
1,587 characters
3.88
/5
rDev
+2.4%
vibe: 4 | quality: 4 | service: 3.5 | selection: 4 | food: 4
In my opinion this place is a very welcome addition to the Baltimore beer scene. Granted, the atmosphere is a bit too yuppy-ized for my taste, and it's often crowded, but the folks who run this place make an effort to always have something interesting on tap. This is the only place I've ever seen Cassissona on tap, and the other day I saw the Brooklyner-Schneider Hopfen-Weisse on tap for the first time anywhere. Yes, the selection could be better (6 or 7 tap handles generally), but what they have is always very well thought out. This place also has a retail license, and they have a very nice selection of beers you can buy to take home.
The service here is OK, though I often think the place a bit understaffed given how crowded it gets. Hence, there can often times be a bit of a wait for service. However, the folks running the place are invariably pleasant and polite, which I appreciate. The food here is not bad and I find it interesting that they offer 5 or 6 different Alsacian tarte flambee's here. It really is a perfect wine/beer accompanyment, something that Trader Joe's has now picked up on, but seemingly no place else. I've also tried the cheese plate here, which was nothing really exciting, but I think they're probably limited by what you find in stores here in Baltimore.
Prices were OK I thought, with beer prices ranging from $3.50 a glass (for the Green Flash IPA) to $7 for a glass of the Chimay or Brooklyner-Schneider Hopfen-Weisse.
This is pretty solid place IMO.
1,507 characters
3.88
/5
rDev
+2.4%
vibe: 4 | quality: 4 | service: 3 | selection: 4.5 | food: 4
**2006 Update: They've recently updated the singles area with an even wider selection back there. Over in the low right hand corner, not to be missed are a few lonely bottles of DeuS ($25). The waitstaff has turned over for the better and the bartenders are still solid. Had Gnomette on tap this weekend...**
When we lived in the area, the only choices for a good bar were Swallow, Murphy's, and Fields. You came mostly for lax ID checks and/or ridiculously low specials on macros and rail drinks. Beer geeks had their pick of world class liquor stores, but that was it. No more
Grand Cru is located within the rejuvenated Belvedere Square Market. The outside is how its always been, just with a remodeled inside and new stores. GC is essentially a very good wine bar that happens to have quality brews. They rotate 30 fresh wines to choose from (plus a larger selection on the wall to take home). They have six high quality taps. This weekend, they had Bitburger, Chimay, DFH Raison, Ephemere, Red Seal Ale, and Lancaster Hop Hog. Taps change often. Though they only had about four quality bottles listed in the menu, they have fridges in the back filled with nothing but tasty regional/national micros with some Belgian and German favorites tossed in. Prices were what you'd expect at a beer bar, just a dollar or two more than retail. Though the selection isn't WOW! like at Wells, they have nothing but quality good brews.
Service was a little off at the tables. The waitress was a little out there, and we had to flag her down. The bartenders were fast, friendly, and knew a little about the beer. They are known as heavy pours with the liquor drinks. Beer is only served in either tulip or weisse glasses, depending on what you order.
Food was only finger food (cheese, olives, antipasto) from the delicious Italian place next door. Small, but delicious. They are completely open to folks bringing outside food in. We saw a couple who brought in their own steaks once.
Stop in, though a wine bar, you will find something worth having. Fridays during the summer have good bands and outside food and drinks.
2,127 characters
3.53
/5
rDev
-6.9%
vibe: 3.5 | quality: 4 | service: 2.5 | selection: 4
I'd been here once a long time ago, but made the trip out again because I heard they now had Gale's in cask. This is an upscale yuppy wine shop/bar in the upscale Belevedere Market--clean modern looking interior, a faux-marble plastic bar holding about 10 people, a large wine rack right behind the bar, with a handful of tall small round tables scattered around.
There are several taps of high quality beer behind the bar--Bitburger is their standard low-brow beer, they also had one of the Chimays, Maredsous 10, Victory Moonglow Weizenbock, and a Christmas beer from Rulles, and Belgian brewery I was unfamiliar with. The bartender enouraged me to sample the latter when I asked what the tap handle was, and I enjoyed it and ended up having one.
In the back of the bar are coolers with a good solid selection of 6 packs to go and singles either to go or for their. They had pretty much the complete lineup of Clipper City, Victory, and Dogfish 6 packs, including the recent seasonals, as well as a pretty strong selection of Belgians in single bottles. The menu indicates a corkage fee of $3 for 22 oz and 750 ml bottles. However, they have a limited selection of 12 oz bottles as singles--I purchased a Samael, and I was not charged a corkage fee--just $7 for the bottle, which is a really good price for a 14.5% beer at a bar.
As for the cask of a Gale's I came for--it was kicked and they hadn't put anything else on the handpump. I asked if they had plans for another cask--the tenders said none that they knew of, although they assumed that since they had gone through the expense of installing the handpump there would be more to come.
Service was a mixed bad. As I said, when I first entered I was greeted promptly and offered a sample of an unfamiliar beer, something I always like. However, after that I was more or less ignored because I wasn't a regular. First I grabbed my 12 oz out of the cooler and placed it in front of me along with my first empty glass--an obvious signal I want it poured, yet the bartenders both repeatedly walked passed me without even asking--and since they were both chatting with regulars I finally had to interrupt a conversation and ask one to come over. Same thing when I wanted my check. I understand when service legitimately can't be as prompt as I would like, but it's a real pet peeve of mine to see servers lounging around and socializing while my glass remains empty.
This is a nice place to stop if you're in the area, maybe before a movie at the Senator or while shopping at the market, but it's definitely primarily a wine, not beer, spot, and I just don't know if I'd make a special trip out here (unless I call and check on the cask first)
2,716 characters
Grand Cru in Baltimore, MD
Place rating:
3.79
out of
5
with
10
ratings