Traino's Wine & Spirits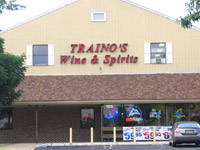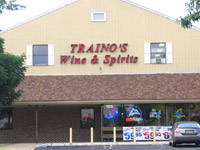 Store
100 Church Rd
Marlton
,
New Jersey
, 08053-9462
United States
(856) 983-0056 |
map
trainoswine.com
Notes:
Reviews by GeoffFromSJ:
3.65
/5
rDev
+12.3%
Parking situation on a Saturday morning was horrendous. They share the lot with a Dunkin Donuts/Baskin Robbins. 4 perfectly good spots are taken up so they can have a walkway because they put up a fence between rows of cars for no good reason. Plan to park in the drug store lot and walk. I hate to complain about parking. But this place was just plain bad. It's not like the place is in the city.
No help until the register with service.
Selection: Nice but not overwhelming. Saison Dupont, Nostradomus, Samuel Smith's, Adnam's (no Fuller's?), Abbaye des Rocs, all St. Bernudus (including their blonde), Troeg's mixed case, Sam Adam's seasonal pack, DFH, Delirum, Ommegang in 750's and small bottles, Weihenstephaner, Stoudt's Abbey bottles.
The St. Bernadus blonde stood out to me as something I don't see too often. Prices were reasonable. Wine selection seems nice too, but that doesn't impact this review too much.
Decent, and in combination with a run to nearby Joe Canal's a worthwhile stop.
1,010 characters
More User Reviews:

2.1
/5
rDev
-35.4%
Been here two times in the last week. On Sunday, picked up a bottle of Avery Maharaja bottled in June 2009 and it just tasted off to me. They did not have any more recently bottled Maharaja's. Spent some time there today and noticed heavy dust on most of the 22oz bombers. Service people's beer knowledge is low, though they are courteous and respectful. Selection is good, but up against a few other places in the area, there is really no reason to go here. I just didn't get the impression that this place cares about--or orders very much--beer.
547 characters

3.5
/5
rDev
+7.7%
Well, the previous two reviews pretty much covered all you need you'd might like to know about this location.
I've stopped in this place on several occasions just to kill time - never bought anything. Yeah, they're not the friendliest of folks working there, but I must say during each visit I was never ignored - at least 2-3 of the guys lurking in the back asked if I needed help. Better than nothing.
Two things in need of maybe mentioning are that they have fridges in the front that display cheeses and other food stuffs suited for wine pairings, etc, as they do have a decent wine selection as far as I can see, and they seem to specialize in that area over beer.
The other thing - beware of the freshness dates on some of their beers. I was very excited last year to find they had 750 ml bottles of Unibroue's Éphémère in two flavors I hadn't come across - cassis and cranberry. Upon further inspection (after wiping off some dust), the bottling dates said either 2005 or 2006. At 5.5% abv, I don't think that's good, no?
1,035 characters
3.5
/5
rDev
+7.7%
It sits at a funky crossroads that can be difficult to navigate, depending on the direction you want to go when you leave, and believe me, traffic will find a way to work against you. It's in the same building as a Dunkin' Donuts, which makes parking a challenge if it's prime donut or coffee time, but to be fair, Traino's isn't open early enough to be affected by the morning caffeine rush. Still, parkers beware.
And so, to the service, or rather the lukewarm reception you're sure to get should you do anything more than walk in knowing just what you want already. But hey, at least the vacant stare you get isn't vicious or cold-blooded. It's just that I don't think they care about you one way or the other except for the 60 seconds or so it takes you to complete your transaction at the register. But again, at least they're not hostile. That's a plus, right?
What they carry really isn't that bad a selection. The local standards are in place, with Flying Fish, DFH, Troeg's Stoudt's, and Victory well represented, and the usual cast of British brews are on display, with Young's, Adnam's, Samuel Smith's, and the expected Irish ales and stouts. There's a nice, if compact array of Belgians with St. Bernardus, Saison Dupont, and Chimay in place, as well as some Belgian-styles in the Ommegang line. A few Germans line up, and the Sierra Nevadas and their micro ilk are there. So it's not remarkable, but if you happen to be driving by, you might very well find something you like.
The prices are right in line with what you'll pay pretty much anywhere in a a 20 mile radius in South Jersey.
So it's clean, well-lit, indifferently serviced, a pain in the ass to get in and out of, and they don't carry anything you can't get elsewhere. But that's okay, because if you want something you know they have so you don't have to bother the folks to do anything but pay and the stars align and let you back into traffic without waiting long enough to develop a few extra grey hairs, then it's really not a bad stop.
2,030 characters
Traino's Wine & Spirits in Marlton, NJ
Place rating:
3.25
out of
5
with
5
ratings