Rahr's Blonde
| Rahr & Sons Brewing Company
BA SCORE
81
good
15
Reviews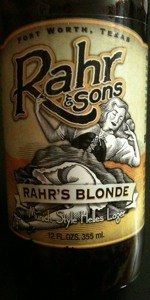 BEER INFO
Brewed by:
Rahr & Sons Brewing Company
Texas
,
United States
|
website
Style:
Munich Helles Lager
Alcohol by volume (ABV):
5.00%
Availability:
Year-round
Notes / Commercial Description:
Rahr's Blonde Lager was the first beer to come out of Rahr & Sons Brewing Company. It is a medium-bodied traditional Munich-style Helles Lager that features a rounded maltiness without being too heavy. And like every proud Texan, it has a good head, is pleasant – but not overly sweet. Have some fun with a blonde today!
Added by vickersspitfire on 10-01-2011
Reviews: 15 | Ratings: 154

2.58
/5
rDev
-26.1%
look: 3 | smell: 2.5 | taste: 2.5 | feel: 2.5 | overall: 2.75
Bottled 17615 at 42 degrees into snifter
Aroma – grainy
Head – small (< one cm, aggressive pour), white, fizzy, rapidly gone to leave one to two mm ring and a small island
Lacing – none
Body light yellow, hazy (chill haze), effervescent
Flavor – some malt, slightly bitter; no hops flavor, no alcohol, no diacetyl
Palate light, watery, fizzy
Appearance 3, Aroma 2.5, Flavor 2.5, Palate 2.5, Overall 2.75
★
412 characters
2.83
/5
rDev
-18.9%
look: 3 | smell: 2.5 | taste: 3 | feel: 3 | overall: 2.75
L- straw colored with a slight Amberish tint good sized fizzy head.
S- boozy and wheatey. It has a Budweiser/pbr-ish aroma that's not too appealing.
T- I get a slight caramel flavor. Sweet and not too boozy like the nose. Sour flavor follows the sweet flavor.
Mf- Fizzy and carbonated, yet crisp.
O- I'm living in the dfw area for a little bit. This beer is from the area. Not bad at all, but certainly not great. It's just a light lager. A better pbr if you'd say. Nothing out of the ordinary. First Texas beer other than shiner. It's better than shiner but that's not saying much.
★
582 characters

2.87
/5
rDev
-17.8%
look: 3 | smell: 3.5 | taste: 2.5 | feel: 3.5 | overall: 2.5
A: Pours golden with very little head, quickly gone. No real lacing.
S: The smell is representative with a spice tone that got my hopes up.
T: For me, the taste didn't follow the smell. It was clean, but for the most part generically bland. It just didn't stand out.
M: Generally, I liked the way this beer felt. It has that summer beer feel. Clean, light and with good carbonation. Refreshing.
O: It isn't a bad beer; it's good, but it certainly isn't a beer that stands out. Would I drink it again? Yes. Would I go out of my way to get it? No.
★
549 characters
3.17
/5
rDev
-9.2%
look: 3 | smell: 3.5 | taste: 3 | feel: 3.5 | overall: 3
A: Pours a golden, yellow, hay colored beer. half finger white head that dissapates very quickly into almost nothing. Not much for lacing or retention.
S: Bready, grainy smell. Maybe some floral or citrus note in the background.
T: This is pretty much the same as it smells. Bready, doughy, floral and citrus in the background. I like the hoppy after taste. Quite nice.
M: I like the way it feels. Very clean and crisp. good carbonation.
O: This is actually my first from Rahr. I am a bit biased in their favor because they are from Texas, however I do think this was a great beer. Not the best but a good one still.
★
620 characters
3.23
/5
rDev
-7.4%
look: 3.25 | smell: 3.25 | taste: 3.25 | feel: 3 | overall: 3.25
Apple juice color with one inch head that leaves some modest lacing.
Smell has a slight spice note. Nothing too much, though. Taste follows. Pleasant enough. Nothing memorable, but probably a nice summer beer.
★
214 characters

3.3
/5
rDev
-5.4%
look: 3.5 | smell: 3.5 | taste: 3 | feel: 4.5 | overall: 3
Some nice suds in the glass and plenty of lacing. The usual pale yellowish color. A faint aroma of peaches and straw.
A very subtle flavor mostly of light malt with some fruit. Grainy and lemony, but rather sweet. A hint of fruit cocktail but it's pleasant enough. The best attribute is the creamy, sudsy mouthfeel. After some sipping a rather bitter tang comes along. No hint of hop flavor, just this kind of metallic bitterness.
I guess if you're going to drink a blonde this is better than some, but I would drink it cold and fast. From the 12 oz bottle bought at H and H Beverages in Abilene.
★
598 characters
3.33
/5
rDev
-4.6%
look: 3.5 | smell: 3 | taste: 3.5 | feel: 3 | overall: 3.5
Another solid brew from the Rahr's. This blonde lager has a gorgeous deep rich blonde color and a nice head when first pours, but it quickly dissipates. And like most of the Rahr brews has an incredibly smooth creamy texture. Has very crisp orange/lemon back notes.
★
265 characters
3.5
/5
rDev
+0.3%
look: 3.5 | smell: 3.5 | taste: 3.5 | feel: 3.5 | overall: 3.5
Pours out to a thin white head and minimal lacing. Medium gold and crystal clear. Aroma is very weak but clean with nice pale malts and slight grassy hops. Flavor is light and balanced with grainy pale malts, noble hops and clean, acidic bitterness with a spicy, dry finish. Mouthfeel is light but not fizzy or overly watery. Overall a solid Helles.
Update: I noticed that the on-tap reviews are coming in much higher than the bottles. I hope to review the on-tap version soon.
★
478 characters
3.61
/5
rDev
+3.4%
look: 3.25 | smell: 3.5 | taste: 3.5 | feel: 4.25 | overall: 3.75
Bright crystal-clear gold color, though with little head and almost no lacing. The nose is extremely faint, giving just some grainy malt. Flavor isn't bad: malt predominates, though, as in the nose, it is a bit grainy. Hop flavor is on the high end for a helles, giving more interest to me than a typical beer of the style. Finish is clean. Does have a very nice light body, with a neutral texture.
The blonde was better in the early days of Rahr.
★
448 characters
3.64
/5
rDev
+4.3%
look: 3.25 | smell: 3.5 | taste: 3.75 | feel: 4 | overall: 3.5
Light tan and clear with rising bubbles. Head was 1/2 a finger and dissipated pretty quickly, leaving ok lacing.
Aroma is clean and subdued, with some malts, grains, grass, bread.
Flavor is also very clean. I detect a nice floral component, some bready malts, some grains and grass, and a little sweetness. Hops are light and not very noticeable, but there's enough bitterness to balance the beer nicely.
Body is very light and drinkability is high.
I'd certainly drink this one again. Pleasant and easy drinking.
★
520 characters
3.76
/5
rDev
+7.7%
look: 4 | smell: 3 | taste: 4 | feel: 4 | overall: 4
I have had this beer by the 12 oz bottle fairly frequently over the past few years and had the occasion to try it on tap recently at Boo Ray's in North Fort Worth thus occasioning this review.
Rahr lists this beer on it's website as having 4.8% ABV.
Served in a frosted schooner. Light yellowish blonde in color with large head that persisted for more than a few minutes.
Very little in the way of smell except very subtle floral aroma, which is not surprising since the on-tap serving temp had to be well south of 40 degrees.
Medium tastes of malt and very light impression of hops and sweetness balance the clean flavor profile.
The mouth feel is excellent. Very crisp with medium carbonation and little evidence of bitterness or off flavors. This is an above average classic Munich Helles Lager. Rahr has brewed this one for years and it is a staple at my somewhat famous backyead BBQ's.
★
896 characters
4
/5
rDev
+14.6%
look: 4 | smell: 4 | taste: 4 | feel: 4 | overall: 4
Golden color, clear, and has a light head. Flavor more sweet and sour than bitter. Not watery, good medium body. I could drink this during the summer or watching a game.
★
170 characters
4.17
/5
rDev
+19.5%
look: 3.5 | smell: 4 | taste: 4.5 | feel: 4 | overall: 4
Poured into a pint glass. Pours golden with a large, white head. A finger length of head is left after the head dissipates. A moderate amount of bubbles can be seen rising from the bottom of the glass. The aroma is of bready and grainy and there is a mild floral scent. It's a pretty basic, but appealing scent. The taste follows the nose. The malts bring a nice bready and grainy flavor to the beer. There are some hops in the background which help balance the flavor of the beer. The body is light with adequate carbonation. The finish is crisp and clean. The drinkability is high. This is an excellent beer that I would drink again.
★
635 characters

4.32
/5
rDev
+23.8%
look: 4.5 | smell: 5 | taste: 4 | feel: 3.5 | overall: 4.5
Rahr's Blonde
Poured out with a nice thick white and fluffy head and is very bubbly. Its body is a nice dark golden blonde and is pretty hazy with some mild carbonation. Its aroma is very citrusy; smells of orange, lemon and peach come through along with some wheat. This beer has some very good lacing! Its light and semi crisp on the tongue with an overall grainy flavor to it. There are some tart flavors when it hits the corners of your mouth and a slight malty aftertaste. Overall, this beer is very tasty, I look forwarding to drinking this one again.
★
560 characters

4.34
/5
rDev
+24.4%
look: 4.25 | smell: 4 | taste: 4.5 | feel: 4.25 | overall: 4.5
Had this beer as part of the brewery tour. Served from the tap into a pint glass cool but not warm.
appearance was very clear. gold body and a nice foamy white head.
Smells sweet very german malt smelling.
Taste is sweet, grainy with a very light hop balance
light and very drinkable
this is a great representation of the style. Maybe one of the better Helles I have had outside of germany. don't care for much else they make but this one is very good
★
456 characters
Rahr's Blonde from Rahr & Sons Brewing Company
81
out of
100
based on
15
ratings.