Brewer's Art Zeke's Coffee Porter
| The Brewer's Art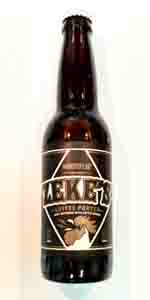 BEER INFO
Brewed by:
The Brewer's Art
Maryland
,
United States
thebrewersart.com
Style:
American Porter
Alcohol by volume (ABV):
5.70%
Availability:
Rotating
Notes / Commercial Description:
No notes at this time.
Added by brotherloco on 12-27-2013
Reviews: 9 | Ratings: 59
2.63
/5
rDev
-22.2%
look: 3 | smell: 2.5 | taste: 2.5 | feel: 3.5 | overall: 2.5
12 ounce cans are sold six to a pack. The can says the ABV is 6.0%
Pours dark and nondescript with no head of which to speak.
Smells sharp and charred, perhaps a little ashy. The coffee nodes are very, very strong, and oddly enough it's as if they chose a rather bright and acidic roast of coffee bean. That might work well for straight coffee, but against hops and porter barley the effect is bracing and unpleasant. I get used to it after a few sniffs, but I never really enjoy it.
Tastes unfortunately like it smells, but the sharpness has thankfully increased somewhat. There's sharp, very bright coffee up front--nearly like vinegar in its intensity--and then the back end and finish are that of a middle of the road, chocolatey porter. The effect is mostly disconcerting, even as I got more or less used to it at the can progressed.
845 characters
2.65
/5
rDev
-21.6%
look: 3.75 | smell: 2.5 | taste: 2.5 | feel: 3.25 | overall: 2.5
Immediately, the coffee presence on the nose strikes me as vegetal. Well, that's not a good start, is it? There are some nice chocolate and roast qualities, but that green pepper tone turns me off too much for me to enjoy the aroma. Sadly, the flavor follows the nose. Again, there are decent points (such as the chocolate flavor lurking around the mid-taste), but the coffee notes are rubbing me the wrong way. Is there Belgian yeast in this? It's basic, but there - and clashing with the other notes. It even finishes faintly metallic. On the other hand, the feel is light and airy, typical of a Belgian-style porter. I don't hate it, but it's not a good example of the style either. I won't be buying this one again.
2.65/5: Two Baltimore institutions, one letdown
768 characters

2.87
/5
rDev
-15.1%
look: 3.25 | smell: 3 | taste: 2.75 | feel: 3 | overall: 2.75
The look is deep, dark brown, as one would expect for a coffee porter. Very little head, which quickly disappeared, leaving no lacing at all. The smell is coffee and roasty/malty, not bad. The taste is very average. I love coffee flavored beers, and this is one of the mildest (weakest) I've ever tasted. The feel is ok, but rather thin, with minimal carbonation. Overall, this is a disappointment. Being a native of MD, I was hoping for better from a MD brewery. I think the best aspect of this beer was the label with the crowing rooster.
540 characters
2.9
/5
rDev
-14.2%
look: 4 | smell: 3.25 | taste: 2.5 | feel: 3.25 | overall: 2.75
Ruby body with a weak and quickly disappearing head. Smell of Belgian yeast, but stifled by an aroma like old peanut shells. Taste is more of the same. No coffee, just a rather vile peanut flavor.
196 characters

3
/5
rDev
-11.2%
look: 3 | smell: 3 | taste: 3 | feel: 3 | overall: 3
12 oz. bottle poured into a Burley Oak snifter
A: It's really like a dark brown, with golden burgundy hues in it. Not that dark overall, and light does shine through quite well.
S: Malty with some coffee for good measure.
T: Lightly flavored. It really just tastes like carbonated coffee with a tinge of alcohol and the base beer, which doesn't resemble a porter.
M: Quite carbonated with some arge bubbles in there.
O: Good as a mixer with Kahlua or a slight caffeine boost, but that is about it.
505 characters
3.22
/5
rDev
-4.7%
look: 4 | smell: 2.5 | taste: 3.5 | feel: 3.25 | overall: 3.25
I wanted to like this. It's local and the Brewer's Art makes some pretty good beer. Zeke's makes some pretty good coffee. Most porters look good to me. This was no different. The smell was not good, however. It seemed thin for a porter and taste was a big meh.
260 characters

4.04
/5
rDev
+19.5%
look: 4 | smell: 3.75 | taste: 4.25 | feel: 4 | overall: 4
L: Appears dark in color
S: Light smells of coffee, I have had strong coffee based ales before.
T: I would drink this again
F: Light roasts, mild bitterness
159 characters
4.32
/5
rDev
+27.8%
look: 4.25 | smell: 4 | taste: 4.5 | feel: 4 | overall: 4.5
Poured on tap at Brewer's Art into their own chalice.
Deep mahogany brown, nearly black with a nice perfect matching light cocoa brown head. Some good staying power if only a finger of head produced, very creamy looking and some nice red hues towards the bottom of the glass.
Nose has a nice light mellow coffee sense. Very aromatic roast qualities that come out really soft, almost piping hot chocolate.
Taste just hits the spot. Real nice mild coffee that lingers on first sip, with this very light bodied porter quality. Piping roast head follows on the swallow, with some leafy tobacco to match. Hints of crispness and dry beans and a sharp yeasty punch round out the aftertaste.
This is one of the better coffee flavored porters I've had in a long time, this really hit the spot for me.
795 characters

4.34
/5
rDev
+28.4%
look: 4 | smell: 4.25 | taste: 4.5 | feel: 4.25 | overall: 4.25
Poured on tap at Brewers Art in their glass
A-Pours a translucent mahogany brown with a ring of white head.
S-Nice roasted coffee aroma, nutty, malty, cracker, bread crust.
T-Flavors of cocoa pods, coffee, malt, brown sugar, bread crust.
M-Great mouthfeel that finishes dry and smooth.
O-Overall a great porter with a great coffee flavors and aromas by brewers art
373 characters
Brewer's Art Zeke's Coffee Porter from The Brewer's Art
3.38
out of
5
based on
59
ratings.