Dismiss Notice
Brewer's Art La Petroleuse
| The Brewer's Art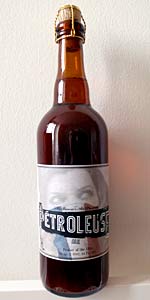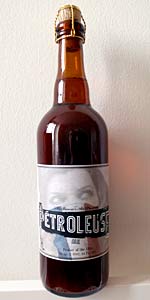 BEER INFO
Brewed by:
The Brewer's Art
Maryland
,
United States
thebrewersart.com
Style:
Bière de Garde
Alcohol by volume (ABV):
7.80%
Availability:
Rotating
Notes / Commercial Description:
No notes at this time.
Added by GeoffFromSJ on 03-09-2004
HISTOGRAM
Ratings: 59 | Reviews: 24

4.28
/5
rDev
+8.4%
look: 4.5 | smell: 4 | taste: 4.5 | feel: 4.5 | overall: 4
Appearance: hazy orange copper in color with a 2 finger head that lasts quite a while. Nice lacing paints the glass.
Smell: orange citrus and yeast are easy to pick up.
Taste: fruity, caramel, yeast, pepper spiciness, orange rind, hint of muskiness / earthiness, and barely a hint of alcohol. Overall a flavorful and well balanced beer.
Mouthfeel: lightly crisp at the start, smooth and a touch dry at the finish. Aftertaste is long as the flavors stick to the tongue. Medium-heavy bodied beer.
Drinkability: this is a great beer IMHO. Well balanced, flavorful, and interesting. Everyone should try this one.
621 characters
4.42
/5
rDev
+11.9%
look: 4 | smell: 4.5 | taste: 4.5 | feel: 4 | overall: 4.5
750 mil bottle, corked and caged. Arrived right before a snowstorm in the hands of a friend.
Appearance: Pours a tawny, coppery hue, with a thick, creamy relatively persistent, off-white head.
Aroma: Rich, sweet, toast notes dominate with undertones of yeast character spice.
Flavor: BIG, BOLD caramelized, bread fades into the same yeast characters found in the nose. Residual sweetness is pronounced, but balanced with an appropriate carbonic bite. Excellent!
Mouthfeel: Creamy, rich body balanced by the barest, most slight alcoholic warmth. No astringency, smooth finish.
Overall: This is a fine beer, and one of the better American examples of Bière de Garde I've tasted, just a bit more balanced than Schlafly's version. It's also an excellent beer on draft, though the style really ought to be drunk aged from the bottle.
837 characters
4.42
/5
rDev
+11.9%
look: 4 | smell: 4.5 | taste: 4.5 | feel: 4 | overall: 4.5
Enjoyed this 750ml Belgian bottle, which was corked and caged, out of a large snifter glass.
A: Pours a hazy orange color with a frizzy, white, 3-finger head that has a good retention and leaves a decent trail all the way down the glass.
S: Spicy Belgian candy, alcoholic, and yeast aroma fills the nose.
T: Similar to the smell an alcoholic Belgian candy flavor crosses the palate. Very yeasty and fruity aftertaste.
M: Very strong and boozy. Medium body and heavy carbonation
O: Really good example of a Biere de Garde. Nicely spiced and enough alcohol to make it interesting.
583 characters

4.51
/5
rDev
+14.2%
look: 4.25 | smell: 4.5 | taste: 4.5 | feel: 4.75 | overall: 4.5
#191 9/20/14
Served in a Port City snifter.
A: Poured out a pretty clear, orange-amber color, with a slight chill haze and some soap-like bubbles that died down rather quickly.
S: Lots of inviting white pepper and fresh bread dough. Smells great and very different from the norm.
T: I was worried that this was going to be completely devoid of sweetness. I'm glad I was mistaken. To merely call this sour dough would be cheapening it. I would say this was more dessert-like than that. It was sort of like the sweet doughnuts given out at the Great American Restaurants (Sweetwater Tavern, Carlyle Grande, Coastal Flats, etc. in DC). Awesome spicy, honey-infused, yet savory finish.
M: Spritzy and feels very comfortable on the palate. Not too sweet due to the peppery spices, but the honey character is most evident. Mild splotchy lacing.
O: One of my favorites so far in 2013. I will definitely try this again and insist on trying it very soon just to make sure my bottle wasn't a mere fluke.
999 characters

4.52
/5
rDev
+14.4%
look: 4 | smell: 4.5 | taste: 4.5 | feel: 5 | overall: 4.5
Picked up a 750ml corked and caged bottle in a trade with Dawson's Liquor in Severna Park, MD and poured it into a Forestinne branded tulip glass - thanks fellas!
A: Pours a hazy burnt orange hue with a massive fluffy off-white head that lingers a while leaving a good amount of lacing in its tracks.
S: Sweet malt, bubble gum and juniper berries, saltine crackers, with a faint hint of earthy hop in the mix as well.
T: The taste is similar to the nose, but less sweet with a real trippy yeast strain that I can almost recognize but escapes me - definitely unique and amazing though. The hop that was found in the nose comes through in the flavor as well - rounding out the overall mix nicely with a lingering resiny quality that lasts after the other characteristics have subsided.
M/D: Mouthfeel is medium bodied with vigorous carbonation that mellows as the brew warms, finishing clean and dry. As mentioned in the flavor there is a lingering bitterness from the hop that lingers a while - very nice! A sipper but an easy drinker - took a 1/2 hour enjoying this one after a fat dinner - no complaints here at all!
1,122 characters


4.85
/5
rDev
+22.8%
look: 4.5 | smell: 4.5 | taste: 5 | feel: 5 | overall: 5
Received this bottle from AleWatcher in the Blind BIF #4. Thanks Jeff. Review is done blind.
Poured into my Duvel tulip.
Pours a slightly hazy orangey/coppery hue with a huge off white head, lots of big bubbles with a meringue-like cap. The head really stands up, not much of a drop after a few minutes. Not sure if I'll get any/much lacing out of this one.
Aromas of some sweet malt, pepper, dry crackers, chardoney grapes, a little winey like unoaked white wine, otherwise a very clean aroma, hard to pick out anything more distinctive.
Flavors of bubble gum, yeasty, green apples, grainy malt, a bit of a carbonic bite. Hint of black pepper from yeast, not spice. An edge of a sour tang. Very light bitterness. Finish is short, with a carbonic acid/club soda flavor in the fade. As it warms, the finish gets longer, more malty, and sticky, with more of a hint of bitterness.
Mouthfeel is medium, smooth, with a good prickly carbonation. A little sticky sweet, not cloying. Malty/filling like a biere de Garde should be. Good thirst quencher, though.
Overall very good drinkability. Complexity builds as it warms up. At first, I couldn't detect much at all in the aromas and flavors. But as it warms, it bursts open with a lot going on.
1,245 characters
Brewer's Art La Petroleuse from The Brewer's Art
Beer rating:
3.95
out of
5
with
59
ratings