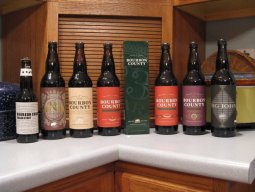 Joined:

Nov 28, 2008
Posts:

2,086
Likes Received:

1,785
4DAloveofSTOUT
Poo-Bah, Male, from Illinois
Society Trader
About

My favorite beer styles:

Rustic saisons, table beers/petite saisons, Gueuze & Unblended Lambic.

Rustic / Traditional / Authentic style German - European Lagers. Zwickels, Pilsners, Kölsch, Hefeweizen, etc.

Fruited Lambics, fruited Berlinner Weiss, & fruited American Wild ales.

Old ales, English Barleywines, & Stouts aged in unique barrels like Rye Whiskey, Port Wine, apple brandy, brandy, cognac, double barrel aged beers, etc.

No beers with lactose please.

Permanent Wants:

-Hill Farmstead Aaron

-Hill Farmstead BA G.O.M.

-Hill Farmstead Saison

-Side Projects Saison

-Side Projects 375ml fruited sour

-Fox Farm Lagers

-Schillings Lagers

-Hair of the Dog Adam

-Hair of the Dog "from the Woods" series beers

-Casey saisons

-3F Golden Blend & Perzik

-Cantillion Fou Foune

Looking to try

-3F Gueuze: Oude Gueuze vintage & Zenne.

List of completed trades prior to Trader feedback system:

Corpsickle664(glassware trade)*

hurleymanvw(glassware trade)*

jkw7324**

Jarpo(glassware trade)

Mudwhomper(IP trade with no agreed extras)

Wowcoolman**

waltonc

mattvandyk(beer it forward)*

waratdenison(IP)**

madtowndmb1(IP)agreed no extras

cofeeguru(IP)agreed no extras

will1256(IP)*

brack(IP)*

Lord_disgust*

Miamilice*

sipdemsuds**

soonerchamps*

Luckytiki (IP glassware trade)

Paccamacca(x2)*

AdamP*

pjl44(multiple)**

m4ttj0nes**

Rathakem(x2)**

hopazoid**

BigBadBarrel**

surge1311(x2)

nedvalton

BeerNFoodDood*

Stevedore(multiple IP trades)**

Sean9689(x2)

ablackshear(multiple)**

buzze40-IP*

evilc**

LarryByrd*

UWBadgerFan4Life(IP)x2

Doodler*

JPortillo-IP*

dsauter**

mindspin315*

MaltyLareau-IP*

Number45forever**

lalaloveyou(x2)**

egrace84-IP*

locke459*

ChefBergo-(x2)IP*

chewy08rx*

leschkie-(x2)**

ArchEnemyBrew(multiple)**

bpfrush(multiple IP trades)*

rjm217*

Scout11*

surlytheduff*

Evbowski*

kawilliams81-IP*

TATURBO-IP*

duff27-IP*

jegross2-IP*

ICCULUS*

patol8

mrandypandy

mikeyjk*

wedgie9-IP*

Patchmaster*

thewimperoo-IP**

Beerdy(x2)**

Jeepcop*

jstilwell**

daniloknezic(multiple)**

kdub87**

kmurry8621**

TRADE WITH EXTREME CAUTION:

-a74gent*(dont trade with him unless he ships first)

-mmciz*(poor communication, but box arrived as promised. He shipped beer using flat rate box by US Postal Service

)

-dhbiker0889*(very poor communication and didnt follow through to make a trade "right" after he agreed to do so)

*-extras

**wow extras

Interact

Loading...

Loading...