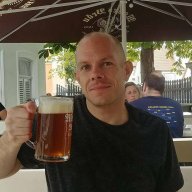 Last Activity:

Jun 1, 2023 at 11:26 PM
Joined:

Apr 23, 2005
Points:
Domingo
Grand Pooh-Bah, Male, from Colorado
Pooh-Bah
Domingo was last seen:

Viewing forum list, Jun 1, 2023 at 11:26 PM
Beers:

Places:

136 | Rated: 136 | Reviewed: 125
Added: 10
Brewers: 71 | Bars/Eateries: 45 | Stores: 19
US States: 8 | Countries: 4
Photos: 2

Posts:

9,968 | Likes Received: 18,894
Threads Started: 56

About

I'm originally from Alabama, but have been in the Denver area for 20+ years.

I'm a huge classical European beer fan and love visiting whenever I get the chance. There's something truly inspiring about the old world brewing traditions and drinking at the source. I'm especially fond of Bavaria/Franconia in particular.

I like beers of all sorts, but my tastes have definitely changed over the years. I rarely care about the latest barrel aged adjunct stout, but I get excited about a fresh shipment of Mahr's Ungespundetes, Andechs Hell, Drie Fonteinen Oud Gueuze, or Achel Extra. I have a soft spot for cider, mead, and beer mixers, too. I even like Topo Chico and Bud Light Seltzer! I'm not a huge spirits guy, though.

I'm obviously a fan of the Colorado beer scene, too. We have some of the best beer in the world being brewed here. I also believe in giving credit (and constructive criticism) when needed. I won't be that guy pretending everyone is making great beer. I'll shower praise on those who do and speak frankly about those who don't.

I've more or less stopped reviewing, but will occasionally toss one up. So much has changed with the rating system and my own tastes that many of them are laughable. Untappd is much easier for simple beer tracking. Feel free to hit me up there @domingo_x (LOL...I've now retired from checking in on Untappd, too).

Have a question about Colorado beers? Let me know. I don't know every brewery in CO anymore, but I can still point you to many of the best spots and hidden gems.

Looking to take a beer-centric trip to Munich or Bamberg? I can help you there, too - just drop me a line.

Loading...

Loading...