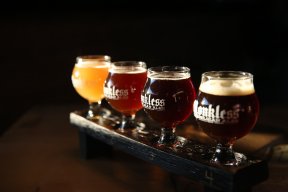 Last Activity:

May 20, 2022 at 10:43 PM
Joined:

Oct 6, 2008
Posts:

6,222
Likes Received:

84,812
snaotheus
Poo-Bah, Male, from Washington
Society Trader
snaotheus was last seen:

May 20, 2022 at 10:43 PM
Beer Karma: 5,912

Beers:

Ratings: 3,464
Added: 259
Brewers: 933 | Beer Styles: 105
US States: 48 | Countries: 26
Wants: 0 | Gots: 0
Photos: 160

Places:

Ratings: 200
Added: 24
Brewers: 119 | Bars/Eateries: 62 | Stores: 17
US States: 17 | Countries: 5
Photos: 21

Posts:

6,222 | Likes Received: 84,812

About

Beer is

good

.

Beer preferences:

Bread and butter is IPA and varieties thereof.
Love lambic/gueuze and similarly wild sour stuff.
Have recently fallen in love with lagers.
Very easily overwhelmed by cinnamon in a beer.
Rarely find kettle sours that I like.
Open to everything, even if it's a style I typically don't like, I will give it a shot and appreciate the experience, even if not the beer.

Beer review #1:

Sierra Nevada Brewing Co. - Pale Ale

(2008-10-07)

Beer review #500:

Kassik's Kenai Brew Stop - Morning Wood IPA

(2012-09-16)

Beer review #1000:

Brasserie St. Feuillien - Belgian Coast IPA

(2015-03-29)

Beer review #1500:

Alewerks Brewing Company - Bitter Valentine

(2017-02-19)

Beer review #2000:

Bullfrog Brewery - Le Roar Grrrz Black Raspberry

(2018-12-02)

Beer review #2500:

Barrier Brewing Company - Deadly Combination: Columbus and Mosaic

(2020-05-31)

Beer review #3000:

Cloudburst Brewing - A Whole New World

(2021-05-20)

Currently exploring the world of

whisky and beer pairings

...

Rough interpretation of my ratings, as of 2021-02-27:

5.00: Dunno. Maybe I'd be willing to give up all other beers to have this one? Have inappropriate dreams about it? I've never rated a beer this high.
4.75: I remember it fondly and possibly pine after it, even if I only had it once. Looking at these beers in my review history makes me wistful.
4.50: I probably remember it as a stand-out among the thousands of beers I've tried, might have a standing policy to buy it if I see it.
4.25: Tempted to buy it every time I see it, and often do (or regret not doing so).
4.00: Tempted to buy it every time I see it, but often don't. I would strongly recommend anything with this rating or higher.
3.75: Happy to have it any time. Probably my most common rating.
3.50: No problem drinking it, but not necessarily happy to drink it.
3.25: I've had worse beers, but I'm not excited about this. Wouldn't order it again, most likely.
3.00: It's not very bad, but it's not very good. I may or may not make faces while drinking it.
2.75: Everything here or below is probably something I wouldn't have again, unless external pressures made it difficult to avoid (or I was just curious if my tastes had changed substantially). Drainpour is likely.
2.50: It's bad. I'd recommend water instead. I mean, it won't kill you or anything, but…why would you drink it?
2.25: Don't drink this, and definitely not anything I've rated worse. Only about six beers have been in this region.
2.00: It's very, very bad. Ill-conceived and/or flawed. I've only rated four-ish beers in this region.
1.75: It's irredeemably bad. I've only rated one or two beers in this region.
1.50: It's unforgivably, unforgettably bad. I have only rated one beer this low, and nothing lower, so the rest is conjecture.
1.25: Superlatively bad?
1.00: I have nightmares about having to drink this beer? Would give up drinking before drinking this again? That's a stretch…

Loading...

Loading...