Blue Moon Iced Coffee Blonde

Coors Brewing Company (Molson-Coors)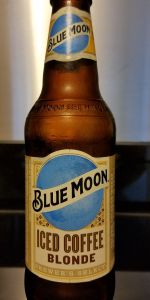 Write a Review
Beer Geek Stats:
| Print Shelf Talker
Style:

ABV:

5.5%

Score:

Avg:

3.66

| pDev:

9.84%

Reviews:

14

Ratings:

From:

Avail:

Rotating

Wants

Gots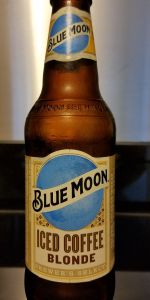 Notes:
3.36
/5
rDev
-8.2%
look: 4 | smell: 3.5 | taste: 3 | feel: 3.75 | overall: 3.5
12 ounce can - $2.29 at Total Wine & More in Kennesaw, Georgia.
MAY0420.
Appearance: Pours a golden-hued body, hazy with a scant, dissipating, white head.
Smell: Smells of mid-grade coffeebeans, lightly bready, lightly grainy wheat with a heaping tablespoon or two of table sugar.
Taste: Medium level of sweetness, wheat loaf breadiness with a fleck of soggy grains. Coffee character is just fine, lending a little roastiness, dry chocolate, nuttiness. Nil hop character, bitterness. Swings back towards its initial sugary sweetness nearing the finish, as the coffee character fades out.
Mouthfeel: On the lighter side of medium-bodied. Medium-bodied.
Overall: Coffee character was fairly sufficient. Base beer was a little lackluster and sweeter than befitting a (wheat) blonde.
785 characters

4
/5
rDev
+9.3%
look: 4 | smell: 4 | taste: 4 | feel: 4 | overall: 4
12oz bottle poured into Duvel tulip. JUN0120 printed on neck, so this should have at least 5 months of freshness in it. Picked up at grocery store as part of $10 sixer mixer.
Appearance - Small white head, consistency like an adjunct lager. Body a hazy medium gold. 4
Smell - Smells faintly like coffee. Also some mealy corn. 4
Taste - Yeah, tastes a bit like coffee too. Not strongly though, which is good because that would be gross. But just a little bit. 4
Mouthfeel - Light, pleasant and refreshing. A little astringent though. Knocking a point off for that. 4
Overall - For what it's setting out to be, I'm pleasantly surprised. I'm not a coffee drinker, and came in with low expectations because gimmick beers are usually bad, but this was drinkable. It's not harsh, overpowering, or chemical/artificial tasting. As a beer, nothing special, but in style it's not bad. 4
881 characters

3.4
/5
rDev
-7.1%
look: 3.25 | smell: 3.25 | taste: 3.5 | feel: 3.25 | overall: 3.5
Poured a pale straw-peach color with a fluffy off-white foam head and mild effervescence present. Scent is a slightly sweeter Blue Moon -- the wheat ale is clearly present and a bit more of a sweet scent comes across, although it is not clear on my nose. Taste is similar, with the coffee coming across subtly and a bit of caramel too. Feel is a bit acidic and carbonation can be felt on the tongue. I would prefer a bit stronger of a coffee flavor, but it is pretty enjoyable overall.
489 characters

3.97
/5
rDev
+8.5%
look: 4.5 | smell: 3.75 | taste: 4 | feel: 4 | overall: 4
Looks good, pours nice, good head. I guess the stouts and porters I've had have prejudiced me, the coffee is more of an "I just ate a bean" category that the roasty chocolatey I've gotten used to. Looking over other reviews, I guess it is the 'grainy' smell that I noticed more. Not terrible by any stretch, especially for a mainline beer. UPDATE: It gets better as it goes on and the coffee becomes more prominent. Far better from the halfway point on, lesson learned.
475 characters
3.54
/5
rDev
-3.3%
look: 3.75 | smell: 3.5 | taste: 3.5 | feel: 3.75 | overall: 3.5
12oz bottle. Poured out a clear, golden yellow color with a small, off-white head of foam. It smelled of mild coffee, caramel and toffee. Coffee taste with sweet caramel and a mild bitterness.
192 characters
3.57
/5
rDev
-2.5%
look: 3.5 | smell: 3.25 | taste: 3.75 | feel: 3.75 | overall: 3.5
Blue moon, but with a good dose of iced coffee flavoring. Points for being refreshing and super easy to drink fast. The beer doesn't have the depth of flavor you'd get from a craft brew. The smell is also underwhelming. But it's the kind of easy drinking beer I wouldn't mind buying six of when I want something light.
326 characters
3.79
/5
rDev
+3.6%
look: 4 | smell: 3.75 | taste: 3.75 | feel: 4 | overall: 3.75
L: 4 an enticing hazy golden color, this is Blue Moon alright.
S: Light espresso, wheat, sugar cane
T: 3.75 Follows the nose. Like cold brewed coffee with milk with a few spoons of sugar to disguise the bitterness. Not intense. That famous Blue Moon wheat ale is still present.
F: 4 Smooth. Very pleasant.
O: 3.75 Widely available, give it a shot while it's still in stores.
375 characters
3.67
/5
rDev
+0.3%
look: 3.5 | smell: 4 | taste: 3.75 | feel: 3 | overall: 3.5
Pours a hazy gold. Great smell with notes of hops and coffee. Taste follows the smell and it is a nice balance of a typical blonde and coffee. Medium fizz. A little edgy on the back end but not a bad beer.
208 characters
3.77
/5
rDev
+3%
look: 3.5 | smell: 4 | taste: 3.75 | feel: 3.5 | overall: 3.75
Literally tastes just like a good iced coffee. Very tasty and smells great! This is my first time having it and I would highly recommend it to anyone interested in this sort of drink.
183 characters
3.75
/5
rDev
+2.5%
look: 3.75 | smell: 3.75 | taste: 3.75 | feel: 3.75 | overall: 3.75
Added picture you see
4 months prior to best by April 2020
Bought 6-pack bottles $8.59 Tamuras
Smell of coffee and cream
Slightly hazy golden color
Light-medium mouthfeel
Medium-high carbonation
Coffee flavors comes through, but does not overwhelm it.
Overall a nice balanced coffee beer.
289 characters
3.18
/5
rDev
-13.1%
look: 3 | smell: 3 | taste: 3.25 | feel: 3.25 | overall: 3.25
Pour from a bottle. Kind of a hazy bronze color. The head quickly dissipated. Very light smell of coffee. Definitely tasted more coffee than smelled, but still not a lot. This is a good beer for those who like coffee, but not a fan of stouts or porters. But, all in all, good beer.
287 characters

3.63
/5
rDev
-0.8%
look: 3.75 | smell: 3.25 | taste: 3.75 | feel: 3.75 | overall: 3.75
Poured from a bottle. Dark straw in color with a white head that dissipates quickly. Smells of grain and a hint of coffee, nothing very strong in the smell. Flavors actually mesh well, biscuit and malt with hints of coffee. Nothing jumps out at you but it's easy to drink and tastes good.
288 characters

3.75
/5
rDev
+2.5%
look: 3.75 | smell: 3.75 | taste: 3.75 | feel: 3.75 | overall: 3.75
12 oz bottle, " MAR0220" stamped on the bottle, best before dating?
Pours out with a medium haze and a nice warm, honey shade of amber. Moderate cap and strands of fine lacing.
Faint sweetness detected on the sniff, vanilla and honey coming to mind....coffee? mmm perhaps.
Just a faint back note of coffee in the mouth, again I get some vanilla n honey, also, light caramel.
Strange brew, not sure how many ice coffee blonde ales are out there...decent but weird...I could see pairing this with a coffee centric dessert.
528 characters

3.47
/5
rDev
-5.2%
look: 4 | smell: 3.75 | taste: 3.25 | feel: 3.25 | overall: 3.5
Poured from a bottle into a pint glass
Appearance – The beer pours a clear amber color with a two finger head of white foam. The head has a good level of retention, fading over time to leave a little bit of foamy lace on the sides of the glass.
Smell – The aroma of the brew is strongest of a slightly grainy smell mixed with a little bit of honey and some light coffee smells. There is also some light aromas of vanilla and caramel.
Taste – The taste begins with a rather sweet creamy flavor that has a decent sum of grainy taste as well as a very light coffee flavor. The coffee remains rather light but is joined by some more caramel and vanilla as well some tastes of light hay, leaving one with a nice sweet, light coffee, and creamy taste to linger on the tongue.
Mouthfeel – The body of the brew is on the medium to light side with a carbonation level that is on the average to light side. Overall that feel is good for the tastes and quite drinkable
Overall – While not so coffee heavy, but still this is a decent brew. Sweeter and creamier with a nice vanilla flavor and feel.
1,102 characters
Blue Moon Iced Coffee Blonde from Coors Brewing Company (Molson-Coors)
Beer rating:
82
out of
100
with
39
ratings