Juniper White IPA

Flying Dog Brewery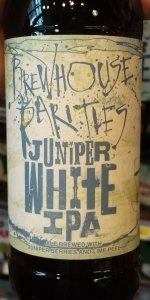 Write a Review
Beer Geek Stats:
| Print Shelf Talker
Style:

ABV:

6.5%

Score:

Avg:

3.81

| pDev:

8.92%

Reviews:

10

Ratings:

From:

Avail:

Rotating

Wants

Gots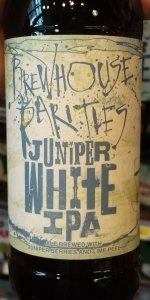 Notes:

3.77
/5
rDev
-1%
look: 4 | smell: 3.75 | taste: 3.75 | feel: 3.75 | overall: 3.75
10th review for this beer, alright let's put a score on the board.
A: A hazy pale yellow in color with a very full just off white head.
S: Piney and a decent amount of citrus. In the very back there is a touch of a refreshing menthol type of evergreen smell that I would attribute to the juniper.
T: There's the juniper! Tastes like how a pine forest smells, but a pine forest with a pretty nice hop field next to it. Piney and resinous, with a hint of citrus backing it up. There is a nice sweetness to it, but it doesn;t detract from the hops. A decent finishing bitterness.
M: Medium light, with medium to high carbonation. It feels fairly dry.
O: Overall pretty tasty. I think the juniper adds to the hop flavor, but does not overshadow it.
756 characters

3.92
/5
rDev
+2.9%
look: 4 | smell: 3.75 | taste: 4 | feel: 3.75 | overall: 4
Look: Nice golden orange, white head.
Smell: Not overly powerful, but interesting and pleasant. Citrus, lime, sweetness.
Taste: Citrusy hops at first, then a minty, floral, piney, gin-like sharpness, finishing on a zesty lime note. A slight berry sweetness is also present. The aftertaste definitely leaves you thinking you may have had some kind of gin & tonic. The wheat provides a very bright and light playing field for the rest of the flavors to intermingle.
Feel: It's somewhat light, but crisp, decently-carbonated.
Overall: Takes a few sips to get used to, but somehow it all works. Would make a fantastic beach beer. I like that the concept isn't done in a timid, half-assed way. The juniper berries and lime zest are fairly bold (especially the lime zest), yet they don't distract from the fact that you're still drinking a beer. I'm also a fan of gin & tonics, so this is up my alley. Refreshing while not-at-all bland.
934 characters

3.68
/5
rDev
-3.4%
look: 4 | smell: 4 | taste: 3.5 | feel: 3.75 | overall: 3.5
White IPA's are a style I like. Lots of hoppy pine in the aroma. Taste doesn't follow as it's more bready/biscuity (or just malty) so not what I expected. Overall was ok.
174 characters

3.79
/5
rDev
-0.5%
look: 3.5 | smell: 3.75 | taste: 3.75 | feel: 4.25 | overall: 3.75
Poured from the bottle into a Flying Dog goblet glass.
Thin and creamy head retention, with a bone white color, almost a little hint of tan to it. Makes only about two fingers off the pour, sitting on a solid opaque pale and amber to brown body. A little cloudy, hair turbid looking, and just a hint of orange color.
Aroma is nice and subtle, but seems to gravitate to orange and citrus hop quality. Mild sensing sweetness, and a deal of herbality that comes off more minty than anything else. Very clean, with a menthol like warmth, very nice if a bit simple.
Palate seems to continue much of that theme. Juiced and solid body, giving to citrus and tropical flavors with a big thick controlled feel. Mid palate washes with more tropical citrus and orange just as expected with a simple quality. Finshes mouthwash warm and menthol kind of hot too, with a real unique aftertaste. Pretty interesting balance on the flavors, but with herbality taking a backseat by the hop character.
Overall pretty neat beer, but not what I was expecting, doesn't really remind me of juniper.
1,085 characters
3.9
/5
rDev
+2.4%
look: 4 | smell: 4 | taste: 3.75 | feel: 4 | overall: 4
It is what it is. Pours a light clear gold with a whiIe head that dissipates rather quickly. It smells Like lime straight up. Tastes are of lime and bread. Feel is lightly carbonated.
183 characters
3.93
/5
rDev
+3.1%
look: 3.5 | smell: 3.5 | taste: 4.25 | feel: 3.75 | overall: 4
I love Flying Dog so when I saw they had an IPA based on Juniper berries, I had to grab some and it was already cold, too. It has a mild 6.5% ABV.
Look-It pours a slightly hazy, but still pretty clear orange golden color with yellow gold hues in the light. The head is huge and is very silky and billowing foam. Plentiful carbonation trails can be seen.
Smell-I smell piney, minty, citrus. It was a bit muted, however.
Taste-It tastes wonderful. It has a Juniper berry based honey malt in which the Juniper really shines through. It was pleasantly obvious that this was brewed with something more interesting (Juniper) than usual. As a fan of gin, I was pleased to see Juniper appear in this brew. The hops are mild and spicy with a dry finish. I also get some lemon and orange peel zest out of the hops, but only after a decent dose of the Juniper. Quite nice!
Mouthfeel-It feels smooth and moist and light-medium bodied. It has a pleasant hop resin coating the tongue that lingers long. The carbonation is fizzy and mild.
Overall-I was expecting a Juniper flavor from this beer and I got it so my expectations were met. I did wish that the smell was more robust, but it's OK.
1,186 characters
3.9
/5
rDev
+2.4%
look: 4 | smell: 4 | taste: 4 | feel: 3 | overall: 4
I like Flying Dog beers in general. I like wheat beers and IPAs. I really wanted to like this. But it tastes thin. Almost like Bud Light. I'll stick with Sumpin Sumpin.
Update:
After a few bottles, I appreciate this beer. It's lighter than a wheat beer or IPA. But I like it. Definitely good for the summer.
317 characters

3.69
/5
rDev
-3.1%
look: 4.25 | smell: 4 | taste: 3.5 | feel: 3.25 | overall: 3.75
Piney, minty with a bitter finish. A little thin. Despite my negative descriptors it's still an average made ipa and drinkable. Just the bar for IPAs is so high now that this one seems quite inferior.
203 characters

3.81
/5
rDev 0%
look: 3.75 | smell: 4 | taste: 3.75 | feel: 3.75 | overall: 3.75
While nothing is ever really groundbreaking, I do really enjoy trying all the new releases from Flying Dog. However , Like virtually every other FD beer, it ends up being a decent beer but probably not one I would search for again.
231 characters

3.6
/5
rDev
-5.5%
look: 3.75 | smell: 3.75 | taste: 3.5 | feel: 3.75 | overall: 3.5
I really don't know anything about Juniper Berries, but I know now that I don't like them in my IPA's. When they say "White" I assume it means some wheat in the grist or maybe a unique yeast strain. The lime peer comes through on the back end, but I would have just preferred some hops creating a citrus flavor. Honestly, this beer just reminds me how much I don't like Flying Dog's utilization of hops and in particular their hop bills entirely.
Except the single hop series beers. Those are fantastic and I love them. Meh.
532 characters
Juniper White IPA from Flying Dog Brewery
Beer rating:
86
out of
100
with
40
ratings