Dismiss Notice
Hockley Gold
| Hockley Valley Brewing Co.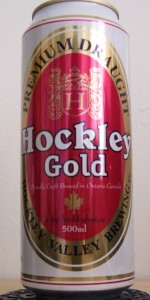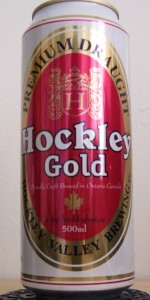 BEER INFO
Brewed by:
Hockley Valley Brewing Co.
Ontario
,
Canada
hockleybeer.ca
Style:
American Blonde Ale
Alcohol by volume (ABV):
5.00%
Availability:
Summer
Notes / Commercial Description:
No notes at this time.
Added by pootz on 08-15-2004
This beer is retired; no longer brewed.
HISTOGRAM
Ratings: 11 | Reviews: 11
Reviews by JustinBathurst:
3.77
/5
rDev
+26.5%
look: 3 | smell: 3.5 | taste: 4 | feel: 3.5 | overall: 4
Pours an apricot-straw gold with a white sudsy head (1 cm) that doesn't last long.
Smells of banana, caramel, and toffee. Pretty much a Banoffee pie.
Mouthfeel is smooth and the carbonation is spot-on.
Taste is sweet banana, a bit of dark honey, and mild bitter finish. Something like a hefe-hybrid. The banana seemed to suggest that to me, but it really doesn't have the spicey clove like a hefe.
I quite liked this beer. It's an excellent session brew and it appeals to me.
487 characters
More User Reviews:
3.6
/5
rDev
+20.8%
look: 3 | smell: 3 | taste: 4 | feel: 3 | overall: 4
I thought this was a british beer with a first glace at the can, but a later look at the postal code tells me this is a Ontario hometown brew.
Poured the golden coloured contents into a pint glass, making a decently thin head. The scent is of fresh malty fruit like a clean pale ale.
The taste of guava is very evident in this beer (floral) The malt and hop combination results in a slightly tart aftertaste. Bitterness is well balanced with the clean guava taste. Very refreshing and drinkable.
If they should have this on tap so where I would choose it over many other domestic beers. This beer is worth a try.
616 characters
2.58
/5
rDev
-13.4%
look: 3 | smell: 2.5 | taste: 2.5 | feel: 3 | overall: 2.5
Pale yellow, somewhat drinakble. Very light mouthfeel with some grain and creaminess on the tongue. Better than it looks, particularly for a can. A broken 6-pak in the LCBO. Sweet, so-so. Decent carboantion. Lots of head initially that was nice. Better than a national brand.
275 characters
1.51
/5
rDev
-49.3%
look: 2 | smell: 1 | taste: 1.5 | feel: 1.5 | overall: 2
Can: Poured a light yellow color ale with a medium bubbly white head with OK retention. Aroma of corn and adjunct is quite intense and not expected. Taste also remind me of adjunct and macro beers. Body I light as expected and carbonation is well. I was expecting something way getter then this after having tried and enjoyed their dark ale.
341 characters
3.65
/5
rDev
+22.5%
look: 3.5 | smell: 3.5 | taste: 3.5 | feel: 4 | overall: 4
Decided to stop at the Brewery on the way home today from a camping trip up north, never had this one before, so I figured I'd give it a try.
This pours from the can a simple golden yellow with a slight head that quickly subsides. Smell is very cream-ale like with some sweet vegetable notes and some hops in the nose. Flavor is sweet with a ever slight hoppy bitterness near the end. Quite balanced. Easy going down and actually quite smooth. This is a nice brew.
467 characters

3.6
/5
rDev
+20.8%
look: 3.5 | smell: 3.5 | taste: 3.5 | feel: 3.5 | overall: 4
A rather good Blonde Ale. Pours out to a slightly cloudy yellow color with a small head of white foam. Some lacing. Medium to medium low level of carbonation. Aromas of yeasty wheat, some grain and buttery malts. Taste is medium bodied and quite enjoyable; smooth buttery malts, refined wheat, buiscuts and light grain. Hints of fresh hops bite at the tastebuds. Mouthfeel is smooth, nearly creamy, and very enjoyable. Drinkability is north of average. I think i'll get more of this next time i'm in Canada. Worth trying.
521 characters

3.42
/5
rDev
+14.8%
look: 3 | smell: 3.5 | taste: 3.5 | feel: 3 | overall: 3.5
Bought a 6 pack of this canned beer canned freshly the day previous. Poured a clear gold with very nice frothy cap that lasts...sticky on the glass....moderate carbonation. Very musty sweet nose...apples and burlap...starts light but becomes more sweet malt pronounced and smooth, hops sit in the back....finish is wet and bready with some hop tang...a decent enough draft golden ale..possibly on the sweet side for some but better put together than most.
455 characters

2.88
/5
rDev
-3.4%
look: 3 | smell: 2.5 | taste: 3 | feel: 3 | overall: 3
Pours a clear pale straw color with a wispy little head. A few lace ridges stick to the glass, nothing special. The aroma is of barley sugars, some vegetal notes and a little bit of coarse hops. The taste is grainy with some cream ale like qualities. The hops are very light and spicy in a funky way. There are hints of wet cardboard in the weakly bitter finish. The mouthfeel is nearly seltzery, too much carbonation not enough body.
An OK thirst quencher and nothing complex. Pretty yawn inspiring.
505 characters
3.22
/5
rDev
+8.1%
look: 3 | smell: 3.5 | taste: 3 | feel: 3 | overall: 3.5
Very clear yellow with a short-lived white head composed mostly of large bubbles. It does show a bit of lacing though. Sweet aroma, a bit grainy. Some fruitiness as well, close to apples. Creamy texture with moderate carbonation and a light body. Sweet flavour with a light bitterness. The fruit character is more subdued than in the aroma and comes out more towards the end. Finishes off-dry. Not bad for the style.
416 characters

2.03
/5
rDev
-31.9%
look: 2.5 | smell: 2 | taste: 2 | feel: 2 | overall: 2
This comes across pretty much as an uninspired effort. Minimal hops and malt and more notable for its too agressive carbonation and light body. A little grain in there, but overall rather bland. Not offensive in any way, but not something I'd be looking real hard for.
Pours a hazy gold with a short-lived head, some lace.
325 characters
2.48
/5
rDev
-16.8%
look: 2.5 | smell: 2 | taste: 2.5 | feel: 2.5 | overall: 3
A - Clear straw colour. Loose, weak head.
S - Soapy, not much else.
T - Kinda malty. Again, some soapiness and a weak hop presence. Slightly astringent aftertaste.
M - Sharply carbonated, light in body.
D - OK for swillin', kinda boring. Macro-ish character. Better than your average macro, mind you, but still the same sorta thing-ish.
348 characters
Hockley Gold from Hockley Valley Brewing Co.
Beer rating:
2.98
out of
5
with
11
ratings