Zingerman's Roadhouse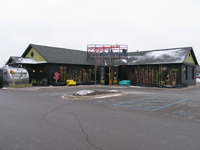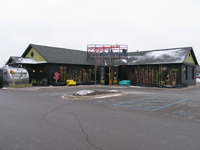 PLACE INFO
Type:
Bar, Eatery
2501 Jackson Ave
Ann Arbor
,
Michigan
, 48103-3818
United States
(734) 663-3663 |
map
zingermansroadhouse.com
Notes:
None provided.
PLACE STATS
Reviews:

10

Ratings:

pDev:

10.27%
Reviews: 10 | Ratings: 28

4.16
/5
rDev
+1.7%
vibe: 4.5 | quality: 4 | service: 4.25 | selection: 4 | food: 4.5
Legendary Ann Arbor business, that's been expanded a bit to this place....go for the food, quality brews, fun atmosphere ....just go, can't miss having a fun time here
167 characters

4.55
/5
rDev
+11.2%
vibe: 4.5 | quality: 4.5 | service: 4.5 | selection: 4.5 | food: 5
My wife and son and I go here often. The specials, while still pretty pricey ($15 for a burger and fries and a salad is the monday special), the food is definitely worth it. This place is a little bit southern, but not enough to be annoying.
The wait staff have been pretty great. We have had a server or two that might have graduated up from the local coney island, but they are usually far superior than most of the upscale places in the area. I wish I remembered the one servers name, but she remembers my son by name and goes out of her way, even when not waiting on us, to stop by and say hello to him.
The beer and whiskey lists are just as impressive as the food. I wish they would offer up more variety than they do, but the selection is still impressive for a food-first establishment.
If you find yourself in Ann Arbor and it is not a traditional meal time (dinner is nuts), stop in.
898 characters
4.83
/5
rDev
+18.1%
vibe: 4.5 | quality: 5 | service: 4.5 | selection: 5 | food: 5
If I was given a choice of only one place to eat for the rest of my life, this would be it. Dined here dozens of times and have never been disappointed. They have great breakfast lunch and dinner. The coffee is some of the best I have tasted. Much of the food comes from Zingermann's own bakehouse and creamery. Somewhat eclectic is the menu but well worth trying most everything on it. I love Monkfish(tastes like crab) and the chef had some flown in the week after I requested it. They really cater to the customer and if you don't see it on the menu, just ask and they may be able to accomadate your request. They have website with very exotic food items from around the world. Yea I know I'm being a homer but this place really is that good.
745 characters
3.84
/5
rDev
-6.1%
vibe: 4 | quality: 3.5 | service: 4 | selection: 4
This was a super Saturday afternoon lunch selection, I only wish I wasn't so hungover to enjoy it a little more. There is a great good menu, tons of barbeque options. They have something that is very cool, basically bottomless fries, you can get as many as you'd like and they are damn tasty. Super bbq sauces as well. Enough about the food its the main draw, they do have some alcohol here as well. They have a pretty small craft selection but good ones, had mostly Michigan locals, dirty bastard etc. The servers were nice, not beer knowledgable.
548 characters

3.25
/5
rDev
-20.5%
vibe: 4 | quality: 4 | service: 3 | selection: 2 | food: 4
Went here for some dinner last week.
I know that hitting up Zingerman's is going to be an expensive proposition. Loaves of bread for 7 dollars...
Well, the pricing here did not disappoint. A plate of perch, smallish plate as well, 25 bucks. A bottle of Spreicher's hefe, 6.50, a smallish plate of brisket, 18, a slice of cheese for your 12 dollar burger, 3 bucks.
These prices are ridiculous for a place billed as a "roadhouse". There was a bit of incongruity between the folksy menus and informal setting and the Manhattan pricing and more formal, less folksy waitstaff. It's not fine dining sitting in the sun with a smoker filled with hickory chips. People in the cities might see that as interesting, quaint and cool, however...
I realize Ann Arbor is different, and that the place and the deli has a license to print money. There were a lot of filled tables that evening, and a line at the door.
The beer selection for a hot summer day was poor, honestly. It lacked in lighter hefes and ales.
I'd much rather hit up Jolly Pumpkin or Ashley's when in AA.
1,067 characters

3.9
/5
rDev
-4.6%
vibe: 3.5 | quality: 4.5 | service: 4 | selection: 3 | food: 4.5
Zingerman's Roadhouse sits on the western edge of Ann Arbor on a corner in front of an older retail plaza. The most notable part of the exterior is the aluminum trailer drive through window. Stepping inside, there's odds and ends of americana decorating the walls, many on the bizarre end of things like the poster in the men's room for the "Conway Twitty Country Action Figure". The restaurant was almost a maze. An open kitchen is at the center, small dining areas off towards each direction, and the bar stands to the left of the entrance, but past the general seating.
The menu is like the decor. It's classic american comfort food, with a heavy dose of southern cuisine. Barbeque, fried chicken, macaroni & cheese, and sandwiches are featured. One of the first things that will make you realize you're not in a chain is the cheese menu. Also notable is the prominence of free range meat, and local organic produce. Again, not your average place. I ordered the brisket with sides of mashed potatoes and greens. The beef was outstanding, and the greens were a nice break from my ordinary sides.
Their isn't a huge tap list, but it features local brewers, and has good quality. The bottle list is a little more extensive with choices from Jolly Pumpkin and many other Michigan breweries.
To sum up Zingerman's Roadhouse, it's upscale, downhome food.
1,355 characters

3.45
/5
rDev
-15.6%
vibe: 3 | quality: 3.5 | service: 4 | selection: 3 | food: 3.5
I visited this place when doing a clinical rotation at U of M some time ago. I was surprised to see it listed here just now. My memory is pretty well shot as far as particulars but here it goes:
The atmosphere was nothing special. Bright and fairly open as I recall. I sat in a corner booth that allowed me to view a long bar that had few people sitting at it. It was a restaurant through and through and nothing like a smoked out bar.
Service was fine. Our waiter was weird but he had my glass full the whole time I was there, so go on wit ya bad self weirdo! He did scrutinize the hell out of my ID though. He checked once when I told him what I wanted and again before he handed the damn glass over. I WAS carrying an expired license because the cops took my other one for being naughty though. I was sweating bullets because my uncles who live in Ann Arbor were there and my dad was there on a visit too. None of them knew about my "situation" and I didn't want this weirdo to blow my cover by forcing the cat outta the bag. Close call. Damn weirdo! Just because it is expired doesn't mean I'm not of age. I'm ordering a damn beer not driving a friggin car. WTF!
The beer selection was better than Pizza Hut's. Nothing mindblowing. This was just before I became a raving beer nut, but I wasn't exactly a craft brew virgin at this time. They had probably in the area of fifteen to twenty finer beers in bottle and a few more on tap. I did order a Dead Guy ale. I remember that it wasn't very good. I still don't think it is very good now, so my tastes are somewhat similar to what they were then. I think I followed that up with a Dirty Bastard. Much better.
The food was pretty good. I had fried green tomatoes for the first time. I think I got some strange macaroni dish or something for the main course. Wow, the ole brain is getting soggy. I remember the beer though. Go figure. I remember looking at the menu and thinking that there was some good stuff on it, but nothing I really wanted. A real paradox. Nothing special at all.
The bill was big. My dad picked it up and it was rediculous for four people. My uncles' wine bills were more than a decent meal costs somewhere else. Glad it wasn't my treat, I woulda had to take out a loan. A bit pricey? You bet your sweet bippy it was!
Overall, not that great. Especially for the price. I would like to look at the beer list again now that I have a bit more experience. Somehow I still don't think I would be overjoyed. I would advise you to get some take out, buy some beer you like, and stay home. That way you could still retire on time.
2,619 characters
4
/5
rDev
-2.2%
vibe: 3.5 | quality: 4 | service: 4.5 | selection: 3.5 | food: 4.5
This arm of the growing Zingerman's empire is a mixed bag. First off, the atmosphere is clean and modern in an ordinary way, with abundant sunlight streaming in and a good deal of outdoor seating. Nothing breathtaking but far from bad. Location-wise it has a strange positioning in the midst of an enormous parking lot perched at one of the busiest corners for car traffic in the town. One downfall is the noise - the kitchen is open to the seating and bar so all the chef's quick work is open to the air. Its a cool touch to see and hear them hard at work making great food, but it can get a bit loud.
The food is a fantastic mix of all-American barbecue, fried chicken, okra, and so on with contemporary gourmet choices like seared Ahi Tuna. Like all things Zingerman's, the ingredients are top shelf, the presentation spot-on, and the helpings generous. They often give you free food samples to help you make a decision through their impressive menu. Though you'll be stuffed after your entree, their cheese list is truly stellar, like French restaurant level, and very nicely priced.
The waitstaff is great - quick, kind, and more than willing to accomodate. The barkeep is decent but could use some help on how to pour a pint. Oh, the beer... small but tight tap selection offered in three glass sizes, with PBR and Bud sticking out like a sore thumb next to the very rare Bell's Czech Pils and Founders Dirty Bastard and the well-thought Rogue Dead Guy and Anderson Boont Amber. But can I get a friggin head on my beer and at even remotely the right temperature? The bottle selection is much more focused with Jolly Pumpkin and a few other local and well known national micros and all the picks are tailored to match the food. Should note that the Sprecher Pub ale is a very rare choice on tap. Unfortunately everything is served in shaker pints, also known as the worst beer glasses in the world. They do rotate the selection on a very regular basis, though.
Its tough not to be tough on Zings - they are known for impeccable taste and researching the heck out of every endeavor. So, in that vein the selection could be tweaked to the level of their wine list. For example, they recognize the quality of California and Oregon wines but not beer from the same states of the same standards? Regardless, I'll be back for the Southern food.
2,353 characters
3.38
/5
rDev
-17.4%
vibe: 4 | quality: 3 | service: 3.5 | selection: 3 | food: 4.5
I was surprised this place was in beerfly. I visited once because I was curious how Zingerman's would handle the idea of a beer bar. I must say I came away disappointed and it somewhat left the whole idea of the Zingerman's empire in doubt.
Zingerman's was started with a 4 star deli that built it's reputation on high quality ingredients. They search worldwide for the best artisan cheeses, make their own bread, and take food seriously. They advocate the slow food movement and appreciate Old World craftmanship in food.
I was wondering how this philosophy would apply to beer. They did have Founder's and Bell's on tap. A no brainer for a Michigan beer bar with some ambition. However, the thing that really led me to question the place was an offering of Pabst Blue Ribbon. Perhaps some credit should be given that no Bud was on tap. However, what I took it as was a decision to carry the hipster (slumming) version of an American lager. Did they do the same with all their food products?
To read a glowing menu description of a very unremarkable and unoriginal beer made me question their decisions on the deli and food products. Would they serve Kraft singles at their cheese counter? If Zingerman's is supposed to be the arbiter of good taste, they have failed when it comes to beer.
All hype and no go. They should be forced on a trip to Kuhnhenn's. It's the beer, stupid. And before getting too carried away withe the atmosphere keep in mind that the building was a Bill Knapp's before it was Zingerman's. 60 year olds were eating their bean soup there.
1,578 characters
4.15
/5
rDev
+1.5%
vibe: 4.5 | quality: 4.5 | service: 5 | selection: 3 | food: 3.5
This is a cool place. A lot of sunlight comes in the bar area from windows on three sides.
Excellence is the rule at Zingermans. Everything from the chairs and tables, to the glassware, to the hand towels in the washroom, to the bar itself is top quality. A little quirky, perhaps, but top quality.
The service is second to none. Ari, the owner is often around and will sit and talk if you say hi. The employees are knowledgeable, polite, and downright happy.
The selection is a little thin with only 7 micros on tap and they don't seem to rotate them. They have bottles of 18 other microbrews.
The food is actually extraordinary. Unfortunately it's also extraordinarily expensive. I just can't image paying $12+ for a plate of Macaroni and Cheese. I've heard it's like no Mac and Cheese I've ever had but I'm just not ready for it yet.
"Hoppy hour" (they really call it that!) is from 4-6 Mon-Thurs. with discounts on food and tap beer.
953 characters
Zingerman's Roadhouse in Ann Arbor, MI
Place rating:
4.09
out of
5
with
28
ratings