Resurrection

Left Coast Brewing Company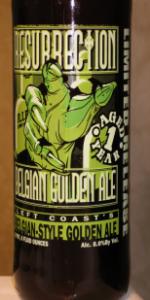 Write a Review
Beer Geek Stats:
| Print Shelf Talker
Style:

ABV:

8%

Score:

76

Avg:

2.7

| pDev:

28.15%

Reviews:

7

Ratings:

From:

Avail:

Retired (no longer brewed)

Wants

Gots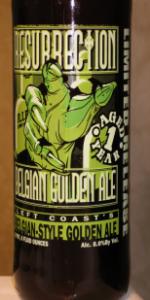 Notes:
marquinoftroy from California
2.23
/5
rDev
-17.4%
look: 3.5 | smell: 3 | taste: 2 | feel: 2 | overall: 1.5
I didn't know much about this beer or this brewery. I was in the mood for something Belgianish and was feeling adventurous. I took a chance and got burned.
Looked fine initially. Red flags came up when I smelled it. Smells lemony, but not the fruit more like lemon heads (the candy). When it came to tasting it, there is overwhelming sweetness. It felt like it was instantly rotting my teeth with every sip. I've never had a beer so sweet. I honestly could not finish it with out risking diabetes.
Jan 04, 2011
thebreederswow from California
2.3
/5
rDev
-14.8%
look: 3.5 | smell: 3.5 | taste: 1.5 | feel: 3.5 | overall: 1.5
Full disclosure: drank this beer last night, took notes on it today.
Appearance: A bright, perky looking beer. Light in color, I don't remember much about the head.
Smell: The hops hit me first, and I was intrigued.
Taste: This is the first beer in a long time that I have refused to finish. Cloying sweetness, with a malt liquor-y flavor. The bittering hops did not balance the sweetness-- instead, you were hit sequentially with sweetness, bitterness, and then hoppy flavor. I'd love to know the flavor hops that the brewers used-- I can't remember tasting them before, and think they would be well suited for a dry beer. However, the flavor clashed with the sweetness, and left me with the sensation of having eaten slightly rotten fruit.
Mouthfeel: Typical, it was a bit syruppy.
Drinkability: As I mentioned above, I found this beer aversive. To be fair, the friend I gave it to to finish enjoyed it quite a bit.
Dec 26, 2010
GRG1313 from California
1.8
/5
rDev
-33.3%
look: 3 | smell: 3 | taste: 1 | feel: 2 | overall: 1.5
Belgian style golden ale, aged in wood for 1 year.
Pours a light golden amber with a nice white head that quickly fades.
Nose is lemon merangue pie, sweet citrus and spices/white pepper.
Mouthfeel is thick but all is overshadowed by the sickly sweet front and mid palate which makes this one almost undrinkable. Herbaceous cough syrup; Synthetic sweetner sweet that is not at all appealing and one guesses that this was not done on purpose-the flavor profile is simply most unpleasant and gives way to a bitter sweet lemon peel bitter finish.
All around the bitter finish is the best part of this one which is not to say much.
Jul 13, 2010

mdfb79 from New York
2.93
/5
rDev
+8.5%
look: 3.5 | smell: 3 | taste: 2.5 | feel: 4 | overall: 3
From 7/9/10 notes. Had at a local DC tasting.
a - Pours a pale golden color with 1 inch of white head and light carbonation.
s - Smells of sweet malts, vanilla, yeast, and citrus.
t - Tastes of sugar, yeast, and fruity malts. Way too sweet.
m - Medium body and low carbonation.
d - Wasn't a big fan of this one. Thought it smelled and tasted way too sweet. Wouldn't look to have again.
Jul 13, 2010
mithrascruor from California
2.25
/5
rDev
-16.7%
look: 3.5 | smell: 3.5 | taste: 1.5 | feel: 3 | overall: 1.5
22 oz. bottle poured into a chalice.
Appearance: Pours a very slightly hazy golden-orange color with minimal off-white head that is more of a heavy/bubbly film. A decent amount of light carbonation is visible.
Smell: The aroma isn't very pronounced here. Some yeasts and a hint of fruits such as pear are present.
Taste: Has a cool, fruity taste initially with apples and pears. This gives way to some sweeter citrus-like (but not so acidic or spicy) flavors and alcohol, and then some yeast. After a while it starts to get a bit sickeningly sweet/yeasty/weird, unfortunately
Mouthfeel: Medium-bodied and smooth.
Drinkability: After about 5 sips I, unfortunately, couldn't take it any longer. The flavor was just too sweet and weird. It had to go.
A promising beer but sadly disappointing. I couldn't finish it... and I suppose I could barely start it either.
Mar 27, 2010
srandycarter from California
3.35
/5
rDev
+24.1%
look: 3 | smell: 3 | taste: 3.5 | feel: 3.5 | overall: 3.5
A - Bright orange apricot, not much head to speak of. Not much lace either.
S - Tin can, some Belgian yeast and a macro lager type smell.
T - Again, like a soup-up macro lager, with some Belgian yeast.
M - Medium body, just a little sweet and cloying at the end. Good carb.
D - Just not that interesting to me.
Mar 17, 2010

radshoesbro from California
4.03
/5
rDev
+49.3%
look: 4.5 | smell: 4 | taste: 4 | feel: 4 | overall: 4
Limited Release, Aged One Year on the bottle.
A - pours a deep golden straw with good head and spotty lace.
S - biting sweet smell of honey and flowers.
T - sweet, spicy with a strong spice kick at the end. almost tart, but not quite.
M - for such a light looking beer this definitely packs a punch, and is a well carbonated beer. not a gusher, but you can feel the bubbles racing over your tongue.
D - this is very sweet and as good as it is i feel like it would give you a wicked bad hangover if you were to drink it to much.
Oct 07, 2009
Resurrection from Left Coast Brewing Company
Beer rating:
76
out of
100
with
11
ratings