Baden Baden Premium Bock
| Cervejaria Baden Baden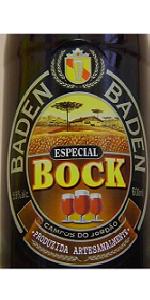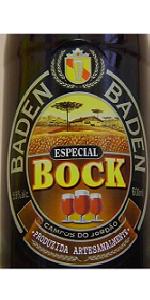 BEER INFO
Brewed by:
Cervejaria Baden Baden
Brazil
cervejariabadenbaden.com.br
Style:
Bock
Alcohol by volume (ABV):
6.50%
Availability:
Year-round
Notes / Commercial Description:
No notes at this time.
Added by soper2000 on 03-01-2005
Ratings: 15 | Reviews: 7
4.6
/5
rDev
+28.9%
look: 5 | smell: 5 | taste: 4.75 | feel: 4 | overall: 4

3.6
/5
rDev
+0.8%
look: 3.5 | smell: 3.5 | taste: 3.75 | feel: 3.5 | overall: 3.5



3.67
/5
rDev
+2.8%
look: 4 | smell: 3.25 | taste: 3.75 | feel: 4 | overall: 3.75
Dark ruby brown color. Lots of thick light caramel colored head with long retention and leaving laces.
Aroma of toasted malts, caramel and piney hops.
Taste of toasted malts (a bit of smoked) with a nice crispy and hoppy kick which was unexpected for a Brazilian beer. Hints of pepper and pine wood. Dry aftertaste with a good bitterness and residual taste with notes of coffee.
Light to medium body with good carbonation.
It kind of grew on me, from ok to a quite decent brew. Last time I had it, it was on a lower level and much too soft. I am glad it evolved. To be fair, comparing to other Bocks is now on the top chart.
624 characters

3.73
/5
rDev
+4.5%
look: 4 | smell: 3.5 | taste: 4 | feel: 3.5 | overall: 3.5
600ml bottle served in a weizen glass.
A: Pours a dark clear amber color forming a big beige tan bubbled head. Medium to low retention. Some lacings left
S: Sweet roasted in the nose. Caramel, caramel malts. Toffee. A bit smoky. Notes of coffee
T: Follows the nose: Sweet caramel upfront. Caramel malts, roasted malts, smoked malts. Notes of dark fruits and coffee. Good bitterness
M: Medium body and carbonation. Roasted and mild bitter aftertaste
O: Good drinkability. Nice Brazilian Bock beer. BTW, it's a 6.5% ABV beer, not 5.5 as described
551 characters
3.21
/5
rDev
-10.1%
look: 4.5 | smell: 3.5 | taste: 3 | feel: 3 | overall: 3
Pours a clear dark brown with rubi highlights. Head is of a tan color with moderate retention and above-average sticky lacing. A nice looking beer it is.
Aroma is not very strong and mainly of caramel malt, burnt sugar, nuts and hints of wood and vanilla.
Taste starts malty again with caramel, nuts, burnt sugar. It ends a little bitter and sort of astringent. Aftertaste is kind of bland.
Body is medium with medium to high carbonation. I don't like the mouthfeel being that it is a little astringent and prickly. Bocks should not be that agressive on the palate.
Overall this is an average beer with a few good things like it's appearance and aroma and a few not so good things like it's mouthfeel and bland aftertaste. I'd like my bocks to be a little richer and more balanced. Still worth seeking it out though.
820 characters
3.13
/5
rDev
-12.3%
look: 3 | smell: 2.5 | taste: 3.5 | feel: 3.5 | overall: 3
Appearance: very clear with a dark brown colour. No floating yeast. The head is very low with dark tan colour. Very poor retention and just a little bit of lacing.
Aroma: weak aroma of coffee, toast and some spices.
Taste: coffee, sweet malts, earth hops and spices.
Mouthfeel: smooth, average to low carbonation, medium to high alcoholic strength and a medium to light body.
Finish: starts a bit sweet and quickly turns to a light bitter feeling. Does not last very long.
Overall: Brazil is sure expanding its offers, giving the consumer a wide range of beers away from the macro lagers mainstream. Kudos. This said, Baden Baden Bock does not have a lot of character but it is nice anyway.
691 characters
4.23
/5
rDev
+18.5%
look: 4.5 | smell: 4 | taste: 4.5 | feel: 4 | overall: 4
600 ml bottle conusumed with pizza, on to the beer:
Good froathy white head on top this bread crust brown colored beer. Orange hues are blended into the color. If you think bread crust made its only apperance in this review, its here again in the aroma. Bread crust, baked bread, slight bready sweetness. To taste, once again you get a whole bunch of bread notes, but this time on your palate. A hint of sweet bread and toast add a twist to the flavor. Damn, no wonder they call beer liquid bread. Darn good, darn well balanced, and darn good with pizza.
555 characters
4.68
/5
rDev
+31.1%
look: 4.5 | smell: 4 | taste: 5 | feel: 4.5 | overall: 5
What a great fucking beer.
Pours a brilliant clear copper with a frothy head. Aroma of rich malt, with a bit of toast and bread. It's a bit on the subdued side, but still richly delicious.
The taste... brings me back to a bock that I had brewed by, of all places, Rock Bottom in Boston. And after all the crazy sours and hoppy brews... still a beer I reach back to in my mind as a seminal moment in my appreciation of beer (probably a close second behind my first Stone IPA)... and this brought me right back. I swear, this beer is a flawless bock. Rich, malt-forward medium, full bodied richness with a clean crisp hoppy bitterness.
A fine crispness, no residual sweetness on the tongue.
I can't imagine wanting to drink a lager more.
If only I was going back to Brazil to get more.
:(
794 characters
3.63
/5
rDev
+1.7%
look: 4 | smell: 3.5 | taste: 3.5 | feel: 3.5 | overall: 4
Brought back by a friend who made a business trip to Brazil. A very dark amber colour in the glass with an off-white head. Roasted malt aromas, a light candy sweetness to the smell. Flavours of cocoa, caramel and perhaps a little nuttiness. Not much of a hop aroma, but a slight hop bitterness in the fnish.
307 characters
Baden Baden Premium Bock from Cervejaria Baden Baden
Beer rating:
20%
out of
100
with
15
ratings