Charlie Parker Pale Ale
| Angel City Brewery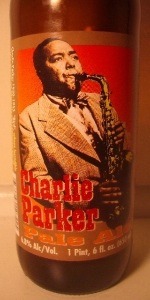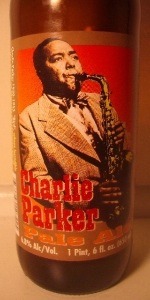 BEER INFO
Brewed by:
Angel City Brewery
California
,
United States
angelcitybrewery.com
Style:
American Pale Ale (APA)
Alcohol by volume (ABV):
6.80%
Availability:
Year-round
Notes / Commercial Description:
No notes at this time.
Added by Jason on 01-26-2009
This beer is retired; no longer brewed.
HISTOGRAM
Ratings: 9 | Reviews: 8
Reviews by ely2000k:
3.58
/5
rDev
+7.2%
look: 4 | smell: 3.5 | taste: 3.5 | feel: 4 | overall: 3.5
Pours a deep amber color, plenty of head. Smell of hops, a slightly syrup smell, and light lemony citrus and spruce notes. Tastes like a hoppy amber ale. Lots of lacing as it goes down. This is well hopped, and slightly bitter, but goes down easy and dry. Good carbonation, with a slightly creamy like mouthfeel. Overall a good drinking beer for being 6.8% alcohol, but I feel like the taste needs more malt or something to balance out the bitter with sweet. I think the taste would be more suited to the style if this happened.
528 characters
More User Reviews:
3.68
/5
rDev
+10.2%
look: 4 | smell: 3.5 | taste: 3.5 | feel: 4 | overall: 4
22oz bomber with no freshness date.
Bright golden copper color with a good two fingers of head, spot on for appearance IMO. Sweet and nutty maltiness with some light herbal and citric hop in the nose ... a little fruity as well. Creamy smooth medium body, lots of pale malt flavor here with hints of light biscuit and caramel. Hops are tame but do a good job to balance, the alcohol drapes a warmth on the palate with a suggestive fruitiness. Finishes semi-dry with a good long linger of pale malt and subtle hop.
I would tag this as a session ale but as it is nearly 7.0%, an all around good but big Pale Ale.
616 characters
3.72
/5
rDev
+11.4%
look: 3.5 | smell: 4 | taste: 3.5 | feel: 3.5 | overall: 4
Served on-tap at the new brewery near Little Tokyo in LA, this beer was served in a pint glass. Pours a bright, hazy amber-copper coloring with a thin film of head. Decent retention and lacing as you drink. The nose was strong with wet, resinous, flowery hops and slight peppery spice. Very green characteristics to the smell. Flavors were strong grapefruit and a wet, subdued hoppiness, which was surprising with the smells. Floral characteristics present in the flavors, as well. The beer is round, and a bit oily on the feel. There is a tartness on the aftertaste from the grapefruit flavors, which is mild and pleasant. Very well balanced, but a little light bodied for the style. The finish lingers a bit, and that, too, is pleasant. Very decent beer.
756 characters
3.17
/5
rDev
-5.1%
look: 3 | smell: 3.5 | taste: 3 | feel: 3.5 | overall: 3
Went downtown to the Brewery for the first time. My buddy and I live about 15 minutes away so this place seemed like an ideal spot to check out...real quick: Love the warehouse and surrounding area! Ok onto the beers...So I had the IPA, and as far as your standard, run of the mill type of IPA goes, it was ok.
Poured into a plastic Cup, standard Amber/Dark Caramel color, no real foam or head to speak of, maybe about 1/5inch max. Some slight lacing, but then again, plastic cups. Smell was mild, no real outstanding hop traits. The taste was very neutral. Perfect for its environment, for being in the bar/brewery. But it lacked that California Hop element that I've found in many other IPA's. Bitterness was minimal, so it drank easily. I liked the beer as far as its surrounding ambiance, we are definitely going back and I will definitely order it again, while I'm there. That being said, in store, I would much quicker opt for an IPA with a lot more character and personality.
983 characters

2.51
/5
rDev
-24.9%
look: 4 | smell: 3 | taste: 2 | feel: 3.5 | overall: 2
Stumbling, off-kilter stew. I'd call it a sweet dishwater taste. Very bitter taste takes over after a few tentative sips. I can't say if it's earthy hops or some kind of bacteria joining the party. Rather malty and slightly perfumey flavors. Apple cider nose. Only thing to commend is the golden amber color and decent foam.
Down the drain with this one.
355 characters

2.86
/5
rDev
-14.4%
look: 3.5 | smell: 2.5 | taste: 2.5 | feel: 3.5 | overall: 3.5
As a jazz maniac I had to have this beer. Bomber poured into a pint glass. First pour is clear gold with an orange tinge but the next is yeasty and opaque. Frothy white head looks to be composed of rather large bubbles, hopefully this won't detract from the mouthfeel. Aroma isn't very hoppy, in fact it shares more in common with that of a pilsener or helles lager than a pale ale. The main character is bready, grainy malt with a bit of corn syrupy sweetness. Not getting much hoppiness at all. Flavor is grains and toasted bread with a lightly mineral finish. If they had called it "Herbie Hancock Hellerbock" I wouldn't have batted an eye upon tasting the beer inside. This has to be an old bottle. Looks like several of the recent reviews are similar. I'll have to stop by the brewery at some point and rerate a fresh pint. Mouthfeel is standard, not as coarse as I thought it would be initially. Dry and lightly bitter.
925 characters


3.6
/5
rDev
+7.8%
look: 3.5 | smell: 3.5 | taste: 3.5 | feel: 3.5 | overall: 4
Pours a clear, light amber. Fluffy white head with moderate retention and soapy lacing.
Sweet toasty malt and caramel with hints of fruit and fudge.
Taste is of sweet malt and caramel with a lingering hop bitterness and a grainy aftertaste.
Fair amount of carbonation. Medium-bodied with a velvety texture.
This is a very drinkable brew. Great for a light after-dinner treat. Would pair well with cookies or other crunchy desserts.
436 characters
3.73
/5
rDev
+11.7%
look: 3.5 | smell: 3 | taste: 4 | feel: 4 | overall: 4
Poured a pale orange hue with some pale yellow highlights when held to the light. Nice foamy white head that didn't stick around long but did leave some nice lacing on the glass.
Smell was malty sweetness and some nice floral hops. That was about it. Pretty standard pale ale.
Taste was nice and flavorful. Nice sweet malty backbone that had a slightly caramel flavor and a nice hop bitterness in the finish.
Mouthfeel was medium bodied and the drinkability was good. A bigger pale ale but the alcohol is kept down nicely.
525 characters
Charlie Parker Pale Ale from Angel City Brewery
Beer rating:
3.34
out of
5
with
9
ratings