Dismiss Notice
Extreme Beer Fest:Los Angeles
Join us December 9th in Los Angeles for the ultimate throwdown of craft beer creativity!
Learn more...
Dismiss Notice
Steelback Tiverton Dark Lager
| Steelback Brewery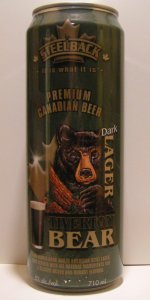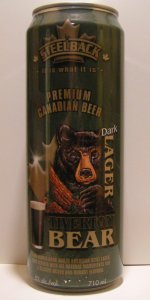 BEER INFO
Brewed by:
Steelback Brewery
Ontario
,
Canada
Style:
American Amber / Red Lager
Alcohol by volume (ABV):
5.00%
Availability:
Year-round
Notes / Commercial Description:
Reformulated version of Tiverton Bear Dark Lager.
Added by pootz on 09-24-2004
This beer is retired; no longer brewed.
HISTOGRAM
Ratings: 13 | Reviews: 13
Reviews by Conrad:
1.88
/5
rDev
-12.6%
look: 2.5 | smell: 2 | taste: 2 | feel: 1.5 | overall: 1.5
Having been terribly disappointed with the other Steelback products, I was hesitant to try this one. But someone gave it to me as a gift (the rotter), and I forced myself to keep an open mind, just in case the Bear would be a pleasant surprise. No such luck.
The nicest things I can say about it is that it has good label art, and a pretty brown cola colour. There was minimal head, that didn't last, and minimal lacing. Only slight fizz.
There's no aroma to speak of. Well, maybe a bit of sweetness.
The taste is bland. The balance is excellent, that is to say there is zero hops and zero malt, therefore, they balance each other. There is some alcohol and chemical taste that is not nice at all.
The mouthfeel is a bit oily and rough. The finish reminds me of a slug of bad medicine.
I do like the plastic bottles. They are tougher than glass, keep light out, weigh less than glass, and are economical to manufacture. But I can't say if they impart any taste to the beer because the beer is nasty to start with.
Tiverton has some great packaging, some funny ads, but bad beer. Don't be discouraged Frank. At least Ed the Sock likes your stuff.
1,151 characters
More User Reviews:
3
/5
rDev
+39.5%
look: 3 | smell: 3 | taste: 3 | feel: 3 | overall: 3
From BeerAdvocate Magazine Volume II, Issue VI:
The "it is what it is" slogan could not be that great for a pessimistic beer drinker looking for something different. We of course have an optimistic outlook on nearly every new beer we try.
Wow, dark is what they went for, and that is what they ended up with. A shade away from pitch black with some mahogany highlights. Nice looking sporadically sticky lacing from a tight-bubbled tan head. Sweetened instant coffee aroma, not much else to the smell at all. Smooth and crisp with a slick medium body. Maltiness is a little watery with a mix of light roasted coffee and cocoa powder. Hop bitterness is all that the hops give to balance, no flavor. A touch of bitter, almost acrid, unsweetened chocolate and cold black coffee in the semidry finish.
A bit ho-hum, mediocre or half decent at best. Drinkability is just OK and there is nothing that makes it the least bit remarkable.
931 characters
2.74
/5
rDev
+27.4%
look: 3.5 | smell: 2 | taste: 3 | feel: 2.5 | overall: 3
I decided to review this beer after the controversy that ensued when four Steelback beers (including this one, which received a gold in the Dark Lager category) took home medals at the 2007 Ontario Brewing Awards.
Judging by how bad early reviews were, I'd say Steelback has done some things since then to improve its beers and brewing processes. Nevertheless, I question how this beer could top a category that included Denison's excellent dunkel. But anyway....
It poured a dark cola colour with ruby highlights and a creamy, three-finger head — definitely a promising start for a beer I wasn't expecting much from, in any department. Perhaps why the come-down was especially hard when I leaned in for a whiff and got nothing — virtually nothing — except for a vague metallic smell.
The metallic quality carried over to the taste, though it didn't detract too badly from the other flavours present. Lightly roasted malt, caramel and dark buckwheat honey were all nice elements, but they didn't blend well and felt thrown in together. The thin, watery body only seemed to add to the effect. There's some promise in this beer if Steelback and its new brewmaster are open to continued tweaking. As it is, it's mediocre.
1,230 characters

1.71
/5
rDev
-20.5%
look: 3 | smell: 2 | taste: 1.5 | feel: 1.5 | overall: 1.5
It is what it is, this time from a big 710 ml green can. Let's see what all the fun is all about...
Pours out with a massive chunky light tan head. The body is is certainly dark, an opaque dark brown until held to the light, where it turns a deep shade of mahogany. A tight sticky wall of lacing.
Dry roasted malt on the nose, along with a good whopping of brown sugar, and some dried dates. A hint of coffee grounds in the background. Some kind of chemical element trying to hide even farther in the background.
It starts off okay momentarily flavour-wise, and then all falls apart. Like right at the seams, and splatters around your feet in a messy spineless puddle. No cohesiveness or continuity within the flavour of this beer whatsoever, it just sort of lets itself go right from the beginning.
Watery, watery mouthfeel, no body, no carbonation, just thin and watery. It does, however, match the flavour profile.
It is what it is, but it certainly isn't my thing.
983 characters
1.62
/5
rDev
-24.7%
look: 1.5 | smell: 2 | taste: 1.5 | feel: 1.5 | overall: 1.5
Top notch looking packaging IMO. 710ml can with some kinda plastic printed overlay.
Never judge a book by its cover, however.
Pours thin. Thinner than a cola, very carbonated, with a rapidly disappearing head. Beer itself is dark brown.
Smells dry and toasty up front, but that's about it. Pretty one dimensional. I didn't smell anything particularly awful.
Taste is nondescript, same as the smell. A microsecond of malt and then nothing. Maybe I have been spoiled by lots of hugely flavorful beers lately, but this just has nothing to it. Mouthfeel is thin and oily.
Needs more staying power... more flavor... more body.
Unfortunately not something I would want to drink again, but I'll give it another chance in a couple of months.
750 characters
1.71
/5
rDev
-20.5%
look: 3 | smell: 2 | taste: 1.5 | feel: 1.5 | overall: 1.5
710 ml can- Dark brown pour with medium sized mocha head. Roasty aromas are faint, and are followed up by a corn/raisin bread. Bitter roast flavours are thin, some sweet malt. Sweet thin and watery, with a faint caramel finish. One of the best from the brewery, but it's still not that good.
292 characters

2.78
/5
rDev
+29.3%
look: 3.5 | smell: 3 | taste: 2.5 | feel: 2.5 | overall: 3
my father in law, a dedicated coors light man, is always trying to pick up new things for me to try. he's also always willing to try new beer too, which i can respect even if he later reaches for another silver bullet. thanks for giving me something new to try mike!
710ml can.
pours deep reddish brown with ruby highlights when held to the light. a small dense tan head pops up and quickly fades. no lace.
aroma is ok. bit of toffee. honey sweetness. bit of dms. touch of cracker malt.
taste is ok. honey sweetness. bit of dms. light bitterness. bready malt. butterscotch.
mouthfeel is ok. med-high carbonation is a bit high. very light body.
drinkability is ok. mostly balanced. the sweet buttery dms isn't all that appealing to me, but it wasn't nearly as offensive as i expected.
i've heard many bad things about steelback, so i was initially leery of their products. however, i've also recently read that they are now doing all malt brewing and have significantly cleaned up their QA. while i won't go looking for this one, it's better than many macro lagers out there.
1,095 characters

1.74
/5
rDev
-19.1%
look: 3 | smell: 1.5 | taste: 1.5 | feel: 2 | overall: 2
A questionable effort. This one falls short. Pours out to a Dr. Pepper appearance, brown color, short lived off white head. Some minor notes of lace. Medium to medium low levels of carbonation. Aroma? None. Zip. Taste? Damn near the same. I've never had a brew that was so boring, yet dark in color. Some notes of roasted malts, but that's it. And those are only notes, folks, not flavors. Mouthfeel is boring and kind of begged to be spit out after the lack-luster taste. Drinkability is not good. Get some ingredients, put them in the beer, with flavor as an end result, and maybe i'll be back. But not until then. Skip it.
625 characters
2.65
/5
rDev
+23.3%
look: 2.5 | smell: 2.5 | taste: 3 | feel: 2 | overall: 2.5
341 ml bottle from The Beer Store
Pours cola coloured with a big off white head that is quickly gone. Although it is dark it is transparent and there is low levels of carbonation.
The aroma is sweet and dark. Toffee, and roasted malts but this come with a lot of sweetness that is borderline unpleasent.
The flavour is better because the sweetness is overbearing. This one is all about the dark malts though and there are seemingly no hops in this brew.
The mouthfeel is quite thin and the finish is a bit watery. Its not bad but it leaves a lot to be desired.
Overall this isnt the worst thing out there and the new recipe is better then the old but this is not one to seek out.
688 characters

2.54
/5
rDev
+18.1%
look: 3.5 | smell: 2 | taste: 2.5 | feel: 2.5 | overall: 3
I have been putting this re-review off for some months now as I have resampled this beer form different sources, different containers ever since the OBA gold medal win...this review is a summation of crib notes I made from a dozen re-tastes of both bottled and canned samples over a 5 month period.
Yes this beer has changed from its original form a few years ago. It is now drinkable but by no means craft quality and by no means fulfills what dark lager mavens look for in a dunkel...a loose attempt at a dunkel with a lot of rough edges and style faux pas.
Look: here it isn't too bad... nice clear dark copper with the requisite garnet highlights when held to a candle...small 1 finger tan colored cap tight pored but not sticky enough to suspend a dime....vanishes to a ring in a minute or 2...weak lacing.
Aroma: under pronounced, faint where it should be permeating..weak graininess, some cocoa tones from black patent melanoidins and with wisps of caramel ( we don't get the caramelly sweetness and toasted bread crust pungency we look for in a crafted dunkel)
Flavor: roasted black malts predominate and some caramel sweetness ride on a thin body to a fast clean sharp dry finish with a light char after taste . Fast, roasty, a tad too sharp and clean...but a far cry from the rich toasty caramel cocoa and woody-nutty mellow falvor we look for in a crafted dark....but certainly the equivalent of Nego Modello or San Miguel dark
This has come a long way but I remain unconvinced it's medal quality craft dunkel...too dry, too thin, too sharp ( should be rounded mellow and soft to the palate)and not enough malt spine....I assume this is an all grist malt beer but it needs the rounding multiple mash decoction, good malt, carbonate soft water and longer cold lagering give a dark.
1,796 characters
2.06
/5
rDev
-4.2%
look: 3 | smell: 2 | taste: 2 | feel: 2 | overall: 2
I tried the Tiverton Bear Honey Brown and it was decent, so I decided to pick up a 12-pack of the Dark in my quest for a good-quality discount beer. Same dumb packaging: A plastic-covered cardboard crate rather than a normal box, and clear glass bottles with transparent shrink-wrap covering the whole bottle featuring a bit of cool artwork and a blurb on the back that seems a little optimistic for Steelback: "A full-bodied North American-style lager, cold filtered with all-natural ingredients for a slightly bitter and robust flavour"? I'll be the judge of that.
Definitely not a bad-looking beer. Very dark brown, almost black, opaque, with a surprising bit of frothy beige head and lacing. After the appealing first look, the smell's a bit of a downer - sweet, artificial, metallic. The smell gives your first clue as to the taste of the beer - watery, metallic. There was a nice roasted, caramelly taste underneath, but it was largely hidden. Goes down with a bland, thin taste, and leaves a bit of a bitter taste in your mouth afterwards.
A decent beer, but it just needs more of... anything. For any other brewery this would be a mediocre offering (especially for a discount dark beer) but for Steelback I consider this a step in the right direction - add some more flavour and you'd have a surprisingly good offering. Within this style, Brick's Waterloo Dark is a better example of how to make a dark lager with a lighter taste.
1,440 characters

1.09
/5
rDev
-49.3%
look: 2.5 | smell: 1 | taste: 1 | feel: 1 | overall: 1
Pours up just like a cola - same colour, same spritzy fizz. Head retention and lace like a cola, too.
Now take a long hard look at this one 'cause that's all you're gonna get. This is pretty much the only beer I've ever had that is so completely one dimensional. Doesn't smell like anything. Doesn't taste like anything. A very slightly bitter or metallic mouthfeel. You could slide this one past your lips and not even know it.
Now I gotta ask what the guys who brewed this what the heck they were thinking of when they decided to bottle and sell this stuff? Did they not taste it before you shipped it out the door? There's nothing there.
Pathetic.
659 characters
2.48
/5
rDev
+15.3%
look: 3 | smell: 2.5 | taste: 2.5 | feel: 2 | overall: 2.5
A - Dark - opaque even - brown, puny head.
S - Not much aroma at all. Some soap at light fruitiness I suppose.
T - Soapy. Molasses and light fruit together with a nondescript bitter finish.
M - Light body and harsh carbonation seems somewhat appropriate for the lack of flavour.
D - Burnt sugar macro lager.
311 characters
Steelback Tiverton Dark Lager from Steelback Brewery
Beer rating:
2.15
out of
5
with
13
ratings