Steelback Copperhead
| Steelback Brewery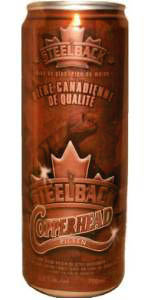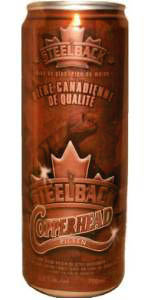 BEER INFO
Brewed by:
Steelback Brewery
Ontario
,
Canada
Style:
American Adjunct Lager
Alcohol by volume (ABV):
5.50%
Availability:
Year-round
Notes / Commercial Description:
No notes at this time.
Added by brewdlyhooked13 on 03-01-2006
This beer is retired; no longer brewed.
HISTOGRAM
Ratings: 7 | Reviews: 7
Reviews by Shadman:

2.36
/5
rDev
+8.8%
look: 4 | smell: 3 | taste: 2 | feel: 2 | overall: 2
Appearance: a pleasing copper-amber color. Pour yielded a nice 2 finger head that stayed for over 4 minutes..meaning I didn't wait for it to dissappate.
Smell: slight floral scent and a hint a iron water
Taste: metallic, no hops to speak of which supprised me as it is advertised as a pilsner. Really lacking.
Mouthfeel: quite light and thin
Drinkability...not a great offering. Wouldn't go out of my way to try another
431 characters
More User Reviews:
2.53
/5
rDev
+16.6%
look: 3 | smell: 2.5 | taste: 2.5 | feel: 2.5 | overall: 2.5
I decided to review this beer after the controversy that ensued when four Steelback beers (though not this one) took home medals at the 2007 Ontario Brewing Awards.
Judging by the early reviews, Steelback has done some things to improve its beers and brewing processes. This beer isn't horrible as some of the first reviewers so hilariously put it. Still, there is much to criticize.
This beer looks decent enough, with a rich and creamy head topping a copper-coloured body. But wait: isn't this supposed to be a pilsener? It doesn't look, smell or taste like one. The malty caramel smell and flavour dominate over everything else. Where are the hops — any hops? The end result is an innocuous beer that goes down without much thought, but it's not a pilsener, that's for damn sure. I'll pass.
800 characters
2.15
/5
rDev
-0.9%
look: 2.5 | smell: 2.5 | taste: 2 | feel: 2 | overall: 2
Poured into a pilsner glass, this beer is darker than I expected, olmost a deep orange. A big foamy yellow-tan head to start, but it quickly fizzed away, never to be seen again.
Faintly sweet aroma, corn and grain. Light and one dimensional, but not offensive.
Enters the mouth feeling like cola, fizzy with a sugary sweetness on the front of the tongue. Watery body carries a little bit of bready malt, and the finish is a slightly metallic hop twang.
A 710mL can that feels like it was made for a frat boy to challenge himself by shotgunning. About what you expect from the average adjunct lager. Finishing the whole can probably isn't worth it.
656 characters

1.74
/5
rDev
-19.8%
look: 3.5 | smell: 2 | taste: 1.5 | feel: 2.5 | overall: 1
Wow, I seriously have to question any beer company's marketing dep't that comes up with the slogan "It is what it is", which is what adorns this can right underneath the company logo.
However this beer pours out a pretty decent light copper hue, lots of carbonation, and pretty good head retention, a thick white foamy cap has settled nicely after the pour. Lots of sticky white lacing.
The aroma is fairly generic however, metallic and grainy and a bit swilly, not much backbone behind it.
The flavour is...swilly, pungent sour grains. A sweet, cloying corn riddled aftertaste that I just can't seem to shake. One-dimensional and nothing beyond that. Yeah, it most certainly is what it is.
The mouthfeel starts out alright, medium body, but takes a turn for abrasive carbonation towards the end, sticking it to you on its way down.
I don't see any reason to buy another one of these, especially for the price. Mountain Crest has already cornered the market on cheap beer to get you messed up if you are not concerned about the taste. It is what it is, and it isn't what I want.
1,095 characters
2.1
/5
rDev
-3.2%
look: 2.5 | smell: 2.5 | taste: 2 | feel: 1.5 | overall: 2
710 ml can:
Pours golden with a fizzy head that crackles and pops down to almost nothing. No lacing sticks.
The smell is of...well - not much. Some odd fruitiness with a touch of grain. Slight metallic notes. Not too offensive, as it is mild.
The taste is of caramelish sweetness. It claims to be a "Bohemian-style pils" - no way - hardly even a macro pseudo-pils... Claims to finish with a malty sweetness - well - it doesn't just finish with it - that's about all there is to it. Alcohol fruitiness comes through along with sweetness.
Initial fizziness gives way to wateriness.
Like it says - "It is what it is" - and that would be - an overly sweet nothingness.
I got through most of it, but found it to be "drainpour" with a bit left.
A friend of mine brought this back from Canada. I appreciate trying different beers, but do not miss not having this one available in my area, as I would avoid it anyway.
916 characters
2.53
/5
rDev
+16.6%
look: 3 | smell: 2.5 | taste: 2.5 | feel: 2.5 | overall: 2.5
Pours into the glass, a dark copper body, with a good sized frothy off-white head, which recedes to the side of the glass. Raisin bread malty aromas, with mild hops, and caramel to compliment. Pleasantly sweet malt/caramel flavours, with the right amount of hops to balance. Just a tad too thin though, as there is a watery feel to the finish. Bitter/sweet flavours linger. This beer still has the Steelback house quality about it, but it is a great improvement over their other beers. Not my idea of a Bohemian Pilsner, and it's really more along the lines of an amber, but it's not bad. A step in the right direction.
621 characters

1.75
/5
rDev
-19.4%
look: 2 | smell: 2 | taste: 1.5 | feel: 1.5 | overall: 2
Sampled at a local chunder-fest of bad beers held by a few beer homies with a dark sense of humor. Steelback continues to be the nemesis of anyone with active taste buds and a healthy liver.
This brew was almost as cheap as the other Steelback offerings except its marketing gimmick has it masquerading as a copper colored pilsner this time.In ppite of the fact there never was any such thing as a "copper colored Pilsner", we get the deceitful blurb that "a rare 150 year old recipe" was used to concot this Frankenstein beer.
Some one needs to tell Steelback marketing that at NO time was there EVER a real "pilsen" with bogus copper food coloring,....or sharp soda pop carbonation, zero heading and lacing, vegetal aroma under seedy corn sweetness, zero hop gravitas ( except for a mild tinny aftertaste where stale hop oil is detected) watery body laced with obvious dextrose sweetness,...ant the signature harsh "bite" from zero lagering and that signature Douglas Point water nuclear burn in the finish .
As time goes on this brewer pleas they are improving and still sticks to fast processes and cheap ingredients (Third rate malts and cheap hops)
Same low class green beer with the same harsh taste tarted up as a (copper?) pilsner and taking up premium beer space at TBS that would be better spent on real premium beer.
"It is what it is" : heartburn and a headache in a can for big bucks
1,411 characters
Steelback Copperhead from Steelback Brewery
Beer rating:
2.17
out of
5
with
7
ratings