Boxing Day Bitter
| Middle Ages Brewing Co., Ltd.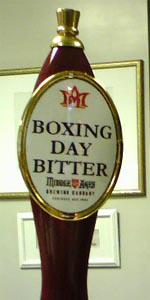 BEER INFO
Brewed by:
Middle Ages Brewing Co., Ltd.
New York
,
United States
middleagesbrewing.com
Style:
English Bitter
Alcohol by volume (ABV):
6.50%
Availability:
Winter
Notes / Commercial Description:
No notes at this time.
Added by TheBCrew on 01-13-2008
Reviews: 7 | Ratings: 16
4.23
/5
rDev
+3.9%
look: 4 | smell: 3.5 | taste: 4.5 | feel: 4.5 | overall: 4.5
(from notes)
Tried this on cask at J. Ryan's- omit the apostrophe here on the archive.
Look- Arrived at the table looking like rosy maple syrup without any visible carbonation and a finger or so of tight white foam that settled to a thin film fairly quickly. Left the inside of the glass completely coated with a dense lather that fell into streakier legs as the pint emptied.
Smell- Pretty faint, especially considering the temperature it was served at. I got a hint of orange peel and light flowery and oaky notes. Agitation didn't produce any discernable changes.
Taste- Woody and the tiniest bit sweet, with pine and apricot undertones. Finished with a light biscuit/toffee. Aftertaste wass mild and flowery. Quite good.
Mouthfeel- Starts crisp without being sharp, light to medium body and lightly carbonated. Warming and smooth through the finish, with some dryness afterward. Spot-on for the style.
Overall- Just the right balance of refreshing and fortifying, this beer is outstandingly understated. It might be just me, but it also seemed profoundly "English", much more so than the few other American- made real ale bitters I've tried. The brewers also did a masterful job of hiding the 6.5% ABV, it drinks like the traditional 3-4 and I'd happily put back a few more. Unfortunately, it's not available in bottles or I'd snag a few.
1,350 characters
4.1
/5
rDev
+0.7%
look: 4 | smell: 4 | taste: 4 | feel: 4 | overall: 4.5
Had an imperial pint on cask at the Blue Tusk, though it went by the name "Celtic Bitter" since it's right around St. Paddy's day. I wasn't sure what to expect but this was fantastic, not quite like any other cask beer I've had. I was surprised to find it was 6.5% as the body was thinner than most beers, even on cask, at that strength. Still, this only seemed to make it more drinkable.
The beer itself was a mix of mellow biscuit and cracker grains with a big hit of grapefruit and grassy tangerine hops on. The effect was full flavor up front and dry, biting rind and pepper bitter - a heck of a kick. Find this beer.
622 characters
4.3
/5
rDev
+5.7%
look: 4 | smell: 4 | taste: 4.5 | feel: 4 | overall: 4.5
Was able to give this brew a try last evening on cask while visiting Mahars. Brew was pulled to a very nice golden color with some darker highlights. Good sized light tan head that left a good amount of lacing. The aroma has a nice mix of both malt and hops as it gives off slight flowery and fruit like smell. Also a very slight butter like smell but is well hidden behind the other aromas and mixes well. The flavor is very nice, hop flavor really shines not because it is big but because the flavor that it does give off is extremely nice. While the hop presence is what really makes this beer for me the malt flavors that are present are very good and play the perfect accompaniment. Brew has a nice feel as the hop end lingers and the feel of the beer itself is quite creamy. I must say that I really liked this brew, very easy drinking and what I liked is that it is not trying to be something it is not. I like this type of brew and wish it could become a everyday offering but I might be in the minority.
1,012 characters

4.25
/5
rDev
+4.4%
look: 4 | smell: 4 | taste: 4.5 | feel: 4.5 | overall: 4
The beer pours a dark golden color with a thick frothy white head that slowly fades to lacing. The aroma is good. It has a nice malt scent that boasts of pale and light crystal malts along with a mild hop bitterness and fruity yeast esters. The esters really drown out the hop aroma. The taste is great! It has the perfect balance of malts and hops. It's light with just the right amount of specialty malts. It goes down easy and finishes clean with a bold hop flavor. The yeast character is there, but not as oppressive as in the aroma. The mouthfeel is awesome. It's a low/medium bodied beer with adequate carbonation. This is a very good English bitter. It's everything I wished the English versions would be.
712 characters

4.09
/5
rDev
+0.5%
look: 3.5 | smell: 4.5 | taste: 4 | feel: 4 | overall: 4
Had this on tap at Mahar's back in Dec I think. From notes.
A: Nice deep amber color with 2 fingers of white head. Some lacing.
S: Great smell of malt and hops from this beer. Definitely the strongest point of this beer. Also a slightly earthy tone towards the end.
T: A hoppy bitter would be a good way to describe this beer. The hops are a little bit flowery and a little bit citrusy. It finishes bitter which brings it back to the style.
M: Nice full creamy body. Very creamy in fact.
D: They ran out of this beer quickly and I can see why. I think they killed the keg in two days. Next time I went it was gone. Great beer though.
638 characters
4.17
/5
rDev
+2.5%
look: 4 | smell: 4.5 | taste: 4 | feel: 3.5 | overall: 4.5
Got this 2 days after Christmas 2007 at Middle Ages' tasting room in a growler.
The look is a big puffy white head. Clear light orange color; transparent. Nice hue. A few tiny bubbles float up. Looks thirst-quenching. Nice lacing.
The first smell is a heavy ringwood yeast. Bitter, flowery hops. A woody, flowery kind of bitter flavor. Definitely NOT an IPA style. Has an extra hint of mild oak toward the end.
The taste, again, is heavy yeast. A bitter (like the Middle Ages Beast Bitter) but much more flowery than usual. Hops are bitter but also flowery/grassy. Hint of perfume in the flavor. As it warms, the hops turn to a bitter grapefruit. Definitely more bitter toward the end.
Feels thick and ashy. Full-bodied and creamy. Leaves a film. This is a terrific, substantial brew. Bitter, grassy, sweet, complex.
820 characters
3.53
/5
rDev
-13.3%
look: 4 | smell: 3.5 | taste: 3.5 | feel: 3.5 | overall: 3.5
This beer was brewed as an experiment with a new kind of hop in order to help combat the hop shortage. Had a 2 oz. sample poured into a plastic cup. Medium amber color with off-white head. Minimal to no lacing to speak of. Aroma is spicy, citrusy,and slightly floral. Taste is initially balanced, with an intense hop bitterness in the finish. Medium-heavy mouthfeel lends to decent drinkability.
395 characters
Boxing Day Bitter from Middle Ages Brewing Co., Ltd.
4.07
out of
5
based on
16
ratings.