The Marble Arch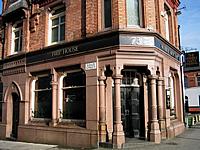 PLACE INFO
Type:
Brewery, Bar, Eatery
73 Rochdale Road
Manchester
,
England
, M4 4HY
United Kingdom
+44 (0)161 832 5914 |
map
marblebeers.com
Notes:
No notes at this time.
Added by BeerAdvocate
Reviews: 6 | Ratings: 9
5
/5
rDev
+8%
vibe: 5 | quality: 5 | service: 5 | selection: 5 | food: 5
Far and away (quite literally, because as I write this I am back home in Nebraska), the Marble Arch is my favorite English pub. When I visited on a weekday afternoon, only a few colorful locals were present so service was not an issue. The bartender was very knowledgeable and accommodating. I sampled about 10 Marble cask offerings and, on the whole, found them to be fresher and much brighter tasting than the usual ales found elsewhere. I did not keep tasting notes, so I'm not rating the individual beers. To Marble's credit, they've also delved into brewing American-style craft beers (which I did not sample because, after all, why would I want to?). As for food, I only had a cheese platter, served with a fresh loaf of bread and apple butter, but that was a feast in itself -- their menu of regional handcrafted cheeses is 2 pages long! While I would gladly return for the beer alone, the ambience of the place is also exceptional. The Victorian building dates from 1888 and is amazing to look at from floor to ceiling. (Check out Google Maps for an interior panorama.) The Marble Arch is somewhat off the beaten path, but I consider that a good thing. In any event, Manchester is so walkable the location hardly matters. Oh, in case you're wondering, my second-favorite English pub is the also-CAMRA-friendly Rising Sun Free House (aka "The Riser") in Berkhamsted. Cheers!
1,381 characters
4.28
/5
rDev
-7.6%
vibe: 4 | quality: 4.5 | service: 4 | selection: 4.5 | food: 4
Made a single visit while in Manchester based on reviews elsewhere. Overall a superb place. Cozy/quiet, offers a varying selection of cask beers that at the time included a few of their own specialty Christmas brews for recent beer festivals. Interesting interiors. Combined with their good food this is a sure must-visit place when in Manchester, even though it is a somewhat longer walk off the city center.
409 characters

4.47
/5
rDev
-3.5%
vibe: 4.5 | quality: 5 | service: 4.5 | selection: 4 | food: 4
Called in as I was in the city centre with some time to kill and a huge reminder of what a fantastic place.
A real pub in most sense
no nonsense yet with huge artistic slants.
Mosaic highly decorative floor, that needs a good scrub.
Simplistic tables with church style pews.
Perfect cask beers in simple glass pint glasses.
A few keg options(Timmermans and Erdinger)
All served at reasonable prices for a Manchester pub, good for the city centre half the price of some places.
The food is pure gastro gourmet with prices to match.
flawless cask offerings
when in Manchester visit.
590 characters
4.86
/5
rDev
+5%
vibe: 5 | quality: 5 | service: 4.5 | selection: 5
Simply fantastic pub. Slightly dirty and industrial urroundings are not that attractive, but I forgot all of that once I entered the pub. I visited Marble Arch for two times and on both occasions it was full, although it was possible to get a seat after 20 or 30 minutes. It seemed to be that mostly locals, not tourists, were visiting it, could be because it is not so centrally located.
No loud music, exceptionally pleasant atmosphere that made you wish stay for hours and above all - amazing brews, each one worth an A. By no doubt the best experience in Manchester, even surpassing the Winter Ales Festival I attended the day before.
It was not cheap, an average pint cost about 3 pounds, but considering the excellent quality of these beers it did not matter. There was a decent selection of bottled imports as well and plenty of food available, but I did not try any of it.
882 characters
4.78
/5
rDev
+3.2%
vibe: 4.5 | quality: 5 | service: 4.5 | selection: 5 | food: 4.5
I'm basing this review on notes, but I definitely have a great overall lasting impression of this brewpub.
The brewpub was described perfectly by the other reviewer (Yau) and I made this a priority stop on a recent business trip that took me to a couple of points in Northern England.
The atmosphere is very pleasant on both occasions that I visited. The mosaic tile floor, leather benches along the walls, wrought iron and wooden tables, with a traditional bar area setup were superb and everything that I could have hoped for in a pub with upgrades.
All of Marble Arch's brews were fantastic, and I stuck to their stuff even though they had some nice European imports (nothing I would consider rare by UK or US standards). I tried and reviewed several in their range, and I am sad that I was not able to try them all.
The service was prompt, courteous, responsive, and knowledgeable.
I paired up their Decadence RIS with a really superb Steak and Ale pie with huge, fresh chips. (Should've paired the RIS with a dessert, but I couldn't resist)
Overall, this is one of the best brewpubs or even beer bars that I have visited anywhere. Outstanding place.
1,164 characters
4.5
/5
rDev
-2.8%
vibe: 4.5 | quality: 4.5 | service: 4 | selection: 5
This is a fantastic brewpub situated in the Northern Quarter of Manchester City, the area itself has higher intensity of good quality freehouses than other areas as far as the whole City is concerned. And this pub is almost right beside another great place to drink, The Beer House, and is within easy walking distance from several other brilliant pubs. So if you're in Manchester, you'd simply HATE to miss this slightly remote corner full of construction sites at the first sight, as long as good beers/pubs rather than boutiques are on your list.
The brew-pub is quite young, established in 1997, and brews a wide range of organic beers which are also vegan-friendly. It has even allegedly revived the old cask-conditioned Boddingtons to its original recipe! The brewery is situated at the rear of the building, where the customers in the non-smoking area could see the brewers at work through the glass-windows. For such a new-age brewery, it's quite amazing to see that it retains an atmosphere not in the fashion of a modern American-style brew-pub, but rather like an old-fashioned street-corner local pub. The building itself dates back to late 19th century, and inside the spacious and high-ceiling bar-area, the extensive green and light brown tiling, mosaic flooring, jack-arched ceiling, are all preserved so well and brings much to the nostalgic feel of the pub (but there's no telling if the interior indeed dates back to the late 19th century~~). For all its splendid interior and the elegant, polished red granite facade at the exterior, there's no accident that it's on CAMRA's National Inventory list.
The bar is located at the rear corner of the bar area, equipped with 10 handpumps, serving 5-6 house brews and 4-5 rotating guest ales mainly from north-west England. All information about the current beers and those coming up is notified at the upper board of the bar. On top of the regular house brews there's a different ale every several months as a seasonal brew, and I was lucky enough to taste their winter-special Port-Stout, a stout added with dashes of Port, not a bit less great than O'Hanlon's more famous interpretation, and was in perfect condition. Besides British ales, a nice small selection of smaller-brand German and Belgian bottled beers is also available. No non-sense over here.
The atmosphere owes everthing to the locals, who are almost all real ale lovers and make this no-music place rather relaxing and friendly. On a cold and damp Mancunian night, warmed by that lovely fire-piece and accompanied by a pint of port-stout, a cheerful chat with the delightful barstaff really made me forget about everything else in the world. If there ought to be an ideal local pub, I'd want it to be just like this one. Just superb!
2,774 characters
The Marble Arch in Manchester, GB2, United Kingdom
3.92
out of
5
based on
148
ratings.