East End Brewing Company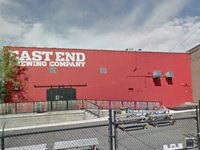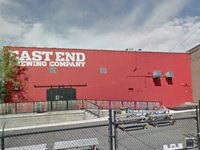 Brewery, Bar, Eatery, Beer-to-go
147 Julius St
Pittsburgh
,
Pennsylvania
, 15206
United States
(412) 537-2337 |
map
eastendbrewing.com
Notes: Due to Covid-19, we are now ...
Mon Closed
Tue 2:00 pm - 7:00 pm
Wed 2:00 pm - 7:00 pm
Thu 2:00 pm - 7:00 pm
Fri 2:00 pm - 7:00 pm
Sat 12:00 pm - 5:00 pm
Sun 12:00 pm - 5:00 pm
Regular Hours:
TUE, THU 4-8pm
WED 4-9pm
FRI 4-10pm
SAT 12-10pm
SUN 12-5pm
Fee from Pennsylvania
4.26
/5
rDev
+5.4%
vibe: 4.25 | quality: 4.5 | service: 4 | selection: 4.25
This is the main brewery - there is a taproom in The Strip. Great place undergoing regular renovations that keep it interesting and clean. Excellent beer and a large selection overall. Fantastic neighborhood vibe with bot indoor and outdoor seating.
Mar 11, 2019
Bluerabbitbell from Pennsylvania
4.14
/5
rDev
+2.5%
vibe: 4 | quality: 4 | service: 4.25 | selection: 4.25
East End Taproom on the strip with Leah on our 2 night escape. Bartender very knowledgeable.... Seemed to be very involved with the production... Very helpful in describing beers and tastes.
Oct 27, 2018

West_Chester_Ale_Tester from Ohio
3.67
/5
rDev
-9.2%
vibe: 3.75 | quality: 3.5 | service: 4 | selection: 3.5
Nice place, with really great service. The beer was fine enough, but not earth shattering. It's a place that shouldn't be missed in Pittsburgh, but it probably won't be your favorite beer.
Oct 08, 2018

Knapp85 from Pennsylvania
4.18
/5
rDev
+3.5%
vibe: 3.75 | quality: 4 | service: 4.5 | selection: 4.25
Stopped in early one weekend morning, The place wasn't super busy at the moment. The vibe could be pretty cool, lots of seating inside and outside, some pinball games and things scattered around. A massive list of beers on tap along with beers bottled and canned to take home. The service was good. Cool spot to check out, parking could be a bitch though if it's busy there.
Jun 03, 2017

gcasher from Pennsylvania
4.29
/5
rDev
+6.2%
vibe: 4 | quality: 4.25 | service: 4.5 | selection: 4.25
Definitely in the top two micro breweries in Pittsburgh. A bit hard to park, but the beer is good and they have a lot of them. The Gratitude Barleywine is outstanding. Their roasted imperial stout is also fantastic.
May 28, 2016
deleted_user_971432
2.41
/5
rDev
-40.3%
vibe: 3.75 | quality: 3 | service: 1 | selection: 2.5
East End Brewing 147 Julius street in Homewood, Pittsburgh, P.A.
So, I finally got to check this place out after years of thinking...man, I should go to that place. The sad reason why I couldn't check them out before is because they had severely short hours during the afternoon. They finally stretched there hours out and are now open for four hours from 4 - 8 p.m. during the week. It still gives you almost no time to get ready, get in there and start enjoying the place. There was one guy there to actually serve you beer and the owner. What do they do when it gets busy? Well, you just stand there and wait. They actually have a policy there that you should bus your own tables. There basically is no service here. I asked the guy serving beer a simple question about whether one of the beers was a stout, or not. He got into an unnecessary discussion on the semantics of what I was asking and kind of irritated me. They have this chalk board looking list on the wall of beers that you think would be available for consumption, but then you realize that a good portion are only available in large bottles, or growlers. So, they have these large bottles for sale only at the brewery. You can't buy these at a bottle shop, or distributor. This was another big disappointment for me because I finally get to go to their brewery and the only stout that I can try at their pub is black strap stout. I have already had it and I wanted to try a different one since I was at their brewery. I also had fat gary, but it tasted strange. For some reason I liked it better when I had it at a bar.
One good thing they had there was the merchandise. I bought a really cool tulip glass for 5 dollars. Not a bad deal at all. Oh, there sweatshirts look really cool. Another thing was that they had a book signing for the guy that wrote a beer lovers guide to the mid-Atlantic. His name is Bryan Kolesar and he is a wealth of information on all kinds of breweries. He was pretty cool to talk to, but he was also the only friendly person in the place. It is full of beer hipsters I would put it. You know the type.
They really need to step up there game when it comes to service for their pub. They also need to make more stouts and porters available to drink at the pub. And I mean really guys, bottle your beers for fucks sake!
Aug 23, 2015

Dogleg from Pennsylvania
4.11
/5
rDev
+1.7%
vibe: 3.75 | quality: 4 | service: 4 | selection: 4.5
Shares a space with Commonplace Coffee House so it smells fantastic in there and a nice alternative for non-alcoholic weirdos. Good selection on tap and bottles; nice and polite customer service.
Aug 16, 2015

Treyliff from West Virginia
4
/5
rDev
-1%
vibe: 4 | quality: 4 | service: 4.5 | selection: 3.5
Went to the 2015 Gratitude release. Staff was very friendly and the release was nicely organized. They had about 10 beers on tap inside, along with their own coffee. Nice place, would definitely go back.
Mar 16, 2015

Zonian1 from Ohio
3.5
/5
rDev
-13.4%
I took the brewery tour with a couple of friends on a Saturday afternoon. The tour cost $25, which was kind of a shocker! We had to reserve our tickets online via the brewery website. The ticket gives you access to the tour itself, which lasted about 30 minutes and included some samples during the tour. Not a bad tour overall, Terry was an entertaining tour guide. My friend said the tour was better than the Cigar City Tour! Terry told us they brew about 120,00 gallons a year.
After the tour, the ticket allowed us to sample all of the beers they had on tap; the day we were there they had 12 beers on tap. Also included in the ticket price was a "free" growler full of the beer of your choice to take home. Nice. Instead of a growler, I chose to buy some bottles of the bourbon barrel aged stout to take home to Ohio, so they gave me a $15 discount.
The brewery itself is bare bones. Not much in the way of atmosphere. Their tasting room shares space with a coffee company. It wasn't air conditioned in there and it was a hot day, so it was pretty warm in the tasting room and brewery.
Beers: Of the 12 beers we sampled, most were average quality (I scored them in the 3.5 range). However, I was pleasantly surprised by the Saison, which is new, and the new Green Giant IPA.
Overall, the visit to East End Brewing is definitely worth your time if you are in the Pittsburgh area.
Aug 26, 2014

TGallant from Pennsylvania
4.5
/5
rDev
+11.4%
Finally went down to the Public Market and had a few samples before taking home a growler of the Witte. Great beers, great staff. Cool concept on the local market too. I liked it a lot and I hope it does well.
Aug 25, 2014
RblWthACoz from Pennsylvania
4
/5
rDev
-1%
A visit to Pittsburgh without checking out East End seems kind of silly, I'd say.
When you walk in, you will first be walking past the Commonplace Coffee setup. Over time this gets extremely annoying as the people seem to always be hitting you up to buy coffee. I guess they are the red-headed stepchild of the room.
East End's setup is decent. Kind of the same deal as the old place with the tap handles sticking out of the cooler. When the doors are open, which is not often, you can see all of the brewing equipment, which offers a significantly more sizeable space than was being used previously.
There are always the standard East End brews available here, as well as whatever special releases are going on. And there will always be bottles of something available for purchase as well.
I appreciate East End, and even though I think they're out of touch and not bringing it like they used to or should, I still make it down from time to time when I feel led to try something.
Aug 20, 2014
East End Brewing Company in Pittsburgh, PA
Brewery rating:
4.01
out of
5
with
2866
ratings