Miller Lite Blonde Ale
| Miller Brewing Co.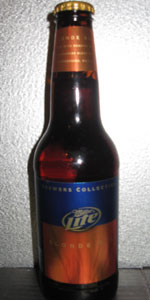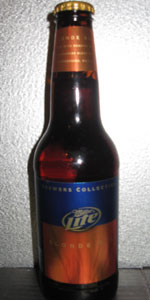 BEER INFO
Brewed by:
Miller Brewing Co.
Wisconsin
,
United States
millercoors.com
Style:
American Blonde Ale
Alcohol by volume (ABV):
4.20%
Availability:
Year-round
Notes / Commercial Description:
No notes at this time.
Added by nrpellegrini on 02-05-2008
This beer is retired; no longer brewed.
HISTOGRAM
Ratings: 9 | Reviews: 8
Reviews by nsmartell:
1.58
/5
rDev
-31%
look: 4 | smell: 1 | taste: 1.5 | feel: 2 | overall: 1.5
I enjoyed this beer from the comfort of my own living room. This has been sitting in my fridge for over 6 months, so I'm not sure how fresh it is. From the 12oz bottle to a standard pint glass.
Appearance: Pour the same color as a miller lite but with a decent white head that stuck around for a while.
Smell: Like miller lite? I really didn't smell anything.
Taste: Just like a miller lite. It has been awhile since I had a lite, but I remember it tasting like this.
Mouthfeel: light-bodied and watery.
Drinkability: Not very good. It is rare that I say that about a beer, but this was not good.
601 characters
More User Reviews:
3.2
/5
rDev
+39.7%
look: 3 | smell: 3 | taste: 3.5 | feel: 3 | overall: 3
From BeerAdvocate Magazine Volume II, Issue IV:
They brew it with five varieties of North Pacific (they mean Pacific Northwest) hops, we're sure more than a few real craft brewers will be pissed to hear about that. The website of course makes a joke about blonde women, that's OK because women don't drink beer right? (Sarcasm)
Clear and golden, a lot darker than expected, and it is off the mark for the style. The head simmers down to a thin white lacing that does not stick much. Slight oily hop aroma, we wonder if hop extracts were used. A little grainy in the nose, not much else. Very smooth and crisp with an obvious Light Beer body. Hop flavor is there with a watery herbal tone and a bitterness that never reaches to where it wants to go or at least should go. Malt flavor gives a quick shot of sweetness, then it's a dry grainy character for the duration. Clean finish.
Drinkable, yet boring, half decent at best. But it's one of the most flavorful Light Beers we had--even though that is not saying much.
1,019 characters
1.35
/5
rDev
-41%
look: 2 | smell: 2 | taste: 1 | feel: 1.5 | overall: 1
Was slipped this at a party where the only alternative was Coors light. I did it the honor of pouring it into a real glass, but a plastic cup would have been more appropriate. I can see the geniuses at Miller: "Lets put a new label on this weak, insipid brew, with no aroma, no hops, and little malt, and it Blonde Ale, and sell it for the price of craft beer." There was a strange metallic flavor to it, which was odd considering it came from a bottle. Just plain bad. Ironically, I actually think I would have been better off with the coors light.
549 characters

2.18
/5
rDev
-4.8%
look: 3 | smell: 2.5 | taste: 2 | feel: 2 | overall: 2
a: pours a color very reminiscent of the amber, its a slightly light red, slightly copper color. produces about a quarter inch of white head when poured aggresively but that quickly falls to nearly nothing
s: light hints of barley, with heavy notes of corn malts
t: miller lite, corn malts and slight hop bitterness, maybe a slight creamy taste
m: light bodied beer with a lot of carbonatoin
overall, i make this is a make your own 6, out of curiosity, i wish i would have listned to the old saying though
507 characters
2.25
/5
rDev
-1.7%
look: 2.5 | smell: 2.5 | taste: 2 | feel: 2 | overall: 2.5
12oz bottle acquired in trade with ughsmash - thanks!
Poured a meidum and clear golden color with an averaged sized off white head. Aromas of stronger grains with breadiness and citrus. Tastes of mainly grains. For what it is - a Miller Lite beer- this one was kinda drinkable. Thinner body and tastes though.
311 characters
3.48
/5
rDev
+52%
look: 3.5 | smell: 3 | taste: 3.5 | feel: 3.5 | overall: 4
Poured a clear lite golden color with moderate white puffy head. Poor retention and little lacing.
Smell is restrained with a slight frutiy character present.
Taste shows more fruitiness with a modest bitterness at the finish.
Very refreshing with modest taste retention.
This beer went down very nicely after a long day at work. A notch above their other beers.
366 characters

2.53
/5
rDev
+10.5%
look: 3 | smell: 2.5 | taste: 2.5 | feel: 2.5 | overall: 2.5
12 oz bottle into a glass.
A - barely indistinguishable from the Amber if slightly more lightly colored. Thin, white, quickly disappearing head.
S - corn and chemicals
T - Lite beer with a touch of artificial flavoring
M - Lite beer - light and watery
D - challenging for Lite drinkers, perhaps, but not interesting enough for regular beer drinkers
353 characters
2.58
/5
rDev
+12.7%
look: 3 | smell: 2.5 | taste: 2.5 | feel: 2 | overall: 3
A: Clear lightly colored amber. Tried hard to get a one inch head and even then disapated quickly. Stark white head barely laced the glass.
S: Only picked up adjuncts and slight green apple smell.
T: Not much here - little in the way of flavor or finish, but not offensive either. Ii guess its the way to go if yo uhave to drink light beer.
M: Nothing to note; thin and watery.
D: Easily drinkable, just nothing special to make want more.
442 characters
Miller Lite Blonde Ale from Miller Brewing Co.
Beer rating:
2.29
out of
5
with
9
ratings