Miller Beer (Red Label)
| Miller Brewing Co.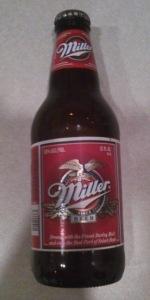 BEER INFO
Brewed by:
Miller Brewing Co.
Wisconsin
,
United States
millercoors.com
Style:
American Adjunct Lager
Alcohol by volume (ABV):
not listed
Availability:
Year-round
Notes / Commercial Description:
No notes at this time.
Added by IrishRedRock on 08-20-2002
This beer is retired; no longer brewed.
Reviews: 7 | Ratings: 24

3
/5
rDev
+3.1%
look: 3 | smell: 3 | taste: 3 | feel: 3 | overall: 3
Unlike the majority of craft brewed adjunct lager, this one came in a darker hue of gold comparatively. Formed about a 2/5" white head that didn't have much in the way of retention. Aroma was grain, corn, agrarian society type of stuff. Bread being made.
Taste was also upped in the hops department compared to your average adjunct lager. I thought this was a serviceable option. I guess between the more popular light beers, malt liquors and discount brands in the Miller portfolio, this stuff didn't really have much of a place and it has been continued.
It isn't going to blow you away in any particular category, but it also didn't do anything below average for style.
681 characters
2
/5
rDev
-31.3%
look: 2 | smell: 2 | taste: 2 | feel: 2 | overall: 2
Just saw this listed and figured I'd do my best to put my two cents in, even though it's been nearly 20 years since I've drank one.
When I was in my early 20's, this was the go to beer for my friends and I. My tastes have since become much more refined, so I doubt I would like this beer if I were to drink one today. I remember it being a lot like Miller High Life, but a little hoppier, and much sweeter. Probably why we liked it when we were kids. Alcopop didn't exist yet, and we hadn't yet developed an appreciation for beer. This was basically as close as we could get to soda and still get wasted off of it. I'm almost sure I'd hate this beer if I drank one today, but since I'm not completely sure I'm scoring it 2.0 straight down the board.
750 characters
3.13
/5
rDev
+7.6%
look: 3 | smell: 2.5 | taste: 3.5 | feel: 3.5 | overall: 3
Was marginally impressed with this, after expectations were so low the first time I had it.
Appearance was a little darker and more substantive than most Miller offerings. Aroma wasn't as offensive either. Its weird, it smells so good around the brewery, but the finished product often ain't so cool
Taste, I shit you not, there were hops in there. Not much, but discernable, which is rare despite the advertised triple hopping these days. In a pinch, you can tell this beer has all four requisite ingredients.
511 characters

3.8
/5
rDev
+30.6%
look: 3.5 | smell: 3.5 | taste: 4 | feel: 3.5 | overall: 4
Actually a great beer, just came out at a bad time. Smooth malt nose with slight traces of hops. Minimal adjunct noticable while cold, but coaxed out while the brew warms. Smooth and crisp, easy drinking and slightly heavier than the traditional Miller lite. Closer to a High Life Lite. Crisp and refreshing but slightly too seltzery.
334 characters

2.97
/5
rDev
+2.1%
look: 2.5 | smell: 3 | taste: 3 | feel: 3 | overall: 3
Not bad, slight foamy head.
The body was straw colored and week with a light fizz.
The taste was not bad, faint malt flavoring and the tiniest bit of hops. Not bitter not skunked nothing real bad here except that it's from Miller!
236 characters
2.65
/5
rDev
-8.9%
look: 2.5 | smell: 2.5 | taste: 2.5 | feel: 3 | overall: 3
drank a bunch at a beerbeque a while back, and this was one of the better american beers. it had some flavor to it that was not bitter and skunky as hell. there ya go, now it's gone, and i won't miss it, but i will remember it
226 characters
3.2
/5
rDev
+10%
look: 2.5 | smell: 2.5 | taste: 3.5 | feel: 3.5 | overall: 3.5
Ah, the original Miller beer. Miller "red" as we call it, from its red can. I got a few cases of this for free at my local, because it is no longer made and will not sell. It has been fridged for a long time though, and still tastes how it should, which isn't all that great anyway.
It is slightly sweet and feels like cheap beer. There is surprisingly more hop flavor than I expected. Who knows, maybe sitting for a few years has made some flavor appear. Anyway...RIP Miller Red, and thanks to George at the White Deer for the freebies.
541 characters
Miller Beer (Red Label) from Miller Brewing Co.
2.91
out of
5
based on
24
ratings.