Cucapá Tequila Barrel Aged Ale

Cucapá Brewing Company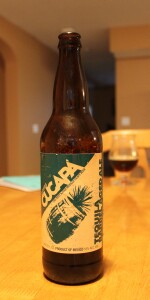 Write a Review
Beer Geek Stats:
| Print Shelf Talker
Style:

ABV:

10%

Score:

87

Avg:

3.73

| pDev:

10.99%

Reviews:

9

Ratings:

From:

Avail:

Retired (no longer brewed)

Wants

Gots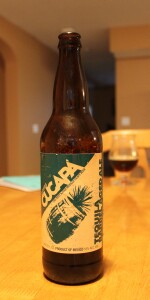 Notes:
Alieniloquium from Florida
2.68
/5
rDev
-28.2%
look: 3.5 | smell: 3 | taste: 2.5 | feel: 2.5 | overall: 2.5
650 mL bottle poured into a snifter.
Appearance - Deep reddish brown. Decent off white head. Medium collar.
Smell - Sweet and fruity. Apples. Caramel malt and oak. I don't get a ton of tequlia.
Taste - Ouch. Sweet and fruity again. Much more apple. Strong caramel. The barrel comes through strong in the finish with some odd flavors.
Mouthfeel - Heavy and sweet. Medium carbonation.
Overall - This is rough. Almost undrinkable.
Nov 12, 2013

bluejacket74 from Ohio
4
/5
rDev
+7.2%
look: 4 | smell: 4 | taste: 4 | feel: 4 | overall: 4
22 ounce bottle. Served in a snifter, the beer pours a garnet red/copper color with about an inch light tan head. Head retention is good, with a small amount of lacing. Aroma is nice, it smells like dark fruit, tequila, brandy, toffee, and brown sugar. The brew tastes like dark fruit (both sweet and tangy), molasses, toffee, tequila, red grapes/wine and a bit of apricot. Mouthfeel/body is medium/full, it's a bit slick and sticky with low carbonation. I thought this was a good overall brew. I've had it sitting around for a while and figured might as well drink it today. Pretty interesting beer, I'm pretty sure this is the first tequila barrel aged beer I've had. $7.99 a bomber.
Nov 10, 2012
TheBeerologist from Rhode Island
3.59
/5
rDev
-3.8%
look: 4.5 | smell: 3 | taste: 3.5 | feel: 4 | overall: 4
Notes from 8/24/12
22oz bottle poured into a Jackie O's munich glass
Nice copper/amber color with a thin head.
The smell on this one was hard to place. Certainly influenced by the tequila, but certainly not of tequila, more of limes and overripe pineapple and tropical fruits. Very interesting profile. Very sweet.
This was very, very sweet. Malty and flavor that was difficult to place, again tropical fruits, no tequila and slightly astringent.
NOTE: as this warmed, the tequila flavor began to dominate and by the end of the bottle it was overwhelming all other flavors.
The mouthfeel was a bit heavy and syrupy, but at the same time very pleasant. Slightly overcarbonated for me.
A very interesting beer that is certainly worth a try if you can find it. When first writing this review I was certainly not going to seek this out again but happy to have tried it. By the end of the bottle, I would love to find more and share this with as many people as possible - especially tequila drinkers. A great twist on the barrel-aging craze that I would like to see attempted more
Aug 27, 2012
TheHoppiest from Ohio
4.08
/5
rDev
+9.4%
look: 4 | smell: 3.5 | taste: 4.5 | feel: 4 | overall: 4
Poured from a 22 oz bottle into an oversized snifter glass. Pours a light garnet color, with a thin ivory colored head.
The aroma is quite powerful, malty, yeasty, with a strong tequila smell. There's a slight oak aroma as well, with dark fruit, banana, and a cactus or aloe smell.
Smooth and sweet, with loads of malt, molasses, and a definite tequila taste, this is absolutely a Mexican beer through and through. Hence of spice, cocoa, and dark cherries are present. The taste opens and mellows as the beer sits and warms for a few minutes.
Full bodied, this is a rather smooth beer with a tang at its finish. There's a slight chalkiness, which accentuates the Cocoa powder like taste.
A sweet and slow sipper, I'm enjoying this more and more as I get into the brew. I have been a bit intimidated at the thought of trying this beer, but I'm glad that I uncapped it. if you're looking for a different take on the barleywine style, and like the taste of tequila, you should definitely give this one a try.
Jul 30, 2012
BEERchitect from Kentucky
3.65
/5
rDev
-2.1%
look: 4 | smell: 4 | taste: 3.5 | feel: 3.5 | overall: 3.5
Bringing the heat to the party is Cucapa's already larger-than-life ale with zesty kick of tequi-i-i-ila that both energizes and haunts the palate with each sip.
The rock-hard garnet ale pours with a rich lusciousness that promises masculine strength and powerful taste. The tan-stained foam separates from the beer underneath with a dense foam stance that blankets the glass with a long lasting cap of intricate lace and brandy-like legging. Alas, the alcohol and tannin eventually compromise the foam as the beer falls still for even more brandy-like effect.
Dark pitted fruits, toffee flavored malts, and mild vinous tartness rises to the nose just before a wave of lightly toasted oak, booze, and agave washes over the rich ale aromas. Strong and sweet, the nose is both cleverly inviting with shear intimidation.
Rich malt flavors make the first tasty impressions with a mouth coating layer of molasses, toffee, and maple. Just shy of butterscotch, the beer weaves in brown sugar flavors that bridge the gap towards more vinous notes of port wine, mature red grapes, and sweet rummy alcohols. English-like esters of dates, raisins, prunes, licorice, plumbs, cherries, apples, and figs all inform the malt while increasing the impressions of brandy and rum. While any impressions of hops deliver a light herbal component of freshly hung tobacco, any bitterness is likely attributed to wood or alcohol instead of earthy hops. As the ale passes the tongue and develops a finish of softly toasted oak, vanilla, and caramel, there's the true agave taste of pulp and juice that's undeniably tequilla. Strong alcohols develop in finish and makes the beer taste much less sweet or full in its final impressions and aftertaste.
Full bodied throughout, the beer's embedded carbonation keeps the beer creamy and lush even as the warm alcohols grow towards a heated and spicy finish. The beer's semi-dry finish has as much to do with the pang of tequilla as it does the powdery oak texture or fleeting malt sweetness.
Further explorations of the ale make me think stronger English ales, old ales, and British versions of barley wine. But boy do those tequila inspired alcohols make a impression on taste that nearly ruins the palate with challenge and intrigue.
Apr 17, 2012
srandycarter from California
3.41
/5
rDev
-8.6%
look: 4 | smell: 3 | taste: 3.5 | feel: 3.5 | overall: 3.5
A - Pretty, liquid brown sugar, nice thick action upstairs, cascading bubbles and lots of lace.
S - Hmm. Ok, a sharp citrus note hits first, then morphs into the familiar tequila smell, followed by sweet malt and a little wood. As advertised, but I am not sure I am digging it.
T - Taste completely follows smell. Wood, tequila and then lots of sweet malt.
M - For me, this doesn't, and probably can't, balance very well. Good carb, creamy, med to heavier body.
D - Not my favorite but very interesting to try!
Mar 06, 2012
2378GCGTG from Texas
3.55
/5
rDev
-4.8%
look: 3.5 | smell: 3.5 | taste: 3.5 | feel: 4 | overall: 3.5
Appearance: Brown and murky body under a 1/4 inch head that laces but isn't well retained.
Nose: Tequila, oak and sweet sugar at the beginning. This fades into sort of funky malt/sour smell that was hard to figure out. As it warmed it became evident the smell was lime, which made more sense and improved the taste.
Taste: Tequila and oak over a sweet barley wine containing brown sugar and dark fruit, which gives way to lime citrus flavor thats a bit sour... this is very interesting.
Mouthfeel: Velvetty and flowing with a slight bitter from the lime. Theres a bit of alcohol that shows up but it fits with the tequila notes.
Overall: This is a good beer, I'm not sure I'd seek it out but I would have it again given the chance. Honestly, I think the idea has a good bit of potential to be developed into something unique given a better base barley wine and more malt- a more reputable brewery should look into making this.
Feb 28, 2012

LiquidCucumber from Ohio
3.24
/5
rDev
-13.1%
look: 4 | smell: 2.5 | taste: 3.5 | feel: 3 | overall: 3.5
A - Very dark brown with a frothy light tan head which settles down fairly quickly.
S - Thick malts with some light floral tones. Some alcohol and tequila.
T - Sharp and boozy; a bit harsh on the tongue. Tequila definitely comes through here as well as some fruit flavor, kinda funky.
M - Fairly light especially for the style. Carbonation is minimal but decent.
O - You need to like tequila to like this, and even then you may find it a bit harsh. I enjoyed it, but probably wouldn't pick it up again other than for it's uniqueness.
Feb 01, 2012
TCgoalie from Michigan
3.67
/5
rDev
-1.6%
look: 2.5 | smell: 3 | taste: 4 | feel: 3 | overall: 4.5
Pours a burgundy-brown hue with just the slightest amount of head. Quickly, I am left with a beer that looks like watered down, flat Coca-Cola.
The first sniff of this wasn't very good but some warming helped. Toffee, lime, brown sugar, oak, and band-aid smell round out the aroma.
The taste is very interesting for a barleywine. You have your typical brown sugar, toasty malt flavor as a backbone with lime and mild tequila as overtones. The combination isn't half bad and I would be interested to see this replicated by a more reputable brewery.
The feel is thin to medium with out a lot of interesting qualities. Not terrible, but nothing exciting.
Like I mentioned earlier, I think they have a good idea with the tequila barrels and a good beer style to fill them with. Done by the right brewery, this could be a home run. I forgot to mention...is this really 10%?...pretty impressive and worth some extra points.
Nov 30, 2011
Cucapá Tequila Barrel Aged Ale from Cucapá Brewing Company
Beer rating:
87
out of
100
with
19
ratings