Amber Tease

Schmohz Brewing Company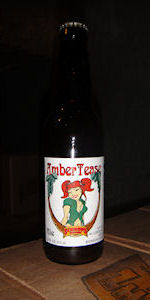 Rate It
Beer Geek Stats
| Print Shelf Talker
Style:

ABV:

5.3%

Score:

Avg:

3.07

| pDev:

22.15%

Reviews:

12

Ratings:

From:

Avail:

Year-round

Wants

Gots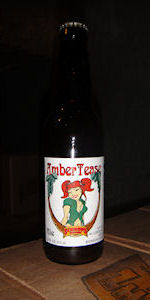 Notes:
superspak from North Carolina
3.68
/5
rDev
+19.9%
look: 4 | smell: 3.5 | taste: 3.5 | feel: 4 | overall: 4
12 ounce bottle into pint glass, no bottle dating. Pours lightly hazy/cloudy reddish/orange/copper color with a 1 finger dense light khaki head with good retention, that reduces to a small cap that lingers. Nice spotty soapy lacing clings on the glass. Aromas of big caramel, brown sugar, brown bread, toasted biscuit, light nuttiness/roast, herbal, floral, grass, and yeast/toasted earthiness. Nice and pleasant aromas with good balance and complexity of dark/bready malt and light earthy hop notes; with solid strength. Taste of big caramel, brown sugar, brown bread, toasted biscuit, light nuttiness/roast, herbal, floral, grass, and yeast/toasted earthiness. Light herbal/grassy/spicy hop and roast bitterness on the finish. Lingering notes of caramel, brown sugar, brown bread, toasted biscuit, light nuttiness/roast, herbal, floral, grass, and yeast/toasted earthiness on the finish for a good bit. Nice complexity, robustness, and balance of dark/bready malt and light earthy hop flavors; with a great malt/bitterness balance, and zero cloying flavors after the finish. Slight dryness from hop/roast bitterness, lightly increasing through the glass. Medium carbonation and body; with a very smooth, moderately creamy/bready/grainy, and slightly sticky/chalky mouthfeel that is nice. Zero warming alcohol as expected of 5.3%. Overall this is a nice standard amber ale. All around good complexity, robustness, and balance of dark/bready malt and light earthy hop flavors; very smooth and easy to drink. Well round malt complexity with just enough earthy hops to balance. A nicely enjoyable offering.
May 06, 2017

redleg64 from Michigan
2.37
/5
rDev
-22.8%
look: 3 | smell: 2.75 | taste: 2.25 | feel: 1.75 | overall: 2.25
The best out of the six pack sampler of the five that I have had so far, but that's not saying much. With this beer they are actually in the right ballpark as to what style it is. It has a nice copper color with little head. I'm sure I would appreciate the taste a little more if the carbonation wasn't so intense. I'd drink this one again but I'm not going to go out of my way to buy one.
May 29, 2013
Sammy from Canada (ON)
3.71
/5
rDev
+20.8%
look: 3.5 | smell: 3.75 | taste: 3.75 | feel: 3.5 | overall: 3.75
Bottle from Champane's Cellars. Pours somewhat amber colour, with above average carbonation. Aroma first of the hops and then of toasted malt. Taste is some caramel and mostly the toasted malt. Hops are there to give it a botter finish and make it interesting and drinkable.
Jan 27, 2013
bluHatter from Michigan
1.37
/5
rDev
-55.4%
look: 3 | smell: 1 | taste: 1 | feel: 2.5 | overall: 1.5
A: Deep cloudy brown with a vapid light brown head that dissipates slowly , clinging to the glass on the way down.
S: Sweat rags and corn. Ooh, I'm not looking forward to this.
T: Tart, sour, highly acidic and bitter. Quite unpleasant. The smell really ruined it, but the taste was really its swan song of terror.
M: Acidic, with good carbonation if you can get it down.
O: What can I say... I am not a fan. I'm always excited to try a brew from Michigan, but this is strike two for Schmohz in my book. I've rarely had a beer I could barely get down. Here's hoping the next Schmohz I try breaks the trend.
Oct 22, 2011
jkrich from Florida
3.48
/5
rDev
+13.4%
look: 4 | smell: 3.5 | taste: 3.5 | feel: 3 | overall: 3.5
Undated 12 oz. bottle: Poured a clear, reddish-amber with orange highlights. The foamy off-white head receded within seconds.
The aroma was sweet and syrupy with some sharp hop aromas that seemed out of place.
As is often the case with amber ales, this one begins malty but quickly shows some hop bitters and the finish is rather earthy and as has been described by others, a little sour.
The body is too thin, but the carbonation is subdued. The ale is a little unsettling on the palate: a fight between soft malty sweetness and a rough hoppy bitterness - just like an Amber Tease, I suppose.
I believe this ale is better than many of the other reviews indicate, however, it is far from my favorite amber. This Amber can tease all she wants, I am not biting. It is interesting that the label describes this ale as a "traditional California style ale."
Jun 26, 2011

JamnesCameron from Illinois
1.9
/5
rDev
-38.1%
look: 4 | smell: 4 | taste: 1 | feel: 1 | overall: 1
Poured into a Le Cheval Blanc pint glass. Pours a hazy amber with a two fingered light tan head that is slow to drop. Some lacing evident.
Aromas of caramel and toffee malt, a bit grainy, low hop aroma, a bit earthy.
Flavors of tart, lactic sourness with a hint of bitter on the back end. Infected? A strong astringency flows late in the fade. This is a mess.
Mouthfeel is light, some puckering from the sourness and astringency. A bit of copper/metalic mouthfeel as well.
Overall, edging toward a drain pour. I don't think I can finish this one. Avoid.
Jun 03, 2011

DannyDan from Michigan
2.31
/5
rDev
-24.8%
look: 3.5 | smell: 2.5 | taste: 2 | feel: 3 | overall: 2
Pours an amber color body with a thin white head that has decent lacing and retention. The smell is an apple, bread, yeast, and some hops. The taste starts out with a some caramel malts, some apple and kiwi followed by some floral hops. It also has a bad chemical after taste to it that is like eating chalk. Also when drinking the beer seems to have a very strong sour taste to it. I personally don't care for the taste of this beer, but I know it is me and not the beer since other reviews seem to rate this as a decent beer. The mouthfeel has a watery thin feel to it that leaves some stickiness to the mouth and this would be much more drinkable the chemical aftertaste is making this hard to finish. This is one beer that I don't plan on of drinking again.
Jan 29, 2011
beveritt from Ohio
2.87
/5
rDev
-6.5%
look: 4 | smell: 2 | taste: 3 | feel: 3.5 | overall: 3
Presentation: Poured from a 12 oz brown bottle into a shaker pint glass. Label is a sticker with a buxom red head barely keeping her shirt on. No freshness date.
Appearance: Pours with 1 1/2 fingers of light tan head. This settles to a thin yet complete layers of foam, leaving behind nearly complete lacing coverage. The beer itself is medium to dark amber and slightly cloudy. Lots of suspended particulate matter, but I'll give them the BOD on that based on my pours. Some slightly broken up sediment remains in the bottle.
Smell: Fruity malt, reminiscent of bananas, with strong notes of yeast. Not altogether pleasant. It smells very similar to some of my first attempts at fruit wine prior to and racking and settling.
Taste: Despite a strong, albeit unpleasant, aroma, this is pretty thin and watery. Mild to medium hop bitterness upfront with some notes of slightly sweet caramel malt as a backdrop. Bitterness lingers after the swallow along with a barely noticeable sourness.
Mouthfeel: Average to slightly higher than average carbonation. Body is good.
Drinkability: With the notable exception of the smell, this is not a bad beer. Not exceptional, and certainly not something I will seek out again, but a tolerable sipper.
Dec 24, 2010
Jpatrix from Michigan
3.98
/5
rDev
+29.6%
look: 4 | smell: 3.5 | taste: 4 | feel: 4 | overall: 4.5
Poured into a plisner glass yields a nicw 1" head. Head disapates fast but holds carbination
Color is a nice amber orange.
Smell is malty with faintness of hops.
Taste is bready malt with a northern hop finish.
An enjoyable drinking CA. Common Ale. A good medium bodied beer that doesn't have a bad hop bite but enough to balance the malt.
Jul 16, 2010
Mitchster from Michigan
3.35
/5
rDev
+9.1%
look: 3.5 | smell: 3.5 | taste: 3.5 | feel: 3 | overall: 3
$7.99 for a mixed 6'er. 5.3% ABV on the bottle. No brewing info on the mfgr web site. Pours out to a cloudy burnt orange, forming a decent off yellow head with avg retention and lacing. Carbonation is mild. The aroma is of apple, faint pineapple and kiwi fruit, sweet amber grain husk (akin to fat tire), and faint hops. The mouthfeel is lightly tart, with a medium body. The taste is pretty good. It starts with the apple, then goes into a nice toasty malt with some toasted bread crust, some sweet grain husk, then some tobacco in the finish with a mild chemical-like bitterness.
Starts nicely, but not without it's flaws. I worry about the kiwi fruit taste as an early sign of contamination (although it's not as strong as the ESB kiwi), and the chemical finish leaves something to be desired. I'm not inclined to buy it again.
Jul 08, 2010
WakeandBake from Michigan
3.52
/5
rDev
+14.7%
look: 3 | smell: 3.5 | taste: 3.5 | feel: 3 | overall: 4
A dark amber color body with a thin offwhite head , light carbonation and jagged lacing.Aroma is roasty, nutty and bready with some dark cherry notes and floral hops. Flavor is roasty,malty, earthy with floral hops, bread crust and yeasty fruit type esters ,medium body , clean mouthfeel , slightly hoppy finish . Quite sessionable and pretty good.
Dec 21, 2009
danielharper from Michigan
3.7
/5
rDev
+20.5%
look: 3 | smell: 3 | taste: 4 | feel: 4 | overall: 4
This is a brewery that is clearly new to bottling. Cheap six-pack holders with a label stuck on, inexpensive bottle labels. I say we cut them a bit of slack.
Appearance: Reddish-orange body, thin pink-white head that dissipates quickly. Hazy, no effervescence.
Smell: Sweet with that classic "amber" aroma, but with a slight tinge of sourness. Notes of apples.
Taste: More complexity here. A nice bready malt backbone with a sweet (but still tarty/sour) finish and a very dry aftertaste. No hops to balance. Very slight yeastiness as the beer warms.
Mouthfeel: Moderate thickness, no significant carbonation, no hops.
Drinkability: I can't tell if the sourness here is intentional or a flaw in the brewing/shipping process. Their website claims that their beer is unpasteurized, so it's possible that infection set in between the bottling process and the store, but given the relatively minor distances and times involved this can't be good for the average consumer finding this beer on the shelf. The sourness isn't unpleasant, but it is unexpected and not quite true-to-style, but I'm cutting the brewery a bit of slack since I like to root for the little guy.
(Cute label, though -- almost worth buying just for the artwork.)
Sep 28, 2009
Amber Tease from Schmohz Brewing Company
Beer rating:
77
out of
100
with
34
ratings