Sun "Ryes" Helles Doppelbock
| Millstream Brewing Company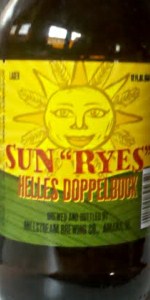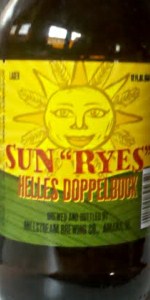 BEER INFO
Brewed by:
Millstream Brewing Company
Iowa
,
United States
millstreambrewing.com
Style:
German Doppelbock
Alcohol by volume (ABV):
7.90%
Availability:
Limited (brewed once)
Notes / Commercial Description:
No notes at this time.
Added by AmericanGothic on 04-14-2011
This beer is retired; no longer brewed.
HISTOGRAM
Ratings: 8 | Reviews: 7
Reviews by rundocrun:

4.02
/5
rDev
+8.9%
look: 3.5 | smell: 4 | taste: 4 | feel: 4.5 | overall: 4
A - Pours a deep honey gold. Has brownish-orange highlights. Not much head to speak of, but what does form is off-white and creamy-looking. Looks quite viscous too!
S - The aroma is of rich, brown bread and floral hops. There is also a hint of spiciness (possibly from the rye).
T - Definite rye presence (smooth, crisp, and bready). There is a pleasant malt sweetness that lends to the incredible smoothness of this lager along with a very mild hop bitterness.
M - Very light carbonation. (any more and the beer would be more biting). Definitely a thick, chewy mouthfeel, but not cloying or overly syrupy.
609 characters
More User Reviews:
3.37
/5
rDev
-8.7%
look: 3 | smell: 3.5 | taste: 3.5 | feel: 3.5 | overall: 3
A - Yellowish copper color with a small, creamy, smooth, white head. Decent retention that diminishes into a decent lace.
S - Sweet and alcoholic aroma. Very sweet honey like malt aroma. On top of that is a strong alcohol aroma along with a slight tart fruitiness. Slight citrus and slight orchard fruit (mostly pear).
T - Sweet grainy and bready malt provide a lot of the flavor. Very sweet flavor. A touch of fruitiness, banana and pear for the most part. Alcohol and a slight spiciness come out toward the finish. Sweetness sticks around after the sip.
M - Medium body and a nice amount of carbonation. It is sticky on the finish with the sweetness lasting a long time. Warming alcohol feel as well.
D - A little too sweet and alcoholic for me to really reach for another right now. Not horrible, but a little out of balance.
Notes: Quite sweet and alcoholic with it causing a bit of an imbalance for me. Not horrible but nothing I would want again.
957 characters

3.15
/5
rDev
-14.6%
look: 3 | smell: 3 | taste: 3.5 | feel: 2.5 | overall: 3
Fresh off the truck for a sample yesterday. Yellow pour with a very small white head. Aroma is sugary alcohol with biscuits drizzled in honey as well as a bit of metallic/minerally notes. Flavor is on the sweet side, I get cotton candy and just a bit of banana runts. The metallic mineral notes remain, similar to blood. Alcohol comes through as it warms, as well as some cereal grains. Very soft carbonation and some of the alcohol coming through in the finish. The sweetness of this one becomes distracting after a few samples, but I could see people enjoying it for that. Definitely better than what I've seen coming out of Millstream lately.
645 characters

4.28
/5
rDev
+16%
look: 4.5 | smell: 4 | taste: 4.5 | feel: 4.5 | overall: 4
A: dense bubbling in this one, it almost looks like Guinness. Settles to a two finger head on a dark golden body, high clarity, with lots of active carbonation.
S: Remarkably malty and even caramel-y for how light it is, but with a slight but definite rye aroma, as well as a little yeasty fruitiness. Good strength too, noticeable without being overpowering.
T: The aroma and taste are pretty similar, starting with a stronger malt taste with the rye moving forward through the glass. It's def. not a dopplebock, but I get where it's going. This leaves a lingering, bubblying feeling that I think is more a sensation of the rye than the carbonation.
M: Lighter, by a hair, than I would like, but very nice carbonation levels and smooth.
D: Good drinkability, great for having one or two, but not more, and being refreshed.
828 characters

3.3
/5
rDev
-10.6%
look: 3.5 | smell: 3.5 | taste: 3 | feel: 3.5 | overall: 3.5
Appearance: Straight pour into a pint glass. The color is a deep gold with a chill haze. Two fingers of eggshell-colored head dissipated to leave a spotted lacing and ring around the edge. There is a little bit of yeast sedimentation at the bottom of the bottle, which I did not realize until it was too late.
Smell: Sweet and lightly toasted grains: honey and caramel. It also has a fruity/citrus tang: lemon, grapefruit, orange, and strawberry. At the end of each whiff is a slightly astringent alcohol sharpness.
Taste: There is a lot more slightly toasted caramel in the taste, but it is balanced nicely with sweet honey. The fruits from the smell (lemon, grapefruit, orange, and strawberry) are also present, but do not play as prominent a role. As it warms, a hop bitterness emerges at the end and the honey sweetness begins to dominate. The alcohol sharpness from the smell is immediately noticeable in the taste, and leaves a tame but vodka-like sting lingering in the mouth.
Drinkability: I am just not much of a doppelbock fan, but this version seems like a good start for the team in Amana.
1,104 characters
4.35
/5
rDev
+17.9%
look: 4 | smell: 4 | taste: 4.5 | feel: 4.5 | overall: 4.5
Poured into a Unibroue tulip.
A: Pours a golden honey color with one-finger of pale tan head. Decent retention and lace. Slight cloudiness.
S: Sweet malt, some faint citrus notes. A little bit of pear after a while.
T: Great stuff happening here. Leads with a grassy lager quality that is quickly flooded with a nice biscuity malt, then fades to expose a bit of the alcohol in the finish, but only for a moment. The alcohol then disappears and only the malt remains. As the beer warms, the rye flavor emerges, especially in the finish. The malt flavors are a bit complex, tugging back and forth between sweet and biscuity.
M: Nice, a little bit on the light side of medium body. Carbonation lends a creamy effect.
O: I like this. Interesting combination of flavors, really nice and fresh. Will definitely buy again. Another delight from Millstream.
863 characters
3.27
/5
rDev
-11.4%
look: 3.5 | smell: 4 | taste: 3 | feel: 3 | overall: 3
A new offering from an Iowa brewery.
It pours a dark gold with thin white head.
Nose is very nutty like peanuts with grains.
Taste is a little on the sweet side with hops, some malt and citrus. I am not that fond of this blend and it is not characteristic of the doppelbock family.
Mouth feel is a little thick with not much carbonation. Alcohol is pretty up front. Overall not that appealing of a beer to me.
415 characters
Sun "Ryes" Helles Doppelbock from Millstream Brewing Company
Beer rating:
3.69
out of
5
with
8
ratings