Dark Night Belgian Rye
| Millstream Brewing Company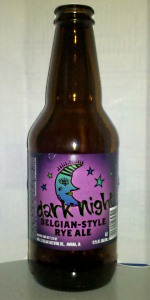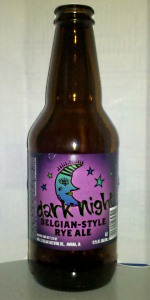 BEER INFO
Brewed by:
Millstream Brewing Company
Iowa
,
United States
millstreambrewing.com
Style:
Belgian Strong Dark Ale
Alcohol by volume (ABV):
8.50%
Availability:
Limited (brewed once)
Notes / Commercial Description:
No notes at this time.
Added by AmericanGothic on 08-19-2011
This beer is retired; no longer brewed.
HISTOGRAM
Ratings: 13 | Reviews: 10
Reviews by rundocrun:

4.05
/5
rDev
+13.1%
look: 4 | smell: 4 | taste: 4 | feel: 4.5 | overall: 4
Poured from a 12-oz bottle into a snifter.
A - Pours a deep brown and looks extremely viscous--quite unexpected. Has a finger of off-white head composed of coarse bubbles. Thick, impressive lacing on the glass, which I would expect considering how thick this beer looks.
S - Has a bready, crisp, corriander-like aroma that's immediately noticeable. Mild coffee-like notes. The rye is definitely well represented in the nose.
T - Malty, with an almost minty crispness up front. Towards the middle it becomes very dry and has a hint of roast coffee. Extremely sweet and malty all the way through the finish with a touch of tanginess.
M - Despite the viscosity of this beer, it's not overly syrupy. The finish is quite dry (aided by the ample amounts of rye they must use in this beer). Thick mouthfeel and pleasant carbonation.
829 characters
More User Reviews:

3.55
/5
rDev
-0.8%
look: 3.5 | smell: 3.5 | taste: 3.5 | feel: 4 | overall: 3.5
Poured a deep clear brown with almost no head.
Has a big brown sugar and a bit of dark fruit.
Very sweet with hints of molasses and anise, light belgian yeast notes. A bit of leather and light bitterness. In the finish.
The mouthfeel is warm and fairly thick.
A decent darkbeer belgian.
290 characters
3.88
/5
rDev
+8.4%
look: 4 | smell: 3.5 | taste: 4 | feel: 4 | overall: 4
poured from 12oz bottle into pint glass
A-cloudy burnt umber with about a 2 finger head that faded to a small cap
S-fairly sweet smelling dark fruits maybe candied plums pretty unusual smell
T-dark fruits come through again some raisins, prunes, with just a little hint of rye coming at the end with some of the 8.5% alcohol heat
M-thick and creamy like a big stout
O- nice offering from Millstream nothing really to complain about in this one except with only 8.5% alcohol I have had other that were much higher in alcohol with less alcohol presence
555 characters
3.26
/5
rDev
-8.9%
look: 4 | smell: 3 | taste: 3.5 | feel: 3 | overall: 3
A - Dark cola brown with a medium to large, light, cloud like, creamy, fluffy, off-white head. Average retention leaving a nice thin layer of lace.
S - Dark bready aroma along with dark fruit (plum, cherry, and some fig). Slight underlying sour/tartness with the cherry. Sweet brown sugar/molasses. Only a slight hint of rye.
T - Sweet dark bread and molasses along with sweet and slightly tart dark fruit. Slight Belgian yeast type flavor underlying the taste. Finish kind of cloying sweet and an off tartness. A very subtle rye spiciness to the bready flavors.
M - Medium to light body with average carbonation. Kind of light and thin.
D - The finish of cloying sweetness and a slightly strage tartness is kind of offputting at the end of the bottle. One bottle was enough for me. Not bad but it just didn't entirely work for me.
Notes: Okay beer. At the end of the bottle I was ready for it to be done. Many other beers of the style I'd rather get. Overall it just didn't come together for me. Not too much rye comes out either.
1,036 characters
4
/5
rDev
+11.7%
look: 4 | smell: 4 | taste: 4.5 | feel: 2 | overall: 4
One of the strangest beers i've seen. It literally pours as thick as motor oil - an obscene amount of body to this beer. Once the head dies down (15-20 minutes later) the beer is spectacular. The viscous mouthfeel actually helps this beer standout. Its sweet but not cloying, balanced by a slight tartness and roasted/grilled fruit character. A bit of dark roasted, bitter chocolate and red wine oak-like spice balance it out and compliment the heavy mouthfeel. Surprisingly delicious.
485 characters

3.5
/5
rDev
-2.2%
look: 3.5 | smell: 3.5 | taste: 3.5 | feel: 4.5 | overall: 3
I poured this Belgian rye into a tulip.
Appearance- This dark brown body is so close to being black. The head is mocha colored that just leaves a slight ring around the glass.
Smell- There is some bread malt and slightly sour fruit. Maybe some gooseberry and grape. And of course, an earthy Belgian yeast comes through.
Taste- The flavors start with some coriander and slight chocolate. Then some of the clovey yeast starts to fill the mouth. The bready malt and sour fruit profiles come out near the end of the drink. Not bad, but it is not very exciting either.
Mouth feel- At least the mouth feel is great. It is so big and chewy. And it goes down very easily thanks to the creaminess.
Overall- I wanted to really like this offering, but there is just not enough going on. A beer can't be great on the yeast profile alone.
The chocolate and sour fruit that is in the beer is a start, but they really need to seal the deal with it. Make those flavors big!
964 characters

3.38
/5
rDev
-5.6%
look: 3.5 | smell: 3 | taste: 3.5 | feel: 4.5 | overall: 3
Minimal activity visible in the murky, mahogany fluid. Maybe it is more active than I can tell, because there is a lot of suspended yeast throughout the shoe tulip, not just on the bottom. And it came with the initial pour, not jus from the bottom. But, there was a finger of light tan head, good retention and thick lacing. ...with time it clears some, the color becomes more attractive with some reddish hues, but there is still plenty of yeast in it. But, really, is appearance really worthy of a description this long?
Not a lot going on in the nose. Some dark fruit, a little booze....Maybe a bit of malty sweetness. But it's all hard to find. Disappointing.
Tastes better than it smells, but still is not anywhere near elite. The dark fruit is prominent, Belgian yeasty character is recognizable but subdued. It has some modest bitterness that seems stronger than it is compared to the relative mildness of the other flavor elements.
Carbonation is somewhere right around just right, or maybe just a little bit on the low side. It is rich and extremely thick and chewy. It is highly viscous, and feels much thicker at 8.5% than many much bigger brews. It's smooth, and finishes with just a little bit of bitterness on the back end.
Being originally from Iowa and pleased to see the craft beer industry doing bigger and better things in Iowa, I am always hopeful when I try a new Iowegian beer. But average is really the best I can say about Dark Night, and that might even be a bit generous. I wouldn't suggest going out of your way for this beer, and I probably won't bother again. It's unfortunate when the mouthfeel is the best part of the beer.
1,660 characters
4.02
/5
rDev
+12.3%
look: 3.5 | smell: 4 | taste: 4 | feel: 4.5 | overall: 4
Poured from a 12 oz bottle into a Sam Adams pint.
A: Pours a translucent, copper-brown color with one finger of tan head. Some retention and lace.
S: Rye coming through here, also some spicy yeast aromas.
T: Toffee, caramel, a little dark fruit, pepper and cinnamon. Not a lot of rye but still a good flavor. Tiny bit of alcohol on the finish.
M: Substantial body but the carbonation keeps it almost fluffy, very nice.
O: Pretty pleased with this. Not world class, but definitely solid and worth having again. Millstream has not really done a lot of Belgian styles, only their (very tasty) Witbier so I'm pleased to see them continuing to explore territory that is new for them.
693 characters


2.9
/5
rDev
-19%
look: 3.5 | smell: 3.5 | taste: 3 | feel: 2.5 | overall: 2
OK Millstream, you just befouled my palate with your abomination of a IIPA. Let's make up some ground. Another 12 oz. stubby.
Dribbles to the snifter in a arterial blood red, little carbonation. Smell is rich Belgian yeast, a diabetics nightmare of shoogar cane, candied fruits.
Dark Night fulfills my wish & avoids putridism. Plenty of intentionally shriveled grapes, prunes, figgy, quite altered from the nose; if this were a woman, she'd be 104. Underneath is a residual sweetness that clashes like Mideast Peace. Belgian ghosts & heady sugar round this one out. I'm a few ounces in & ready to head to a beer of a different color. Really thick & increasingly unpleasant; I couldn't get through the whole bottle.
Weird beer whose components fight like a Marky Mark boxing movie. It looks OK, not a bad idea, but leaves you shrugging indifferently. Sub-OK.
862 characters

3.21
/5
rDev
-10.3%
look: 4.5 | smell: 3.5 | taste: 3 | feel: 3 | overall: 3
Appearance: Brownish-red, huge head.
Smell: Mild dark fruit, plum/cherry.
Taste: Tastes like a highly charged dubbel, lots of dark fruit mixed with earth.
Drinkability: I don't like dubbels so I wish I could have just gotten a single.
Picked up a 4 pack at the brewery over Thanksgiving. I didn't get much of the rye they say is in there, it mostly tasted like a dubbel with dark fruits and lots of earthy flavor. It doesn't hit the spot with me, so the last bottle will probably be mixed with something.
509 characters
Dark Night Belgian Rye from Millstream Brewing Company
Beer rating:
3.58
out of
5
with
13
ratings