Bourbon Porter
| Oregon Trail Brewery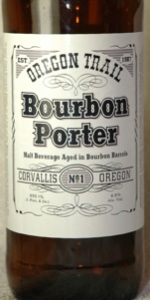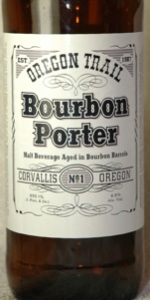 BEER INFO
Brewed by:
Oregon Trail Brewery
Oregon
,
United States
oregontrailbrewery.com
Style:
American Porter
Alcohol by volume (ABV):
6.60%
Availability:
Rotating
Notes / Commercial Description:
No notes at this time.
Added by oberon on 03-20-2006
This beer is retired; no longer brewed.
HISTOGRAM
Ratings: 8 | Reviews: 8
Reviews by benito:
2.76
/5
rDev
-22.5%
look: 3 | smell: 2 | taste: 2.5 | feel: 4 | overall: 3.5
My buddy and I visited Corvalis last summer and picked up a bottle of this at the brewery. I cellared it until a few days ago when we drank it while hanging out in the Colorado mountains. A transregional beer drinking experience...
From the bomber this poured dark ebony with an off-white head that reduces to a thin layer. The bouquet is dominated by buttery, bourbon smells, and bourbon overwhelms the palate (even though this is a muted bourbon). The base porter is almost unidentifiable against the bourbon aromas and flavors, and though I don't mind bourbon flavor, I drink beer when I drink beer and whiskey when I want whiskey. This is too one-sided a hybrid brew.
Drinkable yet disappointing. Skip this one, and stick with Oregon Trail's other brews...especially their unique Black Widow (a wit/porter blend) if you can ever find it.
848 characters
More User Reviews:

3.82
/5
rDev
+7.3%
look: 4 | smell: 4.5 | taste: 3.5 | feel: 4 | overall: 3.5
Thanks to garagekegger (actually his wife) for getting this beer back from Oregon.Poured a deep tawny brown with a light brown thinner head.Now if blindfolded when taking in the aromas of this beer I would think I was sniffing on some Makers Mark,or Beam its all vanilla and wood with a touch of butterscotch whoo it was rich.Flavors were also dominated by the bourbon barrel aging very oaky with bi vanilla notes and a touch of roasted character,the vanilla to got a little cloying after a short while.Very interesting beer a little one sided but Iam glad I tried it.
568 characters
3.19
/5
rDev
-10.4%
look: 3 | smell: 4 | taste: 3 | feel: 2.5 | overall: 3
Bomber from Liquid Solutions. Aroma is redolent with pineapple, vanilla, coconut....all of which is really the effect of oak and bourbon. Still it smells nice. The body is a murky brown and holds a diminishing, bubbly, brown head that never really gets formed before it retreats.
Massive bourbon flavor in the fore. It is also thin on first sip, but you expect that with a bourbon aged beer. It tends to thin even the heartiest of brews. The spicier wood notes are evident in the finish while the middle is smooth chocolate and cream. But, overall this is just too hot with alcohol for me to taste much in the way of a porter. I prefer the barrel-aged asspects of a beer to compliment not to define. That being said if you like a fairly strong Bourbon presence you definitely should try this beer.
800 characters
2.8
/5
rDev
-21.3%
look: 4 | smell: 4 | taste: 2 | feel: 3 | overall: 2.5
this is a very attractive beer, both to the nose and to the eye, but in the mouth, not so much. tastes like it doesn't know what it wants to be, and i don't know when the last time was when i thought while drinking beer, hmm i wish this tasted a bit like bourbon.
it doesn't taste much like a porter at all.
309 characters

3.55
/5
rDev
-0.3%
look: 4 | smell: 4 | taste: 3.5 | feel: 3.5 | overall: 3
22oz bottle, really nice looking bottle with a maroon wax dipped top, poured this into my trusty Chocolate Bock glass.
Pour – Nice dark brown/black color with a sticky head that was sweet bourbon/off-white.
Smell/Taste – It is easy to make out the bourbon flavor, especially after drinking it. Perhaps it is a bit too sweet and sharp right now – and would do well with some time in the cellar. Flavor can be a bit sharp or overwhelming, but still easy to drink overall. Flavor of roasted coffee beans, cream/vanilla, slight wood, seltzer and bourbon in each sip – a lot of carbonation for a porter – and at 9.1% alcohol it's very smooth.
Drinkability – It's not the best porter out there, but I think this really may age well. The end of a 22oz bottle gets a bit boring too – as it is very sweet. Great beer to split.
I would suggest trying this if you find it in a bottle, price is worth a shot. The bottle is eye-catching too, which doesn't really help anything – unless you collect bottles.
Cheers.
1,028 characters
3.88
/5
rDev
+9%
look: 4 | smell: 3.5 | taste: 4 | feel: 4 | overall: 4
Thanks to Cwiers for this beer. Quack! Batch 1.
A: Break the wax seal and into the oversized Riedel snifter it goes. Pours a very dark brown hue with some dimension to it. Head is an attractive roasted marshmallow color with a good amount of creaminess to it. But since my glass is so wide, the head drops quickly.
S: Lots of bourbon on the nose. Also some Aba Zaba, caramel, raw almonds, oak and vanilla.
T: Starts off with a twing of tanginess before the pungent bourbon sets in. The beer is strong in this beer and doesn't allow the true personality of the porter really show itself until towards the end…but I'm getting ahead of myself. Little bit or roastedness with an evident hop kick comes next, which does surprise me. Didn't think I'd taste any hops underneath all the bourbon. Finishes with a huge amount of buttery roasted nuts that goes on for days. Really nice way to finish this beer off. Aftertaste is bourbon, oak and a bit of plastic.
M: Medium body with a fairly nice texture.
D: I would have like the bourbon to have played the supporting cast in this beer opposed to the starring role. I would have liked to know the porter that created the foundation a bit more.
1,205 characters
4.42
/5
rDev
+24.2%
look: 4 | smell: 4.5 | taste: 4.5 | feel: 4 | overall: 4.5
It's a rare event for Oregon Trail to produce a bottled beer, as the owner/brewer generally doesn't care to fill any vessel smaller than a party pig. So I was pleasantly surprised to find a bottle of something new from OT at Belmont Station recently – a wax-dipped bomber of bourbon barrel porter. The wax seal lent an elegant appearance to the bottle though it was somewhat of a nuisance to remove. Use all due caution with a pocketknife and count your fingers when you're done.
OT's Bourbon Porter emits a sickly sweet, seductive aroma, strong on bourbon, with ample malt sugars and a hint of vanilla. My initial response to the taste was to note a very woodsy and appealing lack of refinement. But as the beer warmed and surrendered some carbonation, that rustic, oaken woodiness grew downright regal, with strong notes of bourbon elegantly integrated into a solid, stand-alone porter. The flavor is bold and dignified, with enough character to easily justify the modestly indulgent $6.50 price tag.
A very classy beer. And it kicks ass with ice cream.
1,065 characters
4.07
/5
rDev
+14.3%
look: 4 | smell: 4.5 | taste: 4 | feel: 3.5 | overall: 4
Burnt umber suffused with darkest cherry when backlit. The head looks like melted cinnamon ice cream within minutes of the pour and is leaving a more than respectable amount of lace. Bourbon Porter looks like a big porter ought to look as far as I'm concerned.
I've been sitting here enjoying the nose for the last few minutes and I haven't had the glass within two feet of my nose. Anyone who likes bourbon whiskey (I love it!) should like the aroma emanating from this beer. It smells like wonderfully rich, oaky, vanilla estery bourbon, but not to the extent that its essential beerness has been lost.
The label indicates that Bourbon Porter has been aged in bourbon barrels. My bottle also has a small sticker reading 9.1% Alc/Vol that was placed atop the original 6.6% Alc/Vol. Given how much it tastes like the liquor in question, and given how light (read: undermalted) it feels in the mouth, I wonder if the brewery might not have added a little bourbon to a standard porter. That'll jack up the ABV in a big hurry.
I like the flavor because I like bourbon, it's as simple as that. On the whole, though, this isn't the most expertly crafted beer in the world. The biggest problem is the less than viscous mouthfeel on what should be a chewy, heavily silky treat of a beer. I can get past it pretty easily since my taste buds love being bathed in this boozy elixir.
The flavor profile consists of roasted malt, dark chocolate, brown sugar, vanilla, charred oak and delightfully delicious Kentucky bourbon. I even get to experience the minor burn on the swallow, although it's much less apparent (obviously) than when sipping 100 proof Knob Creek. So what if this isn't the bourbon porter of my dreams, it's still lip smackingly good beer.
I've already noted my disappointment with the mouthfeel. With more heft, this could be a killer of a big porter. More malt would have done wonders and would probably have resulted in a half point bump in the final three scores. At least there are very few bubbles present. Any amount of fizziness would have been unforgivable.
I've had this bomber of Oregon Trail Bourbon Porter in my cellar for more than a year. I had no idea what to expect, but in the end, I like what the brewers have done. If you enjoy bourbon whiskey, then it's an easy recommendation. If you don't, then I'd suggest saving your money.
2,372 characters
Bourbon Porter from Oregon Trail Brewery
Beer rating:
3.56
out of
5
with
8
ratings