Caldera Brewing Company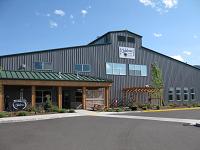 PLACE INFO
Type:
Brewery, Bar, Eatery
590 Clover Lane
Ashland
,
Oregon
, 97520
United States
(541) 482-4677 |
map
calderabrewing.com
Notes:
No notes at this time.
Added by BeerAdvocate
Reviews: 7 | Ratings: 25

4.75
/5
rDev
+11%
vibe: 4.5 | quality: 4.5 | service: 5 | selection: 5 | food: 4.5
I needed some time away from school so I drove out to Ashland to try Caldera. I've had Mogli before and really enjoyed it so I figured if they had BA Mogli on tap I'd be set. I hate to admit how awkward I am about going someplace by myself, but I usually feel a bit uncomfortable in breweries by myself... this place was different.
Vibe: Beer bottles all around the room, so that was pretty neat. They were playing a good amount of late 70's and 80's hits which was a nice touch.
Quality: I'm going to assume they mean the beer. I had the BA Mogli, BA Old Growth, Coconut Porter (which was insane), Kehai Snow, and the Motherpucker. All were good, but the BA Old Growth and the Coconut Porter were the best ones.
Service: Excellent. It looked like there were 2 servers, a hostess, and a bartender on duty when I was there. The server I had was very nice, prompt, and was very knowledgeable about the beer.
Selection: They have 40 taps of their own beverages, not all beer. They had a few sodas they brew there, including a hopped soda. They also have a gluten free beer, which is pretty rad.
Food: I had the basic pub burger with the soup of the day. It was a tasty burger, nice and filling, and they subbed blue cheese for cheddar no problem. The soup was an Italian meatball soup, nice flavor that warmed me up on a cold day.
Will I be back? Most definitely.
★
1,371 characters
4.45
/5
rDev
+4%
vibe: 4.5 | quality: 4.5 | service: 4 | selection: 5 | food: 4
My wife and I stopped on our way to Seattle (pickup son from college). Easy to find off of Highway 5, we stopped for dinner and had to park on the street. Good sign being busy on a Thursday night! They have both outdoor and indoor seating. We sat indoor in a large open room. Very mellow atmosphere. They even have a couch and fireplace to sit, along with games. Prior and after dinner, we played cribbage. The server was very friendly and knowledgeable, although the food took a little while.
As far as the food, there is a good selection of pub food, but also healthy options. We has stuffed mushrooms and roaster pepper hummus for appetizers. Both were excellent! I had gnocchi and my wife a burger. We enjoyed both.
As far as the beers, there is a large selection of many different styles. I had a strong ale and rauchbier where as my wife had Mogli (chocolate porter) and a coffee brown. All of them were fresh and yummy. The rauchbier blew me away. If you like smoked beers, this is a must.
Loved Caldera! We even came back three days later with our son on our way home!
★
1,079 characters

3.73
/5
rDev
-12.9%
vibe: 4 | quality: 4 | service: 3.5 | selection: 3.5 | food: 3.75
Stopped by the new spot in Ashland over the Memorial day weekend. Great view and th patio seating is really nice. Quality beer and the food was good too, the staff seamed a little still jumbled ,but it is new and i will not hold them to it.
★
240 characters

3.81
/5
rDev
-11%
vibe: 4 | quality: 4 | service: 3.5 | selection: 3.75 | food: 4
Stopped in for a late lunch on Sunday with the family. The dining area is a large corner of the larger brewing building. The walls are filled with beer bottles, cans and growlers... a few hundred of them. The service was fine. The five beers I tasted were great. There's over twenty beers on tap with a good variety. The food was outstanding (pizza, salad, seafood bisque and pretzel). I'd go just for the food. Family friendly. It's about 90 seconds off the I-5.
★
469 characters
4.01
/5
rDev
-6.3%
vibe: 3.5 | quality: 3.75 | service: 4.25 | selection: 4.5 | food: 3.5
While in Ashland for some fun, we stopped at the large Caldera facility. This spot is slightly out of town at the end of a service road. It is well-lit, clean and spacious. There are a bunch of tables and bars. We had prompt and attentive service. I asked a couple of beer questions and the server seemed informed and helpful.
The beer was quite good. I tried some IPA which was persuasive and bought a pounder of the Hop Hash and a six of the IPA in cans to go.
We ordered a Pretzel while waiting for our food and this was our only disappointment. The pretzel was flavorless and pretty generic. The mustard and beer cheese sauces were legitimate, but the doughy bland pretzel could go up a few notches.
We ordered two pizzas to go and had a great meal. Both pizzas were precise thin crust pizzas with greens and good flavor.
Overall I recommend this spot and will return.
★
893 characters
4.11
/5
rDev
-4%
vibe: 3.75 | quality: 4.25 | service: 3.75 | selection: 4.5 | food: 4
Was in Medford for a work trip, and so made the short drive down to Ashland and the brewery on a Thursday night.
Located at the end of what looks like a short service road, the Brewery and pub are pretty decent size, with a good size dining area and bar area (straight back from the door when you come in). The pub has high ceilings, with the walls painted white. A sizeable bottle collection makes up most of the decorations inside, and the pub has a light and airy feel to it. There is one flat screen TV to the wall to your immediate left when you come in, which I gather is typically turned to some sporting event. The vibe is fairly low key and casual, and so I thought this a very nice place to hang out with a beer or three.
The range of beers on offer is pretty impressive at Caldera. Their website boasts that they typically have 37 bees on tap, and that was the exact number of beers they haad on tap today (plus a rootbeer they make and several ciders). While I can't say I was wowwed by anything I tried, the Mogli, Coconut porter, the raunch ur bock and the rose petal golden imperial golden ale came pretty close. Even the helles lager and pils were pretty good, and I thought the DIPA decent as well (repeater repeater DIPA, and the current cauldron brew seasonal). Even the old growth imperial stout was interesting, if not exactly to my taste. The only beer I tried that I actively didn't care for was the Vas Deferens Ale.
I also ordered a small pizza here (the Caldera), and damn if it wasn't pretty darn good as well. Service was pretty decent for the most part. There was a pretty good size crowd on the Thursday night I was here (around 6:00), and so waits for a beer were sometimes a bit protracted. However, everyone was pretty friendly otherwise, and the backup server who helped out my swamped bartender/waitress was helpful and seemed to know his stuff.
After a largely so-so experience with some of the BA destinations I visited in Medford, I was very impressed with the Caldera Brewing company pub. Without doubt, I'll certainly be back, the next time I'm in the Medford/Ashland vicinity.
★
2,122 characters

4.3
/5
rDev
+0.5%
vibe: 3.5 | quality: 4.25 | service: 4 | selection: 5 | food: 4.25
Nov, 2015 Update: This is an update to my previous review. This was stop #6 on our pub crawl. I liked this place on my trip last year, and now I like it better. Last year we ordered sampler beers, and most were from the brewery's regular line-up. This year, most of our selections came from the Seasonal/Specialty portion of the beer menu, and wow, did it ever make a difference. We had 10 sampler glasses, and all of them scored at least a B grade in our rating system. As a result, I'm adjusting the 'Quality' score for this brewery to consider the combined scores from both visits. We have family in the area, so every time I come to Oregon for a visit I'm going to make time to keep coming back here.
************************************************************************************
This was stop #10 for my wife and I on a 21-day pub-crawl from Michigan to N. CA and OR. We stopped here for dinner and to try their beers. This facility is just a year or so old and everything is new, but because of the very high ceiling this place does not have the coziness that I prefer for a pub setting. (But it did display the largest collection of beer bottles on those high walls that I have ever seen – over 4,500 of them per our server). But other decorations, such as a stack of kegs, situated throughout the dining area did help to cozy the place a little.
There were about 30 beers on tap, so we ordered two sampler flights with 5 beers on each. With a selection of 30 beers we were able to avoid choosing styles that we don't like (light beers or fruity ones), so we ended up with a bunch of tasters that we enjoyed immensely. All of them rated at various levels above average, and the overall point rating score came out to be just a shade under a B grade. The exceptional beer of the group (and the only A grade) was the Mogli Imperial Porter, which is bourbon barrel-aged. What a great beer!
The food menu had a large diversity of items that definitely go beyond typical pub fare, and we very much enjoyed the dished that we ordered. Hats off to the chef as well as the brewer at this brewery! When we're back in the area again (and we will be because we have family that lives nearby) we'll definitely come back here again.
★
2,244 characters
Caldera Brewing Company in Ashland, OR
3.81
out of
5
based on
4,225
ratings.