Bödeln
| Hantverksbryggeriet AB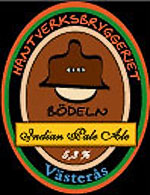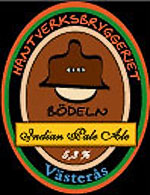 BEER INFO
Brewed by:
Hantverksbryggeriet AB
Sweden
hantverksbryggeriet.se
Style:
English India Pale Ale (IPA)
Alcohol by volume (ABV):
5.60%
Availability:
Year-round
Notes / Commercial Description:
The name means "the executioner". All the brews from this micro brewery got names from medieval workmen titles.
The ABV have changed from 5.3% to 5.6%.
Added by bark on 03-01-2005
HISTOGRAM
Ratings: 11 | Reviews: 8

2.7
/5
rDev
-27.6%
look: 3 | smell: 3 | taste: 2.5 | feel: 3 | overall: 2.5
The colour is amber; the liquid is cloudy. The high head is warm off-white, firm and compact. It sinks very slowly leaving some lacing on the glass. There is quite a lot of yeast left in the bottle.
The smell is sweet with notes of hay, grass, butter, flowers and a mild bitterness. Some yeast and exotic fruits. More butter than I had expected.
The taste is loaded with fresh fruits (apples, pineapples, kiwi, and oranges) and English hops. Some butter, wood and bakers yeast. Hay and flowers (buttercups), crisp bread and a touch of chloride. The aftertaste is mild, semi-sweet and a bit dusty with some exotic fruits, flowers and a mild bitterness.
654 characters
3.74
/5
rDev
+0.3%
look: 3 | smell: 4 | taste: 4 | feel: 3 | overall: 3.5
From a 33cl bottle into a large goblet. My bottle says 5.6% abv - although it is labelled as 5.3% above. The abv may have just have been higher in the batch from which mine was bottled.
A- Pours a cloudy burnt sienna with no head.
S- Citrus hops and sticky sweet molasses on the nose. Very wonderful smell.
T- Definitely got a lot of molasses from taste followed by a citrusy bitter backend. I liked the balance but I couldn't help but wish for more depth in the flavor. The molasses was very buttery - which I personally enjoy but I know some beer drinkers do not enjoy diacetyl.
M- Not very carbonated but also not flat. Makes me feel like this beer could stand up to being cask poured since it has such intense flavors. But I also wonder if could be enhanced with a tad more carbonation.
O- Definitely worth a try. The sticky molasses diacetyl may put some off. I do wish there was more depth of flavor and more carbonation.
934 characters
2.82
/5
rDev
-24.4%
look: 3.5 | smell: 4 | taste: 2 | feel: 3.5 | overall: 2.5
A: Cloudy, dark amber colour. Sand white, thin foam. Rather rich lacing.
S: Rich, creamy smell with citrus, caramel, berries and forest. Some hints of malt and iron. Subtle note of christmas spices.
T: Well balanced. Rich maltiness. The bitterness, though, is disappointing. I expect more hop aroma from an IPA, but this one doesn't give it to me. Notes of yeast, and very little lemon juice gives a dry aftertaste.
M: Smooth liquid, drinkable. Clean.
O: A clear disappointment.
482 characters

4.01
/5
rDev
+7.5%
look: 4.5 | smell: 3.5 | taste: 4 | feel: 5 | overall: 4
A: This beer is hazy orange with a medium-large white head that sinks into very rich lacings.
S: Caramell and butter. Grapefruit from the floral hops.
T: Caramell and butter, once more. With lots of citric notes, mainly grapefruit.
M: Aftertaste is great; long and really bitter. Carbonation is medium and body is the same.
O: Not bad at all. The hops are very floral, they would have been better with more bitterness as well (the bitterness only comes in aftertaste - but there it's great).
498 characters
4.42
/5
rDev
+18.5%
look: 4 | smell: 4.5 | taste: 4.5 | feel: 4 | overall: 4.5
The brew is hazy brown with orange hints, a high off-white head with very good lacing.
The smell is very fresh citric, lime and young grape-fruits, a slightly sweet resin touch.
Pure grape-fruit juice, sweetened and added grape-fruit zest.
Medium low carbonation, small bubbles, a medium body, a coarse texture and long dry feeling.
A very well done AIPA(sic!), citric excellence.
384 characters
4.33
/5
rDev
+16.1%
look: 4.5 | smell: 4 | taste: 4.5 | feel: 4 | overall: 4.5
Pours a real clouded orange amber with a real thick head. Flavor is a whop in the mouth. Real intense hoppy tones. Earthy, salty, robust. This is no joke. It's an American IPA for sure. Maybe this was the bottom of the barrel, but hooray for that if it's the case. Highly suggested. And hopefully yours is as good as mine.
322 characters
4.16
/5
rDev
+11.5%
look: 4.5 | smell: 3.5 | taste: 4.5 | feel: 3.5 | overall: 4.5
[email protected]
A: Hazy orange-redish with big airy foam that sticks to the glas.
S: Some hops, Caramel, Citric notes (Grapefruit dominating).
T: Citric notes, Hint of caramel, Flowers, Hint of fruit.
M: Carbonation is medium with tiny bubbles. Bitterness dominates from beginning to end with just a hint of malt to balance it out. A bit unbalanced but quite refreshing.
This is a good effort at an american-style IPA. Very drinkable even though the ibu's are kicking ass in this one. Tasty!
492 characters
4.32
/5
rDev
+15.8%
look: 4 | smell: 4.5 | taste: 4.5 | feel: 4 | overall: 4
Hantverksbryggeriet is a nice brewery, which I unfortunlatley haven't been able to try very many beers from, this is my second beer from them.
The beer pours a amber color with a white head that is turning into a un-even lid of foam after a while.
Smells is suprisingly fresh and full of American hops and some malts. There are also some pine needles and dried fruit in the nose.
Taste is quite similar to the smell with lots of American hops and some slightly rosted malts. Those pine needles are in the taste too. Lucky for me this beer was connected to the tap the very same day, it hadn't even become really cool yet.
Great IPA anyway, this one beats Jämtlands IPA which I had the same evening.
704 characters
Bödeln from Hantverksbryggeriet AB
Beer rating:
3.73
out of
5
with
11
ratings