Blond Bitch
| Moorhouse's Brewery (Burnley) Ltd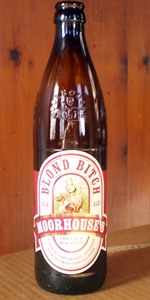 BEER INFO
Brewed by:
Moorhouse's Brewery (Burnley) Ltd
England
,
United Kingdom
moorhouses.co.uk
Style:
English Pale Ale
Alcohol by volume (ABV):
4.50%
Availability:
Spring
Notes / Commercial Description:
No notes at this time.
Added by Minkybut on 03-22-2010
Reviews: 8 | Ratings: 16
3.96
/5
rDev
+16.8%
look: 3.25 | smell: 4 | taste: 4 | feel: 4 | overall: 4
Moorhouse's Blond Bitch has a thick, off-white, somewhat creamy head, an opaque, gold-orange appearance, with lots of orange-tan chunks floating about, and very little lacing left on the glass. The aroma is of possibly old or aged, sweet malt, clover honey, mild hop resin, and ever-so-slightly turned light fruit (like dates). Taste is of initial hop bitterness, with sugar crystal sweetness, white bread, cellar mold, light fruits, and biscuit. There is even a grass component. Mouthfeel is medium, and Moorhouse's Blond Bitch finishes wet and fairly easy drinking. Well, this is a different sort of thing, here.
RJT
624 characters
3.23
/5
rDev
-4.7%
look: 3.5 | smell: 3 | taste: 3.25 | feel: 3.5 | overall: 3.25
From the 500 ml. bottle labeled BB-L2177-07:56.
It looks the way a golden blond should with its golden pale yellow tone and quick lasting white fizzy head.
Aroma? What aroma? Not exactly. I do pick up a little toasted biscuit malt, corn, and grass but everything is muted and downplayed. One needs a big whiff to pick up these esters.
Light and refreshing body which is typical for the style.
The taste tends to be a little more forward than the nose is with a modest toasted biscuit malt character that erupts into a sharp, dry bitterness at the finish. This looks, smells, and tastes more like an American pale lager.
625 characters

3.25
/5
rDev
-4.1%
look: 3 | smell: 3 | taste: 3.5 | feel: 3.5 | overall: 3
Bottle bought from Jungle Jim's in Cincinnati, OH.
A: golden color with a slight haze.
S: slight fruity smell; mostly light and flowery
T: the young apple-ness is there, along with a slight sweetness that again feels fruity
M: a relatively dry finish that finishes off the medium body
O:Quite drinkable, but there is not a whole lot about this beer that makes it stand out.
378 characters

2.98
/5
rDev
-12.1%
look: 3.5 | smell: 3 | taste: 3 | feel: 2.5 | overall: 3
Pours a golden yellow with a thin head into my glass. Kind of flat actually but not far off.
Apple must? Oh-kkk. Where's the hops? Oh, right they are. I've had bitters with better aromas than this.
Some bready malt and some hops. Some flavor too. Very bland. Misogynistic too.
Nothing to write home about in the mouthfeel.
Could a pale ale be any more boring than this?
374 characters
3.32
/5
rDev
-2.1%
look: 3 | smell: 3.5 | taste: 2.5 | feel: 4 | overall: 4.5
Bottle into guinness pint glass. Thanks, glass night!
A - A bit like dark urine. nice lacing though. Pretty clear.
S - Green apples, some sort of light caramel/toffee smell. smells sweet as well.
T - Initial impressions: Apples again. A bit musty. Not really a hops presence. Cardboard (hint). Quite metallic. Not a fan of that. After breathing a bit: Some apples, a bit of hops bitterness, on par for an English pale. A bit of a toffee/sweet taste. Hints of metal but it toned down a bit (or am I more used to it). Cardboard/mustiness is still there though. Tastes just alright.
M - Nice, not great.
D - I could drink a lot but the metal taste is off-putting. High drinkability based on ABV though.
703 characters
3.18
/5
rDev
-6.2%
look: 4 | smell: 3.5 | taste: 3 | feel: 3 | overall: 3
The aroma is slightly hoppy and citric but there is sort of an earthy staleness to it. It pours well. There was about two and half fingers of head. It has a very nice brass colored body with great carbonation. There was not as much for hops in the flavor as I would have expected give the style but it tastes a little bit like a malt liquor. It has a sweet adjunct and melon like taste. It has average mouthfeel and drinkability.
429 characters
3.43
/5
rDev
+1.2%
look: 3.5 | smell: 3 | taste: 3.5 | feel: 4 | overall: 3.5
A - Poured out a clear, golden yellow color with a small, white, bubbly head. It left minimal lace.
S - It smelled earthy and of caramel. Not much else.
T - It tasted sweet and malty with caramel and cereal-like flavors. It had a mild earthy and grassy hop bite.
M - It was crisp and sharp. A light to medium bodied ale with a dry finish.
D - This is an okay English ale. It is good but won't be a regular in my fridge.
423 characters
4
/5
rDev
+18%
look: 4 | smell: 4 | taste: 4 | feel: 4 | overall: 4
I poured this obviously un-reviewed beer into my tumbler at 45 degrees. The beer was a nice golden color and was a littlt cloudy. The beer poured a lavish big white head that was a pillow in my tumbler. The beer had a nice fresh smell. The taste was slightly of caramel. It was a delightful beer that I hop will make it picture and all into the beer Advocate line-up. Oh, yes I will buy again.
393 characters
Blond Bitch from Moorhouse's Brewery (Burnley) Ltd
3.39
out of
5
based on
16
ratings.