Oppigårds Summer Twist (2010 Version)
| Oppigårds Bryggeri AB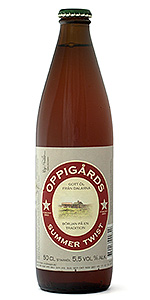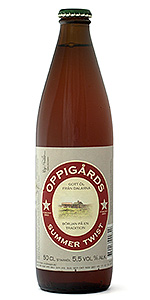 BEER INFO
Brewed by:
Oppigårds Bryggeri AB
Sweden
oppigards.com
Style:
American Pale Ale (APA)
Alcohol by volume (ABV):
5.50%
Availability:
Summer
Notes / Commercial Description:
Brewed with barley malt and wheat malt. Hops: Pacific Gem, Bramling Cross and Amarillo
Added by bark on 08-05-2008
This beer is retired; no longer brewed.
HISTOGRAM
Ratings: 8 | Reviews: 6

2.93
/5
rDev
-23.3%
look: 3 | smell: 3 | taste: 3 | feel: 2.75 | overall: 2.75

4.3
/5
rDev
+12.6%
look: 4 | smell: 4 | taste: 4.5 | feel: 4 | overall: 4.5
The colour is pale amber; the liquid got some chill haze. The very high firm head is off-white and airy. Lots of lacing occurs.
The smell is sweet with bitter-hoppy notes of grapefruit and lemon peels. It is not the most complex smell, but what's there is good.
The taste is not that sweet. The focus is on the aromatic hop flavours - bitter oranges, lemons, blood grapefruits, pineapples. The malts are there just to give the flavours a sweet balancing background. The flavours are very fresh, but not as malty/caramelized as an APA uses to be. The aftertaste is a bit sour, in a lemon-lime way (that is probably due to the wheat malt). Some clean sweet notes and a fresh yet quite relaxed bitterness that lasts quite a long time.
The carbonation is medium strong; the many small bubbles are fresh. The liquid is mid-smooth.
A very personal and summery interpretation of the APA style. I like it a lot!
911 characters
3.02
/5
rDev
-20.9%
look: 3.5 | smell: 4 | taste: 2.5 | feel: 3.5 | overall: 2.5
I had this at Akkurat and it was highly recommended by the staff. Not a big fan of this, they say its a sessional but its not at all. Its the most tragically hopped up pale ale ever, its to piney and bitter, might as well be a dipa. At least for once I can say I've had an over hoppy beer in Europe.
Skip over this one.
320 characters
4.12
/5
rDev
+7.9%
look: 4 | smell: 4.5 | taste: 4 | feel: 4 | overall: 4
Pours a light and clear amber with a white mid-sized head that leaves some creamy lacing on the glass.
The nose is all about the hops, and it's not the just the usual APA-thing going on here. As they state on the bottle, they have used hops from England, USA and New Zeeland, which really makes the nose interesting. I get a light hint of tropical fruits, citrus, but also a lighter earthy fruitness that makes me think of noble hops, there is a light metallic ting to it all aswell.
The hops are just as present in the taste as well, I get the tropical citrus, as well as a more down-to-earth noble hop thing, very floral and almost nectar-like hop-goodness. The hops are bitten off mid palate by a marked bitterness and a light breadiness from the malt, and I get the light metallic thing here as well, but it's not very prominent, just lingering in the outskirts of the palate.
Mouthfeel is creamy but light, with soft carbonation.
A great summer beer with its interesting hop-profile and quite well rounded bitterness, that doesn't make it hard to down quite a few in one sitting.
1,089 characters
3.8
/5
rDev
-0.5%
look: 4 | smell: 4 | taste: 4 | feel: 3 | overall: 3.5
Appearance: Oppigårds Summer Twist pours a gamboge colour along with a compact and tall cream-white crown, which due to the nature of it slowly fades into obscurity very gradually. Piece by piece you can see a corner go down like the walls of Constantinople, finally leaving us with pine- and spruce-like lacing, nice. A very small amount of bubbles have been rumoured to spout at the surface, but this remains uncertain to this very day.
Smell: Strong scents of pine and to a lesser extent mould(!), not exactly as strong, but nonetheless in the same way as a blue cheese are what hits the nose at first. Mild doses of butterscotch sneak up in between the dominantly hoppy character.
Taste: A dominant tone of acridity which latter on morphs itself into a lightly syrup-like character, hardly detectable, but it gives the beer a sweeter edge. Some small traces of diacetyl as well as some fresh floral hoppiness.
Mouthfeel: Creamy and medium full, somewhat coarse while the carbonation is medium-to-low.
Drinkability: Nice job, clearly one-dimensional since the malts are clandestine, still the hops are far from being too governing or extreme, so all in all considering it's an APA I guess it's a fairly good job.
1,220 characters

4.03
/5
rDev
+5.5%
look: 4.5 | smell: 4 | taste: 4 | feel: 4 | overall: 4
50 cl brown short-necked, kind of boring bottle. Label is beige and red with the usuall pic of a "Dalarna" farm house - looks kind of nice.
A: Pour is amber with a really large off-white creamy head. Slow dissipation leaves nice, really nice lacings.
S: Piney and citric, really American in smell. Some faint wheat tones? Caramell malt. But heavy hoppy dominance.
T: Floral and bitter hops up front; dry, bitter, piney and citric. Sweetness from the malt balances the bitter hops really nice.
M: Aftertaste lingers almost forever and holds at first sweetness but very soon the bitterness takes over. Smooth liquid, medium body and rich carbonation, but smooth.
D: Hoppy and refreshing. This one could be my summer beer 2010 - I'll have to buy myself a whole case.
771 characters
4.1
/5
rDev
+7.3%
look: 4 | smell: 4 | taste: 4 | feel: 4 | overall: 4.5
The beer is clear amber/copper colored, an off-white head with good lacing.
The smell is fresh lemons and lime, but also some toffee and pine needles.
Some upfront (small) sweetness of caramel, but mainly grapes and lemons, flowers and a good bitter finish.
Rather small carbonation, soft and pleasant.
A nice summer beer, good lasting bitterness.
351 characters
Oppigårds Summer Twist (2010 Version) from Oppigårds Bryggeri AB
Beer rating:
3.82
out of
5
with
8
ratings