Oppigårds Starkporter
| Oppigårds Bryggeri AB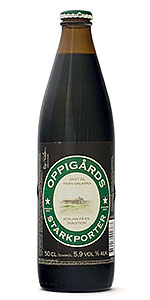 BEER INFO
Brewed by:
Oppigårds Bryggeri AB
Sweden
oppigards.com
Style:
English Porter
Alcohol by volume (ABV):
5.90%
Availability:
Year-round
Notes / Commercial Description:
Malt: Pale Ale, Chocolate, various Caramel
Hops: Pacific Gem, East Kent Goldings
IBU: 50
OG: 1063
Introduced in December 2008.
Added by Ljunkan on 10-04-2008
Ratings: 14 | Reviews: 8




4
/5
rDev
-1.7%
look: 4 | smell: 4 | taste: 4 | feel: 4 | overall: 4
A: Black liquid, light carbonation, light brown head, small bubbles, quite creamy, leaves some lacings on the glass.
S: Some smoke, little coffee, roasted malt.
T: Roasted, smoked, coffe, some sour fruits nuance. Watery, smoked and sour fruits to the aftertaste.
264 characters

4.38
/5
rDev
+7.6%
look: 4.5 | smell: 4 | taste: 4.5 | feel: 4.5 | overall: 4.5
Brown boring-looking 50 cl short-necked bottle. The label is "classic" Oppigårds in black and green.
A: Pitch black, almost tar-looking pour. Brown, creamy, compact & really large head. Slow dissipation leaves some lacings and a great crater.
S: Chocolate och some coffee. Roasted malt. Vanilla and smoked ham. Dark dried fruits.
T: Chocolate, coffee and vanilla. Roasted malt, almost a bit smoked. Bitter hops and dark dried fruits.
M: Aftertaste is long-lasting and bitter. Full body and moderate carbonation.
D: Really nice beer. A must - If you haven't tried it yet - make sure that you do!
601 characters
4.27
/5
rDev
+4.9%
look: 3.5 | smell: 4 | taste: 4.5 | feel: 4 | overall: 4.5
The beer is very dark brown, almost black, a very small beige head leaving no lacing.
Smelling of dark roasted coffee and heavily roasted malt, almost burnt grass, a hint of sweet dried fruits and port wine.
The taste is sweet, dates and dried figs, sherry as well. Bitter tones, dark coffee and cocoa beans. Well balanced.
Medium carbonation and a nice dry feeling.
A very good balanced porter.
399 characters
3.66
/5
rDev
-10.1%
look: 3 | smell: 4.5 | taste: 4 | feel: 2 | overall: 3
Served in a Chimay glass at 12°C (53.6°F)
A: Pitch black, thick syrupy liquid and brown head which dissapears quickly and leaves a thin lacing around the edge of the glass and some islands of brown in the middle
S: Reminds me a lot of exotic stouts with its deep roasted character - maybe even a russian imperial? Definitely black coffee and dark chocolate. Also dark syrup, hazelnuts, raisins, figs and a swedish type of bread served during christmas called "vörtbröd".
T: Wow, VERY dark flavor! Very roasty and quite bitter, once again black coffee, dark chocolate and cocoa. Very aggressive, raw and demanding taste, yet satisfying and mind blowing.
M: Roasty mouthfeel, big. Leaves a bitter aftertaste in the palate and an almost smokey feel in the throat. Actually, a bit unpleasant in the finish.
D: So-so. Like I said, quite demanding and raw. The roastiness is very adventurous, however the aroma and the taste is fabulous
939 characters
4.32
/5
rDev
+6.1%
look: 3.5 | smell: 4 | taste: 4.5 | feel: 4.5 | overall: 4.5
The colour is black with a brown edge. The low brown head sinks quickly down to a thick lid, leaving some lacing.
The smell is loaded with chocolate, cocoa, some fresh bitter hints and notes of black coffee, mixed nuts, sweet flavours and a very fragile touch of smoke.
The first taste is bitter-sour, then fine notes of dark chocolate, pumpernickel, heavily toasted bread, some mild notes of lime, steak, hints of wax and vegetables. The long lasting aftertaste is mildly bitter with some interesting sour flavours (lime, citric acid) and a roasted background taste.
The carbonation is medium, the very small bubbles are fresh. The liquid is very smooth, especially for a beer at just below 6%.
The guys at Oppigårds keeps us spoiled with great beers... And we like it!
778 characters
4.32
/5
rDev
+6.1%
look: 4 | smell: 4.5 | taste: 4.5 | feel: 4 | overall: 4
Really interesting to finally taste something a bit more powerful from Oppigårds, one of the most interesting Swedish breweries right know.
Really nice looking black/reddish beer with a nice beige head, leaves quite a lacing on the glass!
Smells really nicely of some American hops (cascade-ish) and large notes of hardly rosted malts. Really nice smell!
Taste is pretty similar to the smell with lots of hardly rosted notes and some of the American hops I mentioned earlier. Hints of chocolate and raisins can be found too.
All and all, excellent! But the mouthfeel could perhaps be a bit more filling.
608 characters
3.78
/5
rDev
-7.1%
look: 4 | smell: 3.5 | taste: 4 | feel: 3 | overall: 4
[email protected]
A: Pitch black with a small beige lace.
S: Roasted malt, Coffee, Bacon, Hint of metal.
T: Chocolate, Coffee, Salt, Dried dark fruit, Hint of vanilla and dark caramel.
M: Rich and complex with a dry bitterness at the end. Quite thin body.
A very balanced and drinkable porter from one of my favorite swedish brewers. Personally i could have used some more body and slightly higher ABV to go with it but i supposed this was made to be a drinkable porter rather than a sippable one. Good stuff!
508 characters
3.93
/5
rDev
-3.4%
look: 4.5 | smell: 4 | taste: 4 | feel: 4 | overall: 3.5
Pours an black color with a nice brown head, leaving some lacing on the glass.
Lots of roasted malt in the smell, notes of chocolate and coffee, slightly of hops.
The taste is "dark"; lots of roasted malt, distinct bitterness, coffee, salt liquorice and almost some leather-notes. Some chocolate there aswell.
Mouthfeel is good. Medium to low carbonation. The liquid is medium-like; not thin, not thick.
Drinkability is quite high, even though it feels a bit hard to drink a whole bottle of, which is a bit surprising for a beer with a low ABV.
549 characters
Oppigårds Starkporter from Oppigårds Bryggeri AB
4.07
out of
5
based on
14
ratings.