Rowdy Rye Ale
| Northwoods Brewpub and Grill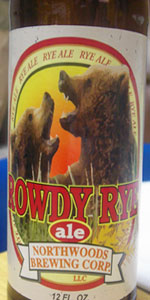 BEER INFO
Brewed by:
Northwoods Brewpub and Grill
Wisconsin
,
United States
northwoodsbrewpub.com
Style:
Rye Beer
Alcohol by volume (ABV):
4.50%
Availability:
Year-round
Notes / Commercial Description:
No notes at this time.
Added by vette2006c5r on 10-01-2011
Reviews: 6 | Ratings: 16
3.16
/5
rDev
+4.3%
look: 3.25 | smell: 3.5 | taste: 3 | feel: 3.25 | overall: 3
The Rowdy Rye Ale...while ok...not sure it would obtain a "go to" beer status. The beer poured a copper clear with thin white head that is not lacing. The scent is slightly malty with touches of bittering hops. The taste is starts a little bitter....then sweet...then alcoholy. The sweetness is from the malt which give it a biscuit flare. The mouthfeel is lighter in body with good carbonation. Overall this is ok.
415 characters
2.92
/5
rDev
-3.6%
look: 2.5 | smell: 3 | taste: 3 | feel: 2.5 | overall: 3
Reviewed from session notes.
A. Very clouded oppery amber color with a flash head and minimal lacing left behind.
S,T. Sweet malt with not the amount of rye flavor that I was expecting. Rye is definitely playing second fiddle here to the usual suspects. Caramel and biscuit mostly, with a large herbal component that almost turns tannic and tea-like as the brew warms, some mild boiled hops pop out at the finish but they seem too little too late to compensate for the malt sweetness.
M. Watery and undercarbonated just like all the other Northwoods bottles in the session.
576 characters
3.38
/5
rDev
+11.6%
look: 3.5 | smell: 3 | taste: 3.5 | feel: 3.5 | overall: 3.5
Review from BeerAdvocate Magazine Issue #57 (October 2011):
LOOK: Pale brass
SMELL: Sweet, spicy, yeast, biscuity malt, Juicy Fruit bubble gum
TASTE: Smooth, malty, spicy rye, biscuity, yeast, herbal, vague fruit, bready, hoppy
Rye is clearly showcased, yet there is a lot more going on here, even subtly with the malt and hops. rye is really well played from start to finish. Yeasty tone could be tamed a bit; hoppiness balances without taking away from the spice of the rye. all in all, good drinking.
507 characters
2.03
/5
rDev
-33%
look: 2.5 | smell: 2 | taste: 2 | feel: 2 | overall: 2
Got this in a pick six from a liquor store in LaCrosse Wi. Bottle poured into a snifter glass with very little head retention. Poured it hard to make sure it had some but I couldn't get any out of it. Has a very faint rye smell and taste for that matter. Its pretty hard to put my finger on what this beer tastes like. Its not like anything I've had but is probably most on par with an amber type ale.
Overall, this beer disappoints. I've had other Rye's before and I was hoping this one might have a stronger rye profile than it does but it is what it is. I do love the name of it however!
591 characters

2.47
/5
rDev
-18.5%
look: 2.5 | smell: 3 | taste: 2 | feel: 2 | overall: 3
Pours a slightly hazy, gold color with amber highlights. Barely grows a head, just a thin bubbly layer that disappears rapidly.
Aroma definitely has some of that grainy, bread-like rye character, as well as a sweet caramely maltiness and a hint of herbal hops.
The flavor isn't horrible (at least not compared to Floppin' Crappie which I drank prior). There is a definite bready rye note that moves into an unfortunate sweetness, reminiscent of concentrated boil, extract homebrew, a sort of smothering dish soap, caramel sweetness that the hops can't touch. The carbonation is pretty light, making the beer feel thick, almost cloying.
Meh, the beer is drinkable, but all I can say is Northwoods brewery's beers sure make me feel a lot better about my homebrew. I've only had two of their beers so far, but both had amateurish flaws and un-refined flavors. I'm not real enthused about trying anything else from them.
919 characters

3.54
/5
rDev
+16.8%
look: 3 | smell: 4 | taste: 3.5 | feel: 3 | overall: 3.5
Rowdy Rye ale pours a darker, almost hazy copper color, with a small head that did last through out the beer. The smell was sweet and malty, very pleasent. The taste is first sweet, and full of malts, but finishes dry, and just a bit bitter. There could be more cabonation, and there is a little bit of a watery taste, but wouldnt mind having another. Overall a pretty good beer, I enjoyed it, nice taste and flavor.
416 characters
Rowdy Rye Ale from Northwoods Brewpub and Grill
3.03
out of
5
based on
16
ratings.