Olde Wyndham Grim Reaper Barley Wine
| Olde Wyndham Brewery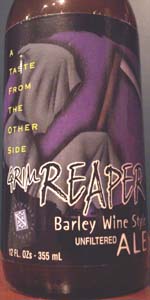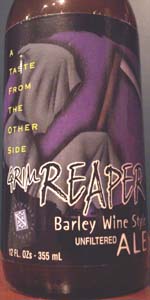 BEER INFO
Brewed by:
Olde Wyndham Brewery
Connecticut
,
United States
Style:
American Barleywine
Alcohol by volume (ABV):
not listed
Availability:
Limited (brewed once)
Notes / Commercial Description:
No notes at this time.
Added by BeerAdvocate on 04-01-2002
This beer is retired; no longer brewed.
HISTOGRAM
Ratings: 7 | Reviews: 5
Reviews by paceyourself:
3.72
/5
rDev
-15.3%
look: 3 | smell: 3.5 | taste: 4 | feel: 4 | overall: 3.5
I've saved about six bottles for almost three years and i just couldn't wait any longer. A sweet medicinal aroma with a little pear is very strong. Very little carbonation with absolutely no head. Extremely cloudy with some sediment dulls the dark amber color. The alcohol is apparent right off with a wine like sweetness and raisin taste. A syrupy full mouthfeel makes the 12oz. go far. I don't know what the ABV is but this brew packs a good punch. Grim Reaper has one of the coolest labels i've seen, it's to bad Olde Wyndham Brewery had to close.
550 characters
More User Reviews:
4.8
/5
rDev
+9.3%
look: 4.5 | smell: 4.5 | taste: 5 | feel: 4.5 | overall: 5
A 12 oz. bottle that professes to contain beer from "the other side". This is so true, for only a few days ago it had endured a 6 hr flight from a snow covered Boston to the West Coast of So.Cal. An unfiltered Barley Wine that promised so much & had me begging to open Pandora's Box to release all the evils it contained, I wanted this beer Sooo Bad.
It pours a sinister, turbid looking, but notably demonic hazed dark brown color. A thin white froth settles atop the beer, neat & tidy like the neck of a collarless shirt. The aromas are pungently ethanolic & surreptitiously dangerous, fruity & incredibly inviting; for sure, this beer is definitely evil & up to no good whatsoever. A beer-lady of the night perhaps?
Its inducing alcoholic qualities are openly prostituted & definitely for sale to the high bidder, or maybe just the lone desperado on a quiet night. This beer wants you, it will do anything you want it to, except help you pass those Bible Exams at Sunday School. Its entrance has the tongue erect in no time & begging for more, it wants you to "finish" early, so it can move onto other business, but you fight the urge. Can you control yourself from the wanton abandonment of the beery tension that has built up? Nice inherent carbonation, a deep toffee roast malt bite that caresses your nether regions with expert ease. A malty middle leads you rudely to a biscuit finish that licks & entices your fancy; it keeps asking – can you afford another half an hour?? This is no $10 hand job, but a high-class hooker & a 5-Star Hotel, all at your beckon call. One seriously good, very experienced lady of the night. I'm saving up for my next session as I type.
My Mum warned me about Beers like this,
An Excellent Barleywine,
From a now sadly Closed Brewery…
……which means a Pyrrhic Beer Review. Shit!!!
I am duty bound & obligated to finish this Review with what I find to be yet another 'Thank You' to the lovely neo06051, the very kind supplier of this fine beer. Somehow these two simple words appear to be 'worn out' & bereft of meaning anymore. They do not seem nearly enough to portray my sincere gratitude. Travel afar was required to obtain this beer I believe, & from what is now a "closed" Brewery. Surely "neo" is a real life BeerAngel, she must be, & one who will for sure, never subsume to the scything swathes of the Grim Reaper whilst she is sitting on a cloud high up in Heaven.
A simple, quite humble, but very heartfelt, "Thank You" to neo06051.
This one is dedicated to you!
2,544 characters
4.67
/5
rDev
+6.4%
look: 4.5 | smell: 5 | taste: 4.5 | feel: 5 | overall: 4.5
This is a great barley wine. Poured out a nice dark wood color with a very small head. Tastes a little sweet for a barley wine. Great flavor. I am very sad that this is a beer no more. I'm glad to have found a bottle. This is a beer that I would like to drink more of. Much more. Nice kick.
290 characters
3.9
/5
rDev
-11.2%
look: 4 | smell: 4 | taste: 4 | feel: 4 | overall: 3.5
A thin white head and partially sticky lace top a dark, heavy amber color. A damp earthy smell mingles with burnt caramel, pine and alcohol fumes. The full candy sugar sweet malty body stands strong. A somewhat spicy and mild lemony citrus bitterness lend the ale a sharp, edgy quality. This is a strongly flavored beer with a hint of camphor and an unknown, but undoubtedly potent alcoholic quantity
400 characters

4.63
/5
rDev
+5.5%
look: 5 | smell: 4.5 | taste: 4.5 | feel: 4.5 | overall: 5
I am not even going to attempt doing a review as nice as the bum's review of this beer. I am not even going to reiterate what he said, but I will say this. This beer is awesome! This ale pours a demonic dark red/amber/hazy orange-ish brown colour with a nice filmy little head to it. This has aromas of many different fruits, cherries come to mind, spices(like a whole damn spice rack), alcohol, esters, toffee, candies, and more! The taste is just as complex and inviting. This beer tastes very boozy, fruity, spicy, sweet, tart, and agressive all at once. The spicing kind of reminds me of Unibroues Quelque Chose, and my g/f agreed with me on this fact. The mouthfeel is super thick and syrupy and the drinkability is out of this world for a high abv barleywine...
Many, many thanks to Scottum for this samples, now the test of my will-power will be seeing how long I can hold on to the other bottle I have...
Cheers!,
F.
927 characters
Olde Wyndham Grim Reaper Barley Wine from Olde Wyndham Brewery
Beer rating:
4.39
out of
5
with
7
ratings