Epic Ale
| Roots Organic Brewery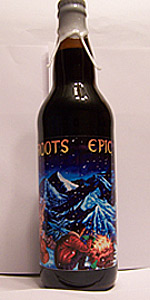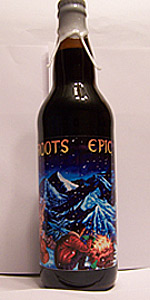 BEER INFO
Brewed by:
Roots Organic Brewery
Oregon
,
United States
rootsorganicbrewing.com
Style:
American Strong Ale
Alcohol by volume (ABV):
14.00%
Availability:
Winter
Notes / Commercial Description:
"We hand smoke 60 pounds of of malt over cherry wood soaked in Glenlivet, cognac and cherry juice that lends wonderful smoked toffee and cherry notes both to the palate and the nose and a warm bitter sweet finish. With over 1,700 pounds of malt and 65 pounds of hops make this a truly epic ale."
Added by freed on 01-01-2006
This beer is retired; no longer brewed.
HISTOGRAM
Ratings: 12 | Reviews: 8
Reviews by ccrida:

4.85
/5
rDev
+16.9%
look: 4.5 | smell: 4.5 | taste: 5 | feel: 5 | overall: 5
13.5% ABV according to the brewery..."We hand smoked 60#'s of organic Munich malt over cherry wood soaked in 2 bottles of 15 year old French oak Glinlivet, 2 bottles of 10 year old Cognac & cherry juice"
OK, so you know your in for something special, or at least epic!
Poured in a small goblet/wine glass, the Epic Ale is a a deep, muddy mahogany with a creamy, 2 finger off-white head that subsided fairly quickly to just a collar and a skimming. Really gorgeous on the pour, only improvement would have been better head retention, still a beautiful color.
The aroma starts out very slight, malt, oak and grape, but as it warms it really builds, to almost a grape kool-aid like sweetness, which happens to be another beverage I love. Yum!
Tasting this is just a flavor explosion, really phenomenal. Very rich and malty, with prunes and cherries, brandy, smoke and a slight diactyl butteriness that I enjoyed, and a warm glowing of alcohol, with absolutely no fusels. In spite of the aroma and fruit flavors, this is not sweet or sugary at all, just a deep richness, with a very smooth finish that has a nice oaky dryness and a tasty bready aftertaste. Really complex but so nicely balanced, just wonderful!
The mouthfeel is lush and creamy with a moderate effervescence, and not all heavy or cloying as one might expect from such a strong dark. Very nice.
The drinkability on this one is through the roof, wow is it good. This is a masterfully done Strong Ale from Roots, get it while you can! I notice people tend to give stronger beers lower drinkability scores here, but I am rating primarily to style - although if I were just rating how much I liked it over all, my score would probably not deviate! Also, I have had this 3 times now, so I wanted to make sure that I was accurately assessing it before giving such a high score, but I believe I am, for my palate at least. Boy would I love to have a case of these in the cellar, unfortunately their only bottle offering is a $85, 3.3 liter Jeroboam, or about 5 x 22oz, which is too rich for my blood. Oh well, guess I'll have to have this at the bar while I can!
2,125 characters
More User Reviews:
3.45
/5
rDev
-16.9%
look: 3.5 | smell: 3.5 | taste: 3.5 | feel: 3 | overall: 3.5
2008 22 oz. bottle sitting in my cellar for about a year... bought at The Beermongers then... and I was surprised they pulled these out of some place... but I got one, and it smells delicious. Bottle number 141 as written on the side with a sharpie. Series #4.
- First off... the bottle basically spewed everywhere when I opened it... not quite a bomb though.... but foam oh my. Huge half-a-pint glass full of light cream colored head... took awhile to get down to a fluffy blanket of lopsided.. bubbly madness. The ale is a dark muddy brown and red... slightly cloudy... and I can't get over the smell...
- After the bomb... I cleaned up with some glass plus on my desk... this ale still overpowers it. Sweet robust malts... oats... barley... with thick currants, fig.. spice, squash... anything to make a sweet madness...
- Oh my.. huge sweetness factor... like syrup... currants... fig, prune, oak... sugar, powdered sugar... alcohol... and still hot after all this time... but interesting enough.... cherries... maple... this thing is everywhere.. candy.
- Huge carbonation... very bubble... almost hard to drink it's so carbonated... very syrupy and sticky... chewy... and chalky... the feel isn't quite there...
- Overall this is an odd, different, unique... and strong ale! I love how different it is... and it is stronger than most any other ale I have had... and even after a couple of years, it is still hot, sweet... and in your face good. But... more novelty than craft.
1,487 characters
4.5
/5
rDev
+8.4%
look: 4.5 | smell: 4.5 | taste: 4.5 | feel: 4.5 | overall: 4.5
22oz bottle. 2008 vintage, bottle #71
I read the commercial description of this beer on BA one day and decided I needed to try it. A month later the brewery closed, but I was able to get a bottle soon after.
Reviewed from notes. Opened Sept 2010.
a - Pour is deep brown to black. Very large foamy head.
s - Notes of dark fruit, caramel, tobacco, malts and a bit of hops. Not picking up much, if any, of the alcohol.
t - Amazingly smooth. Chocolate covered cherries, molasses, dark roasted malts, and oak. This is a treat indeed. At 14% it warms you up, but there is no alcohol burn in the flavor.
m - Thick creamy body. Good carbonation level for the style. Very easy to drink, but should be savored and sipped slowly out of a snifter.
overall - I am so sad Roots isn't in business anymore. I prefer this over almost any of those big RIS releases. I'd love to see a brewery buy this recipe and continue its production.
925 characters

4.03
/5
rDev
-2.9%
look: 4.5 | smell: 4 | taste: 4.5 | feel: 4 | overall: 3
This thing was a bit of a surprise. Delivered in a small tulip glass, the deep cocoa body was topped with a just slightly lighter brown foam that was thick enough to support a penny. There was active bubbling that gave a very nitro-pour effect. The beer had a milk-shake look to it.
The aroma was sweet & tart with a somewhat cherry sensation. It was also warm with alcohol and just slightly chocolatey.
The taste was dense with sour & tart alcohol flavors, cherry like sweetness and chocolate & toasted malt compliments.
The body was unlike any other beer I've tried and had the consistency of an Odwalla juice with heavy suspension of malt sediments and bubbles. Really cool, and it regulated the drinking rate.
After a while, the head thinned out and there was just a slight meniscus of what must have been alcohol above the heavy, thick body of the beer. This is powerful stuff.
894 characters
4.25
/5
rDev
+2.4%
look: 4 | smell: 4 | taste: 4.5 | feel: 4.5 | overall: 4
Election Night - 4 Nov 2008 - what I was sipping at 8:00pm PST, when the polls closed and the race was called for our next president, Barack Obama.
A generous pour from a mammoth 3-liter jeroboam, about 6 oz. into a wine glass. The 2006 edition (batch #02), bottle #66; label autographed by brewers Craig, Jason and Chris. Enormous thanks to our host, Bill, for sharing.
A: Murky, milk chocolate brown, tinged a lighter chestnut orange. Fair carbonation and a clinging ring of sandy tan head.
S: Subtle smoked wood, leather, ripe cherry, sweet caramel glaze.
T: A beautifully aged barleywine/strong ale: mellowed but still-potent hops - herbal, minty, grassy, fruity (tangerine, obvious cherry). Big sugar-sweet maltiness: toffee and cocoa powder, a little spice. Oaky and smoothly boozy.
M: Luscious mouthfeel, creamy as can be. Thick but not syrupy. For a 13.5% beer, this is well-balanced and hides its fusel heat pretty well.
D: Wonderfully high drinkability for a very strong beer. Maybe a little muddled, but so much going on that's interesting - a sipper worth reflection and contemplation. Fitting to have tasted this on a night like tonight.
1,156 characters


4.47
/5
rDev
+7.7%
look: 4 | smell: 4.5 | taste: 4.5 | feel: 4.5 | overall: 4.5
Every dimension of this monstrous barleywine is… well, epic. From the heavyweight body spilling with rum-soaked fruit to the aggressive bittering and strong alcoholic finish, Epic is a beer of bold proportions. It delivers a spiced complexity and light graininess with solemn authority. And it is unexpectedly smooth.
Roots serves Epic in 10-oz. stemmed wine glasses. The $5 price is a bit spendy, but the indulgence is worth it. The beer invites reflective introspection as you sip it. It is a thoughtful and deliberate beer, it's organic, and if you want to take some home with you, you can pick up a jeroboam to go for $85.
633 characters

3.8
/5
rDev
-8.4%
look: 1.5 | smell: 4 | taste: 4 | feel: 3.5 | overall: 4
Big props to my buddy Kyle for bringing this big and expensive bottle with him to share at the Stone Sour Fest. Bottle #199/200 and an 08' vintage.
Had to wait a few minutes to actually see the color of the beer as a result of this being a very temperamental and foamy beer. It seems with every pour there was only about half an ounce of beer and the rest was all foam. We were afraid that the bottle might have gotten infected but after smelling it we could tell it was fine. After the foam settled, around 5 minutes later, I can see the brown hue and red highlights of the liquid.
Nice aroma of dark fruits, dates, raisins, caramel, roasted malts, very nutty, lots of molasses as well, brown sugar, and cocoa. Surprisingly the alcohol is well hidden, let's see if it can do the same in the flavor.
Pretty much the same as the aroma, very sweet, brown sugar, molasses, toast, nutty, chocolate in the finish with some dates and sweet raisins. Again, the alcohol is very well hidden, would have gotten a higher score if the mouthfeel wasn't so fizzy. More dry cocoa in the finish.
The beer was very effervescent but not terrible overall, a tad syrupy at times. Drinks fairly well for such a big beer, one to sip on a cold rainy day.
1,237 characters
4
/5
rDev
-3.6%
look: 4 | smell: 4 | taste: 4 | feel: 4 | overall: 4
Bottle #49 from 2007.
Appearance: Pours a quite dark, reddish-brown body with a small, ivory-colored head.
Smell: Slightly boozey black cherry aroma with muted notes of malted grain and fine vintage leathers.
Taste: Sweetish dark caramel flavor with a splash of two of cherry cordial. Slight perceived bitterness peeks out from around the full flavors. Hints of leather and smoke. Cherryish finish with some tannic qualities to it.
Mouthfeel: Medium-full body. Medium carbonation. Somewhat chewy mouthfeel.
Drinkability: Definitely a sipper, but a good one. If you can't enjoy this one in front of a warm, cozy fire, at least sample it with the fine company of TheBeerCellar.
680 characters
Epic Ale from Roots Organic Brewery
Beer rating:
4.15
out of
5
with
12
ratings