Revelation Cat Triple Hop Bock

Brouwerij De Molen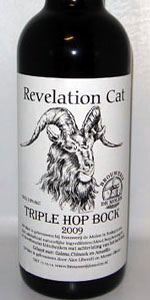 Write a Review
Beer Geek Stats:
| Print Shelf Talker
Style:

ABV:

9.2%

Score:

86

Avg:

4.03

| pDev:

9.43%

Reviews:

10

Ratings:

From:

Avail:

Retired (no longer brewed)

Wants

Gots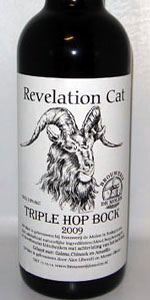 Notes:
Reviews by tpd975:
tpd975 from Florida
4.1
/5
rDev
+1.7%
look: 4 | smell: 4 | taste: 4 | feel: 4 | overall: 4.5
A: Pours a nice brown with amber tones. Above average beige head that exhibits good retention and some lace.
S: Nice malt aromas. Caramel and toffee lead the way. Notes of chocolate and some brown sugar. Touches of anise, vanilla, and some herbal hops.
T: Very much like the aroma. Lots of candy malts. Bitter hops with notes of vanilla. Subtle spice rounds things out.
M: On the fuller side of medium, nice malt sweetness with a nice hop balance.
D: Pretty good. I liked this one.
Aug 09, 2010
More User Reviews:
Phyl21ca from Canada (QC)
3.53
/5
rDev
-12.4%
look: 4 | smell: 3.5 | taste: 3.5 | feel: 3.5 | overall: 3.5
Bottle: Poured a cloudy deep brown color ale with a medium foamy head with good retention and some lacing. Aroma of sweet caramel malt with notes of piney hops is quite a strange mix though still enjoyable. Taste is also dominated by loads of piney hops with a citrus character and some sweet caramel malt - can't really say that I tasted some of the characteristics usually associated to a bock as this resemble more of a American Strong Ale. Body is quite full with good carbonation and no apparent alcohol. Interesting experiment but I can't say that I would ant to have this very often.
Jul 01, 2010
Viggo from Canada (ON)
4
/5
rDev
-0.7%
look: 4 | smell: 4 | taste: 4 | feel: 4 | overall: 4
12 oz bottle, big thanks to grub for sharing!
Pours a pretty cloudy and murky dark amber, neat orange/reddish colour, huge and fluffy off white head forms, takes a while to pour, slowly settles down to a thick layer and ring, big and pillowy, tons of chunky lace sticks to the glass.
Smell is neat, big malt character, lots of biscuit, heavy caramel and a bit of treacle, very hoppy, big floral and some light fruit, apricot, toast, a bit of booze, light molasses, a bit of orange peel, mango, pretty interesting.
Taste is really neat, almost a bit of lactose sweetness, wafer and caramel, biscuit, a touch of roast, some nice floral character, lightly fruity, almost a touch of grapefruit and orange peel, malt balls, almost a bit of cola and birch beer in the finish.
Mouthfeel is light to medium bodied with medium carbonation, a bit of alcohol burn, lightly spicy in the finish. Pretty neat beer, interesting take on a hoppy doppelbock. Thanks Russ!
Mar 08, 2011
dirtylou from New York
3.74
/5
rDev
-7.2%
look: 3 | smell: 4 | taste: 4 | feel: 3 | overall: 3.5
bottle at 't Arendsnest on my 2nd visit
coaster notes
appearance: barkeep popped open the bottle, poured and walked away. This was a mistake as the glass foamed overboard and the bottle foamed over for about 20 minutes continuously. He gave me another bottle and poured it better, but the blasting carbonation was the same. underneath the foam was a murky muddy amber body
smell: i should have noted the age because the hops did smell a little aged - boozy caramel concoction
taste: the beer was nice, but the foaming carbonation kind of made it a challenge. hops complimented chewy caramel malts and left a sticky boozy finish
mouthfeel: foamy
drinkability: ok
Jun 05, 2010

grub from Canada (ON)
4.1
/5
rDev
+1.7%
look: 4 | smell: 4 | taste: 4 | feel: 4 | overall: 4.5
got this one as a bonus in a recent trade with freud. thanks fred!
330ml bottle. 2009 vintage. sampled march 7/2011.
pours hazy deep red-brown with a huge fluffy cream coloured head. the head drops slowly and leaves plenty of lace as it falls.
aroma is neat. orange, grapefruit, and tangerine. bit of pine. herbal and earthy notes. bright floral character. light alcohol. caramel and toffee. white bread and cracker. bit of biscuit.
taste is interesting. neat blend of hops, not quite as diverse or intense as in the aroma, but it's still leading the way. citrus. bit of herbal and floral character. lightly sweet caramel and buttery toffee. white bread and cracker. hint of biscuit. light alcohol. medium-low bitterness level.
mouthfeel is good. medium body. just over medium carbonation level.
drinkability is great. it's far more "hop" than "bock", but interesting and i like it.
Mar 08, 2011
soulgrowl from England
4.3
/5
rDev
+6.7%
look: 4.5 | smell: 4.5 | taste: 4 | feel: 4.5 | overall: 4.5
The bottle says Bock, but let's get real - this level of hoppage is completely American, this level of alcohol takes it well into "strong" territory, and this level of esters makes me seriously doubt it's a lager. I'm calling it an American strong ale.
A decent looking brew, root beery brown and topped with a cake batter head, sticky and thick. Hugely resinous and hoppy aroma, a potpourri of pine, cedar, lavender, thyme, lemon, and grapefruit, like a crash course in hop aromas. Brilliant nose, even if the nutty, toffee-ish malts don't exactly shine through. Spicy but surprisingly (and frankly disappointingly) balanced flavor, with a nice brown bread base to carry brown sugar, sweet tea, rum, medicinal bitterness, cola, and plenty of peppery-citric hops. Quite nutty in the finish with a lingering, soapy bitterness. Mouthfeel is sticky and full and nice for the flavor.
I'm impressed - I might not want to shell out £13 for it again, but I'm glad I did at least once.
Mar 23, 2010
Mora2000 from Texas
4
/5
rDev
-0.7%
look: 4 | smell: 4 | taste: 4 | feel: 4 | overall: 4
Thanks to bu11zeye for sharing this bottle.
The beer pours a medium brown color with a tan head. The aroma is pine, grass, toffee and caramel. The beer smells just like the name suggests, a hoppy doppelbock.
The flavor is caramel and toffee, with some brown sugar and molasses mixed in. There is also a strong hop component to the flavor. I get some pine, floral and grass notes.
Medium mouthfeel and medium carbonation.
Dec 22, 2010
Yoonisaykul from Canada (QC)
3.38
/5
rDev
-16.1%
look: 4 | smell: 3.5 | taste: 3 | feel: 4 | overall: 3.5
Kind of excited to try this. Had the Vuur and Vlam which hinted at this brewery's potential.
A- Murky dark brown. Topped with one finger of easily built, tan head.
S- Smells very good. Something different about this one. Something like root beer and red licorice with some of the softest, well melded, woody, anise and prune. Chocolaty too.
But then, I took a sip, and it all turned kind of bad.
It all became much more metallic and tomato puree-like. Might be because I tasted it or because I broke through to the liquid under the nicer smelling head. 2nd pour, with another good finger of head I must add, smelled like vanilla, candied apple barleywine.
T- Not like the first idea I had of the smell. Very grassy witha dirtier, dryer and bigger woodiness. Tomato paste. Brown sugar. Grassy hop finish and after-taste.
M- Medium mouthfeel. Has a sticky syrup-like quality but is still pretty light. Medium, quite enjoyable carbonation which offers a nice subtle foaming.
D- Okay. Easy to drink but doesn't taste good enough. Not enjoying that tomato paste thing going on. Alcohol is pretty well concealed.
Well I can't say this is bad. It's good beer. Maybe it would be better fresher (bottle says 2009). I just know I payed $10,50 for this 33cl bottle and I'm not blown away. But I guess that's my problem.
Anyways, I've still got a feeling I'll find something from Brouwerij De Molen that I'll find fantastic. They're bottles are just so cool and informative and their ideas (and recipes) for beers too.
Nov 22, 2010
Daniellobo from District of Columbia
4.5
/5
rDev
+11.7%
look: 4.5 | smell: 4.5 | taste: 4.5 | feel: 4.5 | overall: 4.5
Quite the brew, a nicely hopped bock giving it an extraordinary edge.
Presentation: 750 brown, caged and corked bottle. Black and white simple label with the image of a goat and the De Molen seal. Dutch text noting main ingredients and brewers. Notes vintage as 2010. Notes 9.2% Alc. by Vol. Served in a tulip glass.
A - Hazy brown to deep brown pour. Characteristically rich and towering De Molen head, foamy with nice retention, good surface memory and lacing.
S - Caramel and hops, nicely woven, long and stimulating. Citrus, a touch of resin, toffee.
T - Tastes replicates and expands the nose with some assertiveness and expanding certain notes. The base malt is there pushing up caramel, touches of roasted malt, even hits of dark fruits. Coating it all is a nice citric, and now caramel and resinous hoppy feel that makes it shine specially.
M - Medium-full body with generous carbonation early on that settles quite nicely throughout the experience and offers a smooth, and creamy feel punctuated by a nice hoppy sense.
D - Very nice flow, a bit hefty and long, but very enjoyable and nicely surprising.
Notes: Sure enough I tend to fall for De Molen stuff. And here, while not a big fan of bocks or doppelbocks, and maybe because that is the case, I see myself loving this concoction. How the stay away from style, while building from it, and in doing so offering quite the enticing brew is quite remarkable and enjoyable.
Feb 14, 2011
FreshHawk from Illinois
4.62
/5
rDev
+14.6%
look: 4 | smell: 4.5 | taste: 5 | feel: 4 | overall: 4.5
A - Very dark, cola brown/black with about an average sized creamy and sticky, toasted marshmallow color. Decent retention settling into a patchy, foamy lace.
S - Very nice nose that reminds me a bit of Stone Double Bastard or somewhat like a barleywine. Nice citrus, pine, and floral hops. This is on a caramel/toffee malt base. Slight earthiness as well. A bit of spice and citrus rind also comes out a bit.
T - Nice caramel, earthy, nutty malt base with the caramel/toffee flavors being strongest. Always present also are the citrus hops with pine and floral just slightly less strong. Great mix of styles with it being a lot like an American Strong Ale or an American Barleywine but with more nutty and earthy base along with the caramel and a touch less hops. Hop bitterness and alcohol flavors are almost non-existent. Very well balanced and wonderful taste. If I had any complaint, I could use just a touch more bitterness, but that is only a slight complaint (and may be due to the age).
M - Medium body with a healthy amount of carbonation. Fairly smooth and a bit of a slick feel.
D - Very drinkable beer with a great balance of hop flavors and caramel malt as well as the earthy/nutty taste. ABV is very well hidden. Not overpowering but definitely strong in flavor.
Notes: 2009 Vintage. Wasn't sure what to expect from a triple hop bock, and it is in between styles, but I loved the taste. Like I said, similar to American Strong Ale with the prominence of caramel and hop taste, but it is slightly more subdued and a bit less hot. The nutty/earthiness goes great along with it as well. Overall a great beer that I would highly recommend.
Jun 10, 2010
Revelation Cat Triple Hop Bock from Brouwerij De Molen
Beer rating:
86
out of
100
with
10
ratings