Gajes & Geteisem
| Brouwerij De Molen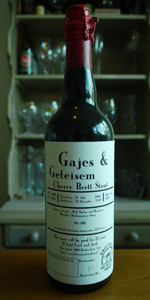 BEER INFO
Brewed by:
Brouwerij De Molen
Netherlands
brouwerijdemolen.nl
Style:
Russian Imperial Stout
Alcohol by volume (ABV):
11.00%
Availability:
Limited (brewed once)
Notes / Commercial Description:
Cherry Brett Stout
Brewed on 23 July 2010
Bottled on 02 December 2010
Aged in Wild Turkey and Bordeaux barrels
A total of 666 bottles were filled
Added by Jeffo on 02-09-2011
This beer is retired; no longer brewed.
Reviews: 4 | Ratings: 7

3.77
/5
rDev
+7.4%
look: 3.5 | smell: 4 | taste: 3.75 | feel: 3.5 | overall: 3.75
Pretty awesome to finally try this one. From a bottle, pours a dark brown color. It is very still, zero head, not much carbonation going on.
The smell is cherries, brett, some fading vanilla, roast and dark fruit. The flavor is less sweet than I anticipated, lots of cherry, wood pulp, vanilla, molasses, a little bourbon and roasted malt. The finish is heavy, but thining out.
This might be a bit past it's prime, but glad I got to try it.
★
446 characters

2.99
/5
rDev
-14.8%
look: 2.5 | smell: 3.5 | taste: 3 | feel: 2 | overall: 3
Thanks to baggio for sharing this one. Served in a tulip at the Neurotone office tasting.
A - Pretty much flat, with a few wisps and a thin partial collar. Dark brown body that verges on black.
S - Yep, there's brett in here alright. Medicinal and funky, with a definite tart cherry note as well. Beyond that there's dark chocolate, oak, bourbon, and some tannic vinous character as well. It's pretty much what's described on the bottle.
T - Taste is pretty similar - medicinal brett provides bandaid and cherry cough syrup notes that mingle with roasted malts, dark chocolate and barrel ntoes.
M - It's still. Medium body, with mouth-coating stickiness. Alcohol is reasonably well-hidden, so that's a positive.
D - I think this might have been pretty good with some bubbles and without brettanomyces - there's too much band-aid and medicine where a touch of cherry would have been sufficient. I'd skip this De Molen offering, as they have much better options available.
★
975 characters

4
/5
rDev
+14%
look: 2 | smell: 4.5 | taste: 4.5 | feel: 2 | overall: 4
Only 666 :):) bottles of this beer are produced, so I am happy I could try it.
When we popped the bottle, it already became clear that there would not be too much carbonation on this one. Poured into a de molen sniffer. The beer pours a beautiful dark color, with absolutely no head and/or carbonation.
Smell: great nose, full of dark chocolate, slight sour cherry, bourbon and vanilla
Taste: great taste as well, this beer is very complex and still very balanced. Also here, cherry and dark chocolate, dark sugar and bourbon.
Mouthfeel: Absolutely no carbonation. Medium thick.
Overall: I have very mixed feelings about this beer. The smell and taste are wonderful, for me it seems an attempt of the molen to produce their own Cuvee Delphine from Struise. These beers seem very similar. But...as jeffo also mentioned, again no carbonation. This is such a pity. This could have be a world class beer if it would just have a bit of it...unfortunately, it is as flat as water
★
976 characters
3.22
/5
rDev
-8.3%
look: 1 | smell: 4 | taste: 4 | feel: 1 | overall: 2.5
Got this one from De Molen in Bodegraven.
Brewed 23 July 2010 and Bottled 2 December 2010.
Note: Cherry Brett Stout. Aged in wild turkey and Bordeaux barrels.
From a 750 into a snifter.
Total of 666 bottles filled.
APPEARANCE: Pours black but sits totally still in the glass. Pitch black body, but no head and no carbonation whatsoever. Disappointing beginning.
SMELL: Bold and interesting nose for sure. Definite cherry. Quite a bit of cherry actually. Notes of black chocolate and bourbon, with some vanilla and alcohol. Cherry dominant with some nice chocolate and barrel notes in the background. Very nice.
TASTE: Cherry is definitely the main player, with some dark chocolate and some roasted malts in there. A touch of sourness as well, but plays a supporting role. Notes of red wine and bourbon from the barrel aging. Complex and very enjoyable. Aftertaste is big, bold, and persistent, with lots of cherry chocolate goodness and barrel flavors. A wonderful creation that just needs some carbonation to come to life.
PALATE: Flat. Medium body, no carbonation whatsoever, and slightly sticky on the palate. A brew with this much flavor ends up flat. Disappointing.
OVERALL: Another example of De Molen shooting themselves in the foot. This is a superbly complex and flavorful drink. The base cherry stout would probably be great on its own, but aging it in the two barrels turned it into pure decadence. Unfortunately, De Molen just can't get their carbonation right. There is no excuse for this, and I really wish De Molen would find a way to be more consistent in this department. If you're into flat beer, then this is one that is well worth the trouble. It's got the flavor and complexity to be world class. For me though, in its present un-carbonated form, I'll pass.
★
1,793 characters
Gajes & Geteisem from Brouwerij De Molen
3.51
out of
5
based on
7
ratings.