Hel & Verdoemenis - MacAllan BA
| Brouwerij De Molen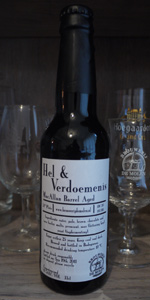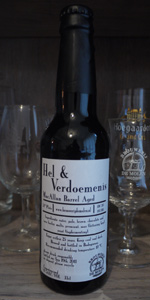 BEER INFO
Brewed by:
Brouwerij De Molen
Netherlands
brouwerijdemolen.nl
Style:
Russian Imperial Stout
Alcohol by volume (ABV):
11.00%
Availability:
Limited (brewed once)
Notes / Commercial Description:
No notes at this time.
Added by Jeffo on 10-02-2011
This beer is retired; no longer brewed.
HISTOGRAM
Ratings: 14 | Reviews: 10
Reviews by dtmets84:

4.03
/5
rDev
-7.6%
look: 4.5 | smell: 4 | taste: 4 | feel: 4 | overall: 4
Poured it into my Goose Island Snifter.
Poured a thick motoroil type substance with absolutely no head. Decent lacing.
Great nose from the start.Smalls of vanilla and some bourbon character.
Smooth from start to finish. Would seek it out again.
Bottled 19/9/11.
265 characters
More User Reviews:
4.5
/5
rDev
+3.2%
look: 4.5 | smell: 4.5 | taste: 4.5 | feel: 4.5 | overall: 4.5
Well Jeff and Erik lets see why you are so enthusiastic ;)
A - A pitch black beer, like the depths of hell. The head was made of big beige bubbles, never have laid eyes on something similar. The appearance was briefly however.
S - Booze and chocolate - always a good combo
T - Wow! a good combination of wood, coffee, sweet, some saltiness!?, toffee (very strong presence) and some whiskey tones.
M - A soft carbonation with a nice alcohol warmth that floats into a soft bitter aftertaste.
O - Very nice indeed.
516 characters
3.78
/5
rDev
-13.3%
look: 4 | smell: 3.5 | taste: 4 | feel: 3 | overall: 4
330 mL bottle. A little transparency to a black body. Big khaki head. Smells nutty, caramel, vanilla. Boozy with some hops. Very light scotch. Scotch flavor is light too. Caramel. Milk chocolate. Boozy with a light whiskey finish. Medium body. Not that rich. Nice, though.
272 characters
4.96
/5
rDev
+13.8%
look: 4.75 | smell: 5 | taste: 5 | feel: 4.75 | overall: 5
Had this at Brouwerij De Molen in Bodegraven, Netherlands. This is a fantastic beer, one of if not the best beer I've ever had. For comparison sake, here is a small list of what I am comparing it to:
Goose Island Bourbon County
Founder's Breakfast
Firestone Parabola
Speedway Stout
It is dark, creamy, and let's you know you are in for a seriously good ride. This beer grabs hold of you from the first sip to the last. The only downside is that there was not more of it.
472 characters

4.87
/5
rDev
+11.7%
look: 4.5 | smell: 5 | taste: 5 | feel: 4 | overall: 5
Picked up a few of these during the Borefts beerfestival at de Molen.
I poured it into my Saranac pint glass.
It was a thick pour again motoroil comes to mind. Witha fairly hard pour I managed to get a one finger tan head leaving a good amount of lacing.
From a few feet away I could tel this was going to be big on the nose. There is a wooden oak smell combined with some vanilla and barrel aromas.
Big, very big and very bold flavors. There is a lot of the barrel in there for sure but it didn't knock out the base beer all together. The vanilla, whiskey, chocolate and coffee notes are all well balanced and there is a subtle bitterness in the aftertaste.
With a medium body and a good amount of carbonation and a very smooth finish. Flavors linger forever.
Man, this is a fantastic beer... only 700 bottles were filled but it is worth seeking this out because this beer will make almost any other barrel aged beer it's bitch.
937 characters

4.62
/5
rDev
+6%
look: 4 | smell: 4.5 | taste: 5 | feel: 4 | overall: 4.5
Originally tried this one at the BOREFTS Festival in 2011, but I'd already had quite a few rounds beforehand, so I figured I'd save the review until opening a bottle. Glad I did.
From a bottle into a snifter
Bottled on 19 September 2011.
Approx. 700 bottles filled
APPEARANCE: Pours out black, relatively transparent, but very syrupy and thick. Pour yields a cascading, small, light tan head that rises slowly from the abyss. Awesome effect. Lousy retention though, and the head quickly fades to a ring and swirling wisp. Body is black and thick looking with no carbonation evident. A ring remains until the end leaving some nice dots of lacing down the glass. Head could be a little more persistent, but this is a thick looking, syrupy imperial stout.
SMELL: Big and luscious nose. Roasted malts, pure chocolate, and smoky notes. Lots of barrel, with oak, vanilla and whisky aromas. Roasted and chocolaty malts aren't outdone, however, with some enticing chocolate fudge tying it all together.
TASTE: This is just delicious. Decadent flavors of roasted and smoky malts and lots of dark, baker's chocolate. Chocolate fudge brownies come to mind, before a very well integrated barrel of oak, whisky and vanilla meshes seamlessly with the base beer. Lots of roasted chocolate fudge cake and chocolate covered cherries on the finish, with roasted and whisky flavors lingering on the palate. Bold and relentless aftertaste lingers and lingers. Extremely decadent and flavorful.
PALATE: Medium-full body and lower levels of carbonation. Creamy smooth on the palate, oily and slick, goes down smooth and finishes slightly mouth coating with a touch of heat lingering on the palate. Very good feel for the style.
OVERALL: Phenomenal stuff. De Molen is getting much better at consistently carbonating their stouts properly, and this one has really reaped the benefits. Piles of decadent flavors with an extremely well integrated barrel, and a thick, full, lusciously carbonated feel to support it all. This is De Molen at its finest; a more-than-welcome addition to the H&V family. Not too many of these bottles around, so if you are able to get a bottle from someone who was at the festival, be sure to share it. Highly recommended.
EDIT: Trying this one next to a H&V 666 and I'd give the win to this one, but just barely. Both are phenomenal brews.
2,360 characters

4.67
/5
rDev
+7.1%
look: 4.5 | smell: 5 | taste: 4.5 | feel: 4 | overall: 5
330ml bottle 11,0% Abv.
Served lightly chilled in an over sized wine glass.
Bottled on: 19 Sept. 2011
Good for 25 years.
Appearance: During the pour, Hel & Verdoemenis appears to be a dark brown, however it settles to look pitch black in the glass. A rough pour yields a small, creamy, tan coloured head that displays reasonable retention for the Abv. The barrel aging is quite obvious, with a swirl leaving heavy alcohol legs on the glass.
Smell: Wow, this smells absolutely delicious! I now see what the Dutch BAs were raving about! The initial nose is quite sweet with notes of dark chocolate, dark chocolate fudge, dark caramel, sweet vanilla, oak and distinct Speyside scotch. De Molen's signature heavily roasted/charred malt as well as a hint of smoke become apparent after a little warming. As the beer approaches room temperature, dark fruit notes (distinct raisins and plums) begin to replace the chocolate character. A hint of nuttiness is also noted.
Taste: Mmmm, the flavour follows on perfectly from the nose. Dark chocolate fudge, dark caramel, sweet vanilla, a slight nuttiness, oak, distinct highland whiskey, charred malt and a touch of dark fruit are all noted. The finish is quite bitter, with a distinct charred note and a whiskey like dryness.
The 11% is almost totally hidden, it is amazing that a beer with this much whiskey character can hide the booze so well!
Mouthfeel: Sadly, the mouthfeel is not quite on the same level as the rest of the beer. While the carbonation is spot on (low level and ultra-smooth), the body (medium-full) just seems a little too light to carry this depth of flavour. I have a feeling that if the body had been that little bit heavier, the flavour would have jumped into the "world class" bracket.
Overall: This is easily the best offering I have had from De Molen, the MacAllan barrels have worked wonders for the base beer! I will certainly do my best to get this one again!
1,943 characters
4.15
/5
rDev
-4.8%
look: 4.5 | smell: 4.5 | taste: 4 | feel: 4 | overall: 4
330ml Bottle
11% abv
Bottled on 19/09/2011
A: Poured a dark brown stream that generated a nice two finger dark tan head which subsided within a few minutes. Leaves little lace. In a glass the beer seems black.
S: Strong coffee smells, along with whisky and fresh orange juice smells. Hint of hops, cocoa and roasted malts also present.
T: Strong barrel flavour (reminiscent of red wine yeast and dryness), combined with chocolate and roasted malts. These slowly evolve into a cocoa bitterness that eventually fully encapsulates your mouth. Quite a pleasant experience.
M: Pretty watery, but seems to be heavy. Perfect smooth carbonation.
O: A pretty good beer. Not mind blowing, though.
691 characters

4.42
/5
rDev
+1.4%
look: 4 | smell: 4.5 | taste: 4.5 | feel: 4 | overall: 4.5
Bottle from Jeffo. Served in a Hill Farmstead tulip.
A - Quick-dissolving tan foam settles to a thin ring, some wisps, and a few specks of lace. very dark brown body.
S - I was terrified this would be all Scotch, like nearly every other whisky barrel-aged beer I've had, but there's actually excellent balance here. A nice mix of smokey and salty Speyside, chocolate, biscuit, vanilla, and fudge.
T - The taste is quite nice too, with a good mix of vanilla, chocolate fudge, biscuit, nuts and dark fruits, and a touch of roast. There's some smoke and oak from the Speyside barrel but it integrates well rather than overpowering the base beer. Well-hidden alcohol.
M - Medium body, smooth texture, lower carbonation, a lightly oaky finish, and no discernible alcohol. Perhaps a bit light for 11%, but otherwise quite nice.
D - This was really good. Might be the best H&V version I've had so far, and it displays impressive restraint in the barrel-aging. I'd very much like to have this again, as sharing it three ways was about two ways too many.
1,050 characters
4.32
/5
rDev
-0.9%
look: 4.5 | smell: 4.25 | taste: 4.25 | feel: 4.25 | overall: 4.5
Long time want shared at Bisshop's Arms Malmö; side by side with 2013 H&V 666.
Poured black with a small mocha head. The nose was focused on chocolate, vanilla and dark fruits. More roasted notes from the palate but not the usual coffee flavors from H&V, along with the chocolate and some dried fruits. Unfortunately, the taste was quite faint. i suppose time did not do any good to this beer (plus I'm quite unsure of the storage conditions inside the bar). Yet, it was still enjoyable and I'm very happy to have the chance to try this!
538 characters
Hel & Verdoemenis - MacAllan BA from Brouwerij De Molen
Beer rating:
4.36
out of
5
with
14
ratings