Dismiss Notice
Licht & Lustig (Pre 2015)
| Brouwerij De Molen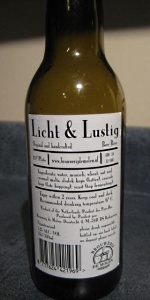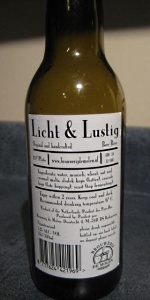 BEER INFO
Brewed by:
Brouwerij De Molen
Netherlands
brouwerijdemolen.nl
Style:
Belgian IPA
Alcohol by volume (ABV):
5.20%
Availability:
Limited (brewed once)
Notes / Commercial Description:
Munich, Wheat, Oat, Caramel / Dadek (bitter), Cascade (late) / Top yeast
32 IBU
Added by biboergosum on 08-09-2012
This beer is retired; no longer brewed.
HISTOGRAM
Ratings: 12 | Reviews: 6
Reviews by JavierGC:
More User Reviews:
3.8
/5
rDev
+11.4%
look: 4 | smell: 4 | taste: 3.5 | feel: 4 | overall: 4
330ml bottle. "Light and Cheerful", eh? Apparently, you're a hard one to pin down.
This beer pours a hazy, dark apricot hue, with a tumultuous, fast-rising column of thin, fizzy off-white head, which settles faster that I expected, so yay, me, leaving some random sudsy clouds of lace around the glass as it steadily recedes.
It smells of mild wheaty grain, slightly sharp citrus hops, soft black pepper, a bit of that banana/clove interplay, and some earthy, green yeast. The taste is edgy, wheaty malt, with a subtle caramel sweetness, further spicy graininess, sturdy pepper and clove warmth, a slight basal earthiness, and a decent bitter fruity hoppiness.
The carbonation is nice and even, the body an agreeable medium weight, and well smooth, the oat adjunct strutting its sultry stuff. It finishes on the sweet side, the graininess now straddling wheat and caramel alike, with some fading clove spice and holding bitter citrus hops rounding things out.
While this particular offering may not have a lot of specific heritage, it very much presents to me as a US-PNW hoppy version of a nice Belgian witbier. Ergo, this is indeed a Belgian IPA, as opposed to the Belgian DIPA alluded to in BA's style guidelines. Oh, and somewhat light, and definitely cheerful.
1,277 characters
4.05
/5
rDev
+18.8%
look: 4 | smell: 4 | taste: 4 | feel: 4.5 | overall: 4
Poured from a 330ml bottle. We opened a completely undisturbed bottle and let it sit on the counter. Within minutes a foamy head worked its way out of the top of the bottle. Beware, very high carbonation! Even the slowest, most careful pour created a thick billowy pillow of white head. The beer itself is cloudy orange and, as you can imagine, very effervescent. There's lots of citrus hops on the nose. On the palate you'll find a nice wheat beer tang and plenty of great Belgian yeast flavours. Complex and tasty.
Retasted Apr. 22, 2013
Rereading our previous review (above), we felt like we didn't really give enough due to the amazing fruit flavours in this wonderful version of an IPA. The hops/malt/yeast combo offers an array of Fruit Stripe gum notes--cherry, lemon, lime--and yet the finish is sublimely dry.
819 characters

3.05
/5
rDev
-10.6%
look: 3.5 | smell: 3.5 | taste: 3 | feel: 2.5 | overall: 2.75
330ml bottle (Bottled on feb´12. Enjoyed on jan´14). Wine glass. Orangish amber color, foggy appearance. Off-white froth, fairly good retention, close crown & lasting thin layer on top. Citric -orange & grapefruit-, mild toasted malt & herbal aromas with biscuit notes & phenolic touches. Mild toasted & creamy upfront is swept it out by increasing citric bitterness. Medium body. Moderate but lively carbonation. Spciy & gorgeous palate! Bitter finish & slight citric aftertaste. Refreshing, velvety & dense but, unfortunately, carbonation ruins it.
552 characters

3.73
/5
rDev
+9.4%
look: 4 | smell: 4 | taste: 3.5 | feel: 3.75 | overall: 3.75

3.48
/5
rDev
+2.1%
look: 4 | smell: 3.5 | taste: 3.5 | feel: 3 | overall: 3.5
330ml bottle poured into tulip 16/9/12
A murky light brownish amber with a massive 4/5ths of the glass soapy foam, took some time too get it into my glass, great retention, I still had foam at the bottom of the glass and just a few chunks of soapy lace
S yeast, clove, and some tropical notes with some spicy hops or perhaps actual spice, just a little wet cardboard
T more of the same really, yeasty spice with some mild peppery spice, decent but I'm not blown away, a little caramel as it warms
M its turns too foam pretty fast and has a spicy finish, not the high point of this one
O I don't love it but its nothing too be ashamed of, interesting mix of yeast hops and spice? I don't see any spice mentioned on the bottle, perhaps some powerful yeast?
something different and a little odd, hard to place this one and I never really figured it out before it was gone
877 characters


1.22
/5
rDev
-64.2%
look: 2.5 | smell: 1 | taste: 1 | feel: 2.25 | overall: 1
Bottled 13/04. Ambercolor with a small head. Smells awfull, like rotten cabbage. Taste is first sour, a bit like bittermilk, with later a bit sweet, bubblegum, subtaste. Very strange. Mouthfeel is a bit thin. Because of the horrible taste, mouthfeel not really experienced. Overall a very bad beer. Maybe a bad bottle.
318 characters
3.58
/5
rDev
+5%
look: 3.5 | smell: 3.5 | taste: 3.75 | feel: 3.25 | overall: 3.5
330 ml bottle poured into a tulip glass. Pours with a massive amount of head (like other De Molen brews I've sampled), nearly an entire glass of off-white frothy bubbles like dish soap that eventually settle out into a cloudy orange amber liquid. Aroma of slightly grainy toasted malts, toffee biscuit, and orange/grapefruit citrus, rather minimal Belgian spice despite the designation here and presumed use of an appropriately phenolic yeast strain. There is marginally more spice on the palate, reminiscent of dry white and black peppercorns, maybe a bare hint of clove, but the overall effect is that of a lemon-lime soda with some biscuit and caramel flavors. Oddly thin empty body coupled with heavy carbonation makes for a curious mouth feel, to say the least, and the finish is largely devoid of hop elements with the exception of a little green grass, such elements being downplayed in favor of an initial cookie and graham cracker-like malty sweetness that is then washed away by a more characteristically Belgian dryness. Strange "all over the map" brew that I do not hate, although this one needs some time on the therapist's couch to resolve a clear-cut identity crisis.
1,182 characters
Licht & Lustig (Pre 2015) from Brouwerij De Molen
Beer rating:
3.41
out of
5
with
12
ratings