Nood & Deugd
| Brouwerij De Molen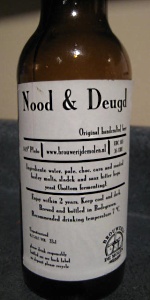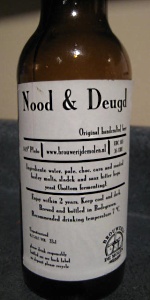 BEER INFO
Brewed by:
Brouwerij De Molen
Netherlands
brouwerijdemolen.nl
Style:
Schwarzbier
Alcohol by volume (ABV):
6.20%
Availability:
Limited (brewed once)
Notes / Commercial Description:
14.9 ºP / EBC 113 / 35EBU
Pale, Cara, Chocolate malts & Roasted barley. Sladek & Saaz hops.
Added by wordemupg on 10-11-2012
This beer is retired; no longer brewed.
HISTOGRAM
Ratings: 15 | Reviews: 7
4.31
/5
rDev
+13.4%
look: 3.75 | smell: 4 | taste: 4.5 | feel: 4.25 | overall: 4.5

3.81
/5
rDev
+0.3%
look: 4.5 | smell: 4 | taste: 3.5 | feel: 3.75 | overall: 4
3.81
/5
rDev
+0.3%
look: 3.75 | smell: 4 | taste: 3.75 | feel: 3.75 | overall: 3.75
Definitely get malty coffee notes on the nose and a very light carbonation. This one has some substance and was almost creamy on the tongue. A nice beer.
153 characters



4.36
/5
rDev
+14.7%
look: 4.5 | smell: 4 | taste: 4.5 | feel: 4.25 | overall: 4.5
330ml bottle (Bottled on Nov/11, Enjoyed on Jan´14). Pure black color, dark ruby tints to the light. Tan, creamy, close & lasting crown leaves wide lacing & rings on sides. Roasted & caramel malt, black bitter cocoa aromas. Creamy, roasted & malty upfront. Medium to full body. Soft carbonation. Oily palate. Hints of herbal bitterness, subtle spicy touch & licorice notes. Sweet malty finish touched by dried sensation, roasted coffee & bitter notes. Herbal aftertaste. Best Schwarzbier I´ve ever had, delicious & flavorful !!
529 characters



4.42
/5
rDev
+16.3%
look: 4 | smell: 4.5 | taste: 4.5 | feel: 4 | overall: 4.5
Third beer on my Craft Beer Advent Calendar. Bottle is a white label with black text. All of the ingredients and measurements are on the label.
A - Dark black with a light head. Lingers but isn't crazy stable. Nothing unexpected.
S - nice nose with lots of roasted aroma. What you would expect from a beautifully black beer.
T - A bunch of great roasted flavours continue. Chocolate and caramalized flavours. Really tasty dark beer flavours.
M - not overly chewy. Lacks a bit of substance.
O - favorite beer of the advent calendar so far. Nice sediment in the bottom of my glass was a nice suprise.
603 characters

4.47
/5
rDev
+17.6%
look: 4 | smell: 4.5 | taste: 4.5 | feel: 4.5 | overall: 4.5
Catching up with the craft beer advent...
A: Deep mahogany with a light tan head, decent retention, light lacing.
S: Pleasant roasted aroma: coffee, nut, cocoa and a hint of smoke. Light spicing. Smells like it would pair well with some sausage.
T: Lots of pumpernickel rye bread, some roasted nut, hints of mocha and licorice, pleasant spicing (smoke and/or tettnanger?), molasses, solid bitterness, hints of alcohol warmth.
M: Smooth, moderate body has a hint of roasted acidity. Slight hint of residual sweetness but it has a drying finish.
O: Another eclectic brew. This was supposedly a bohemian lager with some unintentional malts added. On the malt side it's more of a dunkel, but it's definitely hopped more like a schwarze. Thoroughly enjoyable.... absolutely loved it. Perhaps more of an old-school festbier/marzen?
830 characters
3.65
/5
rDev
-3.9%
look: 3.5 | smell: 3.5 | taste: 3.5 | feel: 4 | overall: 4
330ml bottle, number 3 in the 2012 Craft Beer Advent calendar. Another De Molen offering, another trip to Google Translate - this time we're presented with "Emergency and Virtue". Okay - sounds like a Spanish-language soap opera.
This beer pours a deep, dark, almost black hue, with slight-ish cola highlights, and one finger of thinly foamy, bubbly beige head, which settles rather expeditiously, leaving but a few specks of islet lace around the glass. Tiny bit of sediment.
It smells of lightly roasted, nutty caramel malt, some bittersweet chocolate, a mildly sour earthy black fruitiness, and musty, dusty hops. The taste is more softly toasted, grainy, bready malt, medium chocolate ensconced caramel nibs, a twinge of day-old coffee, more than a little bit of pithy ash, some indistinct oily nuts, and weedy, earthy hops.
The carbonation is average, and generally well supportive, the body a sturdy middleweight, and actually rather smooth, a sort of buttery character lending its charm to the effort. It finishes off-dry, the chocolate, nuts, and caramel running the table over a weakening ash and hop offset.
Not too shabby of a schwarzbier, relatively full in comportment and flavour. A gentle warming builds as things get on, so I'm happy to report the first seasonally appropriate (reaching a bit, I know) door in this particular Advent calendar.
1,362 characters

3.06
/5
rDev
-19.5%
look: 4 | smell: 3 | taste: 3 | feel: 3 | overall: 3
This is Beer 3 from the Rieder Advent Calendar. It has the look of a good porter; solid black, no head, light to medium bodied. Seems to be quite a bit of sediment. The smell is heavy on the chocolate, with a little plum fruit. Dark chocolate is the prevailing flavour, but it's a thinner, more liquid, chocolate flavour than I usually get from North American brews. There are several complementary flavours present as well; roasted coffee, licorice, raisin, plum. A solid porter-like beer, flavourful and quite tasty. Nothing I would search for, but I would buy it again if I found one. I could really do without all the sediment though!
638 characters

3.12
/5
rDev
-17.9%
look: 3 | smell: 3.5 | taste: 3 | feel: 3 | overall: 3
330ml bottle poured into tulip 10/10/12
A dark brown with a deep cola edge, lots of chunks of sediment (yeast?) and just a short lived finger of mocha foam that leaves a few pin prick dots of lace
S faint fruity, nutty toffee comes out first with a little citric hops and faint smoke
T cold coffee and just a little char, fruity more then anything but this ones a little strange, decent but different
M light for the color and the bubbles flatten out quickly, very slick after the fact almost slimy, nutty cola aftertaste
O I could take or leave this one, not offensive but not appealing either, just another beer with the dark malts not really meshing with the other aspects of the brew
this one's not going to bring up the average in my Advent Calender that's for sure, I've read that this one was a accident in the brewery and I'm not all that surprised
877 characters
Nood & Deugd from Brouwerij De Molen
Beer rating:
3.8
out of
5
with
15
ratings