Sodom & Gomorra Barrel Aged
| Brouwerij De Molen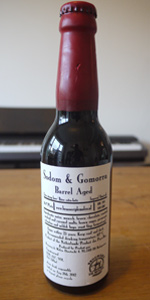 BEER INFO
Brewed by:
Brouwerij De Molen
Netherlands
brouwerijdemolen.nl
Style:
Russian Imperial Stout
Alcohol by volume (ABV):
11.90%
Availability:
Limited (brewed once)
Notes / Commercial Description:
No notes at this time.
Added by mulder1010 on 11-12-2012
This beer is retired; no longer brewed.
Reviews: 10 | Ratings: 25

4.15
/5
rDev
+5.9%
look: 4.25 | smell: 4.25 | taste: 4 | feel: 4.25 | overall: 4.25
Sampled at THT June tasting. Dark pour wirh no head. Whiskey, red wine, caramel. Full bodied with low carbonation and a sticky sweet aftertaste. Nice!
150 characters
4.06
/5
rDev
+3.6%
look: 4 | smell: 4.25 | taste: 4 | feel: 4 | overall: 4
8/28/12 bottling poured into a matching de molen cervoise. The brew is black with a very thin khaki film that holds in a fine line around the edge of the glass.
Aroma is rich with chocolate, roast and whiskey. Some smells are sweet with caramel while others are much deeper with char and earth. Very mild vanilla inclusion as well as espresso.
Tastes roasty with anise, char, earth, espresso and sweet caramel/vanilla/chocolate with a warming booziness.
Medium to full bodied with low carbonation. A very pleasant sipper that I would enjoy again if the opportunity presented itself.
585 characters

3.8
/5
rDev
-3.1%
look: 4.25 | smell: 3 | taste: 4.25 | feel: 3.25 | overall: 4
33cl bottle into a snifter
A: Pours pitch black with two fingers of dense khaki foam. Great retention, poor lacing.
S: Fairly strong milk chocolate mixes with dark chocolate and roasted malts and a ton of booze. Mild for the style.
T: More intense and complex than the aroma. Milk and dark chocolate is still quite strong with some malted milk balls and brown sugar. I also get a bit of cinnamon, mild smoke, and a nice amount of bourbon. A bit of dark fruits also come through.
M: Very thick mouthfeel with creamy, low carbonation. Almost too creamy, though. It appears carbonated, but doesn't really feel it.
O: The aroma is a bit mild here. The flavor is very complex and very tasty, but is a bit sweet and milk chocolate heavy for my tastes. The carbonation is also a bit low. This is still a great beer despite all this, though.
838 characters

4.53
/5
rDev
+15.6%
look: 3.75 | smell: 4.5 | taste: 4.75 | feel: 4.25 | overall: 4.5
330ml bottle 11,9% Abv.
Served chilled in an snifter.
Bottled on: 28th August 2012
Good for 25 years.
Appearance: The beer appears pitch black in the glass, with a back light revealing a sliver of deep red along the edge of the glass. Unfortunately the beer is dead flat, with even the roughest of pours yielding no more than a few big bubbles. A light swirl coats the glass in a yellow tinted residue on the glass that fades to light alcohol legs.
Smell: Mmmm, this smells fantastic! The initial nose offers a ton of chocolate, both dark and milk alongside a little espresso and some light barrel characteristics (vanilla, whiskey and a hint of oak). As the nose opens up the aroma explodes with additional notes of cocoa, chocolate liqueur, sweet dark caramel, molasses, and rich dark fruits (cherries and burned raisins in particular). There is a little whiskey like booze noted in the nose, but it certainly doesn't detract from the nose.
Taste: As the nose suggested this is absolutely delicious! There is more roasted malt than the nose suggested and just a hint of char, but the dark chocolate and dark caramel still dominate. Other notes include: light barrel character (vanilla and oak), a little smoke, cocoa, molasses, toffee and a touch of dark fruits.
The finish is lightly bitter and there is a little alcohol noted.
Mouthfeel: As expected, there is is not the faintest hint of carbonation, but that perfect for me. The body is just shy of full and quite sticky.
Overall: I am sure the lack of carbonation would be a major issue for most people, but for me it is just right and I don't think I'd change it! Flavour and aroma wise, I think this is one of the best BA De Molens I have had recently and I will certainly have to get a few more bottles.
1,774 characters
3.13
/5
rDev
-20.2%
look: 3.75 | smell: 3.75 | taste: 2.75 | feel: 3 | overall: 3
No head, pitch-black almost no lacing on the glass. No carbonation visible.
Smell is sweet, little chocolate and, booze and dry peat smokiness.
Taste is also sweet caramel chocolate at the beginning, slighly roasted flavour, a little coffee and as I have feared a big smokey peat finish that dries out your mouth. Feels a little bit vinious, too. I don't get much of the hops.
Sorry I am not a big fan of those peat, whiskey flavours which are pretty big in this one.
If you like them this might be a beer for you, if not stay away from it.
544 characters
4.34
/5
rDev
+10.7%
look: 4.25 | smell: 4.5 | taste: 4.25 | feel: 4.5 | overall: 4.25
Bottled: 28th of August 2012
Failed to pour all the yeast. Nevermind.
Pours a dark brown and viscous headless beer and I did not even tilt te glass for more than a second. Tan foam along the edges. Looks black, less light around the edges than Hel en Verdoemenis and her version.
Smells dark and complex. Slightly smokey.
Dark sweet malts, some barrel (less than the BA H&V versions) and some smoke. Bitter chocolate and burnt notes as well.
Interesting taste. A pleasant dark stout ofcourse, with the smokeyness noticable.
A little alcoholic, this one has a slight burn to it. Not much in the way of bourbon, I think some barrels used are bourbon but I don't get anything like the H&W Wild Turkey or Misto beers I had earlier. I get things that probably come from the whisky barrels instead. I never had a whisky barrel aged beer, nor am I a whisky drinker, so I am quite sure there is some sort of peatiness in here as I get this slighty boozy smokey campfire hint.
All in all a tasty and complex imperial stout.
Mouthfeel is nice and full, low carbonation and as I said some alcohol noticable.
Overall a nice beer, recommended. Not overly big on the barrel character compared to H&V Misto and especially the Wild Turkey version though.
1,248 characters
3.78
/5
rDev
-3.6%
look: 4 | smell: 4 | taste: 3.5 | feel: 3.75 | overall: 4
330 mL bottle poured into a snifter. Bottled 8/28/2012.
Appearance - Black with a decent mocha head. Chunky collar. A few wisps.
Smell - Lots of bitter chocolate. Very hoppy. I'm amazed no one else has mentioned it. Not a ton of barrel in it.
Taste - More whiskey here. Vanilla and oak too. Hops less agressive. Very sweet with a touch of smoke. Could be from the whiskey. Chocolate.
Mouthfeel - Some alcohol, never overpowering, but strong. Medium carbonation. Some booziness.
Overall - Aggressive beer. Could use more barrel, but an interesting base beer.
562 characters
4.28
/5
rDev
+9.2%
look: 2.5 | smell: 4.5 | taste: 4.5 | feel: 3.5 | overall: 4.5
Brewed for the 2012 BOREFTS festival at De Molen in Bodegraven. Got a bottle of this from the shop to try out at home. Cheers!
From a bottle into a snifter
Bottled 28 August 2012
Apparently this beer is "stout-ish"
APPEARANCE: An oily pour is almost black and produces a faint wisp and bubbles. Looks a little flat off the pour, unfortunately. A faint center wisp remains but mostly just a bubbly ring around the edges. Black body and no real carbonation evident. Ends a little flat lookin.
SMELL: Lots of whisky barrel on the nose. Oak, vanilla, milk chocolate aromas and some decent booze as well. Notes of dark chocolate, molasses and caramel malts there as well. This is bold and enticing, as well as a little boozy too.
TASTE: Roasted malts, caramel malts, brown sugar and some bourbon up front. Lots of bold flavors after the swallow with plenty of bourbon, oak and vanilla from the barrels, as well as sweet molasses, caramel, and some bitter dark chocolate. Roasted, charred and burnt malts underline the barrel flavors, with some alcohol notes as well. This is a boozy beer for sure, but the barrel and base stout work really well together. Fantastic.
PALATE: Full, oily body and modest levels of carbonation. Not quite flat, luckily. Oily and slick on the palate, goes down smooth with a bit of a burn after the swallow and finishes rather sticky. Needs a bit more carbonation, but oily and smooth for sure.
OVERALL: A little less booze and a touch more carbonation and this would be unreal. The aromas and flavors on this one were decadent, with delicious stout qualities playing the perfect partner to the wonderful barrel notes. Killer stuff that needed is just a little rough around the edges. While the lack of head and carbonation is unfortunate, perhaps some time in the cellar will help ease the strong alcohol presence here. Either way, this was a real treat and is worth doing a bit of work for. Recommended.
1,939 characters
2.77
/5
rDev
-29.3%
look: 3 | smell: 3.5 | taste: 2.5 | feel: 2.5 | overall: 2.5
Bottle bought at the brewery during Borfets 2012.
Dark but unimpressive color. A bit light for a Imperial Stout in both body and color. Almost no head or carbination. Soy sauce? Flat... UGH.
Booze and charcoal. Very burnt tasting. Not in a good way. Poor mouthfeel. Not very drinkable.
Kinda disapointing. Not even close to DeMolen's best beer. Usually the BA stuff I have tried has been great. Not this one. Not reccomended.
430 characters
4.38
/5
rDev
+11.7%
look: 2.5 | smell: 4.5 | taste: 4.5 | feel: 4.5 | overall: 4.5
330 ML bottle
shared with MrKennedy
28 August 2012 BB
A-- Black beer. Some ruby at the top of the beer and just a few gurgles of carbonation. Thick looking as all get out.
S-- Whisky, peat, smoke, slight amounts of bourbon and oak, smoked meat, floral notes, iodine, chocolate, coffee and dark fruits. Complex as heck nose but ABV is well hidden.
T-- Mostly peat and whisky to start. Once opened up slight floral notes (thinking from whisky or from peat) milk chocolate, salted meat, caramel, dark fruits, and iodine.
M-- Thick and big, lightly carbonated. Slightly sweet enough to lift this and make it more complex. Dry, smoky, and peat finish. Lots of depth to this.
O-- Very complex and well hidden ABV. Big bruiser though. Big time palate crusher but also quite good and well balanced.
810 characters
Sodom & Gomorra Barrel Aged from Brouwerij De Molen
3.92
out of
5
based on
25
ratings.