Carolina Strawberry
| Foothills Brewing Company - Downtown Brewpub
BA SCORE
81
good
14
Reviews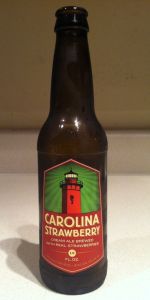 BEER INFO
Brewed by:
Foothills Brewing Company - Downtown Brewpub
North Carolina
,
United States
foothillsbrewing.com
Style:
Cream Ale
Alcohol by volume (ABV):
4.30%
Availability:
Year-round
Notes / Commercial Description:
No notes at this time.
Added by codysjb on 05-24-2012
Reviews: 14 | Ratings: 103

3.54
/5
rDev
+2.6%
look: 3.75 | smell: 3.5 | taste: 3.5 | feel: 3.75 | overall: 3.5
16oz draft
It is a clear gold color. Bright white head.
It has a sour berry aroma with some light grains.
Decent amount of strawberry flavor. More sour/bitter than sweet. As it warms the crisp grains start to take over and the strawberry becomes a nice background
269 characters

3.39
/5
rDev
-1.7%
look: 3 | smell: 3.25 | taste: 3.5 | feel: 3.25 | overall: 3.5
12 oz brown bottle with no bottling date poured into a lager glass.
A: slightly hazy light golden body with a very subtle pinkish hue. Fizzy white head quickly reduces to a thin partial coat.
Aroma: fruity with more bready malts than expected. Generic berries rather than specifically strawberry.
T - typical cream ale with and well proportioned, light strawberry note. Lightly tart and sweet. Fruit and mild tartness linger on in the aftertaste.
Feel: thin body with medium carbonation. Crisp, clean and refreshing.
O: a refreshing, conservatively flavored cream ale.
577 characters
3.56
/5
rDev
+3.2%
look: 4 | smell: 3.5 | taste: 3.5 | feel: 3.75 | overall: 3.5
Appearance: Pours a clear goldenstraw with a modest cap; strands of lacing hang around
Smell: Bready, with a possible hint of strawberry (but not sure I would have guessed it blind)
Taste: Bready, also with a possible hint of strawberry in the middle and a bigger strawberry flavor in the finish - though it is all very subtle
Mouthfeel: Light to medium body with moderate carbonation
Overall: I have avoided this beer all the way back to the Cottonwood days; now that I have had it I can go back to avoiding it
520 characters
3.35
/5
rDev
-2.9%
look: 4 | smell: 3.25 | taste: 3.25 | feel: 3.75 | overall: 3.25
12 ounce bottle - $2.00 at Tasty Beverage Co. in Asheville, North Carolina.
Appearance: Pours a clear, light yellow-hued body with a small-sized, white film of a head producing some scant lacing. While I'd never go so far to say it's pink, it's like one released a lone drop of pink hue into the twelve ounces.
Smell: Thin hint of clean cereal grains and a little twinge of the berry.
Taste: Just like with the aroma, it's a scant, lightly grainy maltiness, very thin, really, with just the barest hint of sweetness. A very subtle, subtly tangy hint of strawberry. Minimal hop character, bitterness. A spoonful of grits and one final bit of strawberry on the crisp finish.
Mouthfeel: Light-bodied. Medium carbonation though it's on the crisp side.
Overall: A light beer, a light fruitiness, but a fair amount of crisp carbonation. While refreshing and easy to drink, it's certainly not overly memorable.
908 characters

3.25
/5
rDev
-5.8%
look: 3.25 | smell: 3.25 | taste: 3.25 | feel: 3.25 | overall: 3.25
Overall, I found this to be a pleasant enough drink, and I'm more than glad to finish the 6 pack. But, if you hadn't told me it was a strawberry beer, I'm not sure I'd have realised it was- it's very subtle. I'm not saying that I'd like it to taste like strawberry syrup, but if something's gonna call itself "Carolina Strawberry," I'd expect the berry taste to be somewhat more prominent than it is in this beer.
413 characters
2.59
/5
rDev
-24.9%
look: 2.75 | smell: 3 | taste: 2.25 | feel: 3 | overall: 2.5
The thin wispy head fizzles into an inch of foam and quickly dies. The lightly-colored golden body is tinted a slight pink, with visible particles of swimming sediment. The nose is a cross between strawberry jam and muscadine wine with a touch of cherry blossom. Beyond a slightly malty finish, the taste of this brew has almost no redeeming qualities. It is quite reminiscent of watered-down carbonated strawberry iced-tea, and I've had iced teas that had a fuller mouth feel than this ale.
I've thought of something that might salvage the experience, though. This would contrast very well with cheese cake. On its own, however, I can't recommend it.
653 characters
3.65
/5
rDev
+5.8%
look: 3.5 | smell: 4 | taste: 3.5 | feel: 3.75 | overall: 3.5
Review taken from notes Vacation 2013 Emerald Isle, NC July 2nd.
12 oz brown bottle with very North Carolina Micro style. Bottle is red and green with a lighthouse in the artwork. Poured this into a standard American pint glass.
A - light golden with a pinkish hue. You almost know its strawberry before it even touches the nose. White head poured fairly well with a sudsy soap like appearance. Decent stick.
S - creamy malt aroma with some fruitiness. Not a whole lot going on, but its the best part of what this has to offer.
T - typical cream ale with soft hints of mellow fruitiness and a sweet strawberry note. Not tart, but just plain ol sweet flavor. Malt and fruit are really the only thing I run across with this. Almost tangy flavors.
M - not as thick as it should be. Crisp and refreshing and I suppose they are going for a warm weather ale which is fine. It has some sort of creamy texture but nothing thick or any sort of coating elements. Pretty clean mouthfeel and a refreshing finish.
O - definitely not a Beatles song as they do strawberry fields better than anyone and as this was inspired by NC's fields of strawberry I think they could have given a bit more with this offering. It really has roots to be great but simply lacks a bit of complexity and texture. Overall a good choice on a hot day sitting in the sand as I was, but not something ill be packing a bunch of back home.
1,405 characters
4.03
/5
rDev
+16.8%
look: 4 | smell: 4 | taste: 4 | feel: 4.25 | overall: 4
on tap at sams in Durham. into a pint glass.
pours a darker golden color with a half inch white head. pretty nice looking pour. smell is of faint fruits, strawberries. very pleasant. taste is a tad sweet with a good strawberry flavor on the back of the tongue. easy drinker. light body with mild carbonation. good feel.
overall an enjoyable summer beer that should probably be rated higher. i could drink this all day.
420 characters

3.5
/5
rDev
+1.4%
look: 4 | smell: 4 | taste: 3 | feel: 3.5 | overall: 3.75
this is the 2nd time that i have had this beer. the first time i dont think i liked it too much. this time however, it strikes me as a little better. the color is nice a cloudy blonde. hands down the best thing about it is the smell... it smells like sweet strawberries...perfect for summer. the taste is a little sour for me. i mean it isnt terrible but there is a tartness there that i dont really like that much. i feel like the smell promises sweetness and the taste delivers a real tartness. i know other people dont dig on the really sweet beers- so this all comes down to personal taste- if you like a more sour fruit beer by all means go for it. on a side not i have had other beers by foothills and they have some great ones.... if you get a chance you should really check their stuff out.
798 characters

3.52
/5
rDev
+2%
look: 3.75 | smell: 3.5 | taste: 3.75 | feel: 2.5 | overall: 3.5
12oz bottle poured into a pint glass. One of the new Foothills offerings that I haven't taken the opportunity to enjoy very often. I felt like a light refreshing ale tonight, so into the glass she goes!
Pours a pale gold that is transparent. A large frothy white head billows forth. I can tell already this one is packing some carbonation. Nice subtle strawberry aroma, lemon ice, with a dry sawdust-like scent on the back end.
Huge amounts of bubbles on the palate, this one is quite a scorcher for such a light "easy-drinking" ale. Tone that stuff down! Granted, I don't want a flat beer, but this is a little overkill. Creamy corn-like grains with a kiss of sweet strawberries. There's just a touch of tartness from the fruit on the finish, but it fleets away quickly.
A good beer. About what I expected. One I would get again, but maybe on tap. These bubbles are wearing on me.
886 characters
3.55
/5
rDev
+2.9%
look: 3.5 | smell: 3.5 | taste: 3.5 | feel: 4 | overall: 3.5
A: Pours a clear pale yellow in color with moderate amounts of visible carbonation. The beer has a finger tall creamy white head that slowly reduces to a thick film covering the majority of the surface of the beer and a thicker ring at the edges of the glass. Moderate amounts of lacing are observed.
S: Light aromas of natural strawberry, slightly sweet over the top of some grainy malts.
T: Light to moderate flavors of grainy, cereal malts underneath some light natural strawberry flavors with just a hint of both sweetness and tartness.
M: Light bodied with moderate to heavy amounts of carbonation. Slightly prickly.
O: Pretty decent offering that combines nice natural fruit with a cream ale - I enjoyed it and think it would be a nice easy drinking summer beer (good for cooking out, maybe after the meal is served like a dessert).
842 characters

4.12
/5
rDev
+19.4%
look: 4 | smell: 4.5 | taste: 4 | feel: 4 | overall: 4
Looks like a cream ale. Light straw yellow body with bubbly, prickly carbonation. It smells like strawberries, but theres still a good amount of the base creamy sweet beer floating around. I like how the creaminess works with the straweberry scents.
This thing is laden with the fresh strawberry flavors that I love to death. Theres loads of fresh strawberries waiting for you, yet it doesnt feel candy sweet. Its like they took one hell of base beer, and just dry hopped the shit out of it with fresh strawberries. The only negative is theres a bit of an astringent bit that feels just a bit too crisp.
Take that away, and youve got one hell of a beer.
655 characters
3.3
/5
rDev
-4.3%
look: 3.5 | smell: 3.5 | taste: 3 | feel: 3.5 | overall: 3.5
I haven't had this in a few years. I was interested to see if change of ownership to Foothills made any difference.
A - Pale copper gold; huge white head that's thick and dense with great retention, there was a great deal of head that tried to escape the bottle the second the cap was lifted
S - faintly grainy, syrup-like strawberry aroma
T - cereal grains, strawbeery syrup, very sweet
M - crisp, highly carbonated, light to medium bodied
This has, in my opinion, never been a great beer. The change of ownership seems to have not made a difference. It seems it's quite the same recipe with the same artificial fruit aroma and flavor. I'll avoid in the future.
667 characters
3.59
/5
rDev
+4.1%
look: 3 | smell: 4 | taste: 3.5 | feel: 3.5 | overall: 3.5
Foothills Brewing Carolina Strawberry.
Picked up on my way from Amherst to Jacksonville from Bottle Revolution in NC (Great Place).
A: Poured an orange yellow like ginger ale, not much head and what little there was disappeared instantly.
S: Musk, Strawberries, not a hell of a lot going on here.
T: Strawberry's and some cream. Sweet and a lot of sugary notes. Some ale notes on the end.
M: Fizzy, some ale and some passing strawberry. Seems like a lot of carbonation.
O: Meh, forgettable. It's a decent beer for a cream ale just not amazing and overall the style is somewhat unimpressive anyway.
608 characters
Carolina Strawberry from Foothills Brewing Company - Downtown Brewpub
3.45
out of
5
based on
103
ratings.